The CLTPirateCrawl

Saturday, September 20, 2014 at 6:00 PM

-

Sunday, September 21, 2014 at 2:00 AM (EDT)
Event Details
Ahoy there Charlotte!  Arrrh ye ready for a night of silly fun?  We are calling all lovers of ANTHING PIRATE THEMED...Pirates, Wenches, Cutthroats, Scallywags, Rascals, Rogues and Buccaneers to join Good Eats and Meets on Saturday, September 20th as we host the inaugural #CLTPirateCrawl in celebration of International Talk Like A Pirate Day...yes, there is such a thing!  So, grab yer mateys and set a course for Uptown Charlotte for a night of debauchery, adventure and glory...just kidding on the glory part, this is just a bar crawl after all!
Check out this AWESOME video on the #CLTPirateCrawl
 All #CLTPirateCrawl'ers get their own Pirate Booty for taking part in the crawl including-
A FREE basic Pirate Kit including an eye patch, red pirate bandana, the #CLTPirateCrawl Treasure Map-feel free to come dressed up as authentically as possible.

A FREE commemorative Piraat Beer Antique Glass

FREE Base Pirate "Scruff" Make-Up (provided by the Get Dead Crew) with 1 FREE #CLTPirateCrawl themed temporary tattoo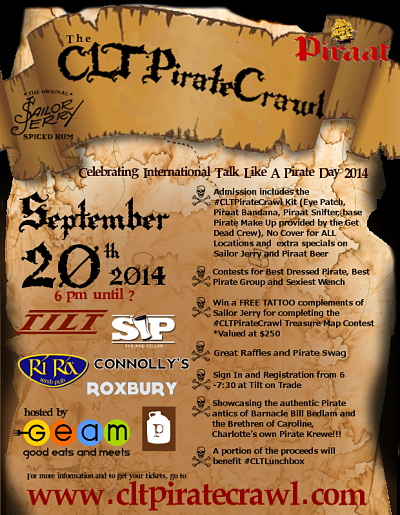 At each location on the #CLTPirateCrawl, there will be NO COVER and you will find Piraat Beer Specials and Sailor Jerry Specials, as well as food specials for all crawlers.  We will also have a contest for the Best Dressed Pirate, Best Pirate Group AND Sexiest Wench with great swag and prizes to the winners!  As an added BONUS PRIZE, Sailor Jerry will be giving away a FREE TATTOO valued at $250 for the winner of the drawing for the crawler that completes the #CLTPirateCrawl Treasure Map Contest (just get your map marked at each spot on the crawl and turned in).  Be sure to get all the stamps, fill yer name and info out and drop it off at the last spot for your chance to WIN!
In order to truly feel authentic, the #CLTPirateCrawl will be led by the antics of Barnacle Bill, the Captain of the Brethren of Caroline, Charlotte's own Pirate Krewe!
So, join the sea of pirates as we take siege of Uptown with drinking and plundering as far as ye eyes can see (your one eye that is) and let the pirating begin ! 
The #CLTPirateCrawl will start at 6 pm at Tilt on Trade, 127 w. Trade St where you will be greeted by Good Eats and Meets and some of the pirating hoard of Barnacle Bill Bedlam, who will guide you on your Pirating adventure. Registration/Check-In will take place from 6 to 7:30 (please make sure to leave enough time to get your pirate make up done by the Get Dead Crew as they will be doing the FREE basic Pirate scruff, all the way up to elaborate movie make up (for an additional charge).
At 7:30, our invasion of Uptown Charlotte as we take to the streets to attack, plunder and pillage all of our locations on the #CLTPirateCrawl including Connolly's, RiRa, Sip, Prohibition and end the night with a celebration where all the #CLTPirateCrawl'ers can enjoy the fruits of the nights conquest with a party with dancing, drinking and contests at Roxbury.
The cost of the #CLTPirateCrawl is ONLY $15 until the day of the crawl and $20 the day of the crawl.  
What is International Talk like a Pirate Day?  (#ITLAPD) is a parodic holiday that was created almost 20 years ago that proclaimed that on September 19th millions of people around the world should talk like a pirate.  It is celebrated on all seven continents and by millions of people.  http://www.talklikeapirate.com
About Piraat Beer-Piraat is a Belgian Ale that has been ranked as one of the top 5 beers in the world.  It has an alcohol content of 10.80% and is re-fermented in the bottle, as well as the keg.  It is truly a living beer.  Piraat Beer has been around since 1784 and is ranked at one of the top 5 beers in the world.  Here is a video with more information on Piraat Beer...
About Sailor Jerry-Sailor Jerry is a straight-up, no nonsense rum.  They craft the spirit from a selection of rums distilled in the Caribbean. Their master blenders "marry" the rums to their exacting recipe and then infuse it with their one of a kind mix of spices and other natural flavors, most notably vanilla and cinnamon. The result is a high quality, old-school spiced rum.  An enduring classic...truly not a fly-by-night fancy.  Check this out...
About Barnacle Bill and the Brethren of Caroline-The Brethren of Caroline is a Pirates Guild. Hailing from Charlotte, they are the largest Pirate League in the Carolinas...North and South! Founded by the Notorious Rogue & Rapscallion Barnacle Bill Bedlam and his Beautiful QuarterMaster Lady Scarlett DeVille, their Brethren Court is Well-Known throughout the eastern Sea-Board for their Plunderings and they will be leading the way on our Crawl.  Barnacle Bill will be offering his Pirate book called the Tales of Barnacle Bill at the Crawl.  Come out early at Tilt for a signing and photo ops! To find out more about them, go here http://www.meetup.com/The-Brethren-of-Caroline/    Look here...
Get your tickets at cltpiratecrawl.eventbrite.com
Tickets are only $15 before the crawl and $20 the day of the #CLTPirateCrawl
WHAT-The #CLTPirateCrawl
WHERE-Tilt on Trade-127 W. Trade St., Charlotte 28202
WHEN-Saturday, September 20th...Registration begins at 6pm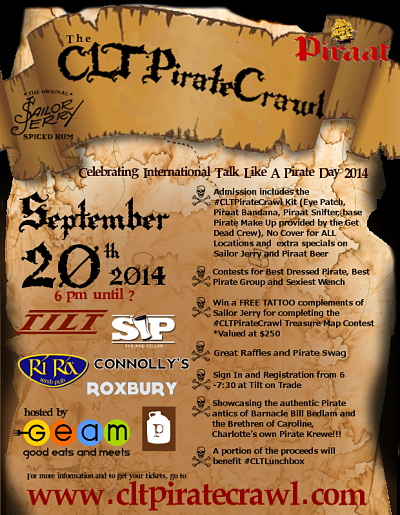 When & Where

Tilt on Trade
127 W Trade St
Charlotte, NC 28202


Saturday, September 20, 2014 at 6:00 PM

-

Sunday, September 21, 2014 at 2:00 AM (EDT)
Add to my calendar
Organizer
The premise of Good Eats and Meets is to explore all that each of our cities has to offer in the culinary world, whether it's testing the "Best Of" restaurants or sampling the "greasy spoons." The group is for adventurous people who enjoy sharing a meal and great conversation and the best part about it all?  Membership is absolutely free!  The majority of people living in each of out cities are transplants from other areas and Richard Gruica, the founder, wanted to "provide a gathering place for all those who love food and socializing, with the idea of broadening their knowledge of regional specialties."  The group brings people of all ages and walks of life together in the European style of "breaking bread" and also supports the local restaurant economy.  Road trips, wine tastings, classes, farmer's market tours, dinners, brunches and smaller-scale tasting and dinner parties, as well as many other events can also be found on the social calendar.