Description
The CLT Zombie Crawl Strikes This Halloween In NoDa
And you thought the Halloween parties were done and the fun was over with...NO, NO, NO...Join us ON HALLOWEEN NIGHT, Wednesday, October 31st, between the hours of 6:00 and 11:00 and be ready to see the streets of NoDa crawling with the "Walking Dead" due to a ZOMBIE OUTBREAK.
Join your fellow Zombie Bar Crawlers as we wander the streets, boozing from bar to bar and having the time of our un-dead lives as we take part in the inaugural "CLT Zombie Crawl" hosted by Good Eats and Meets. The Zombie herd will enjoy a night of food, drinks and spirits at various favorite NoDa locations.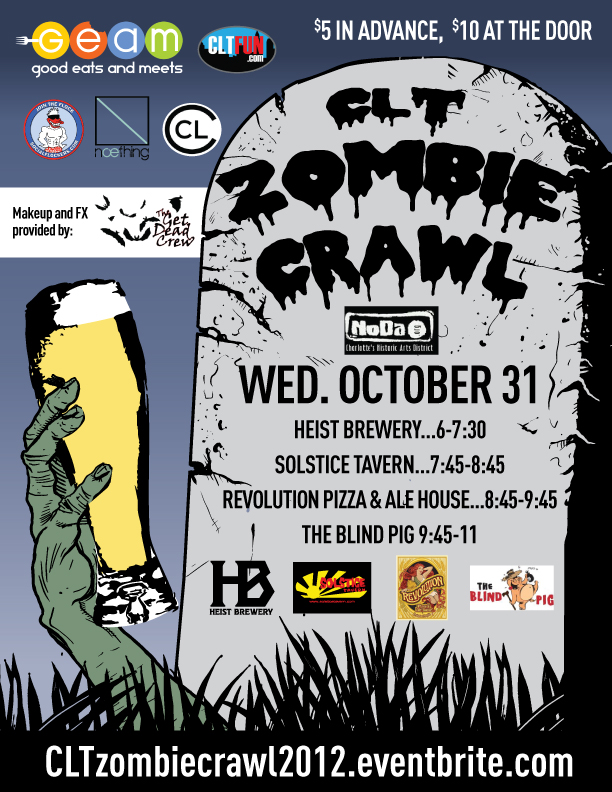 The cost is only $5 prior to the day of the CLT Zombie Crawl and is $10 the day of the event. Your paid admission will get you awesome drink and/or food specials at all the participating locations for the night, base zombie makeup and beng able to enjoy Halloween in a brand new way while having an undeadly GOOD time!
The CLT Zombie Crawl Schedule:
Registration and Check In at Heist Brewery-6:00-7:30 (We will have makeup artists on hand at Heist to "Zombify" those attending.)
Solstice Tavern-7:45-8:45
Revolution Pizza and Ale House-8:45-9:45
Blind Pig-9:45-11:00
As an added bonus, we are offering a special Zombie Crawl Cup, which will allow you special drinks at each spot that will be featured to ONLY those who have the cup. The cost for the cup is only $5, so don't be left out of these exclusive specials! We will have the cups available at each spot the week before the crawl and also the day of the crawl.
We are also offering the amazing FX makeup talents of "The Get Dead Crew", who will be on hand to apply the base zombie makeup for all those attending (please bring some cash for tips). They will be offering an "Undead Upgrade" for $5, which will bloody you up real good and the "Ultimately Undead", which is a drippy death with realistic wounds for only $10.
So, get ready to eat BRAINS…BEERAINS! and prepare yourself for the hordes of zombies, chaos and an undeadly good time!
For more information on Good Eats and Meets and any on our sponsors, please go to...
http://www.meetup.com/geamclt
and like us on Facebook at
https://www.facebook.com/goodeatsmeets
and follow us on Twitter at
https://www.twitter.com/goodeatsmeets
Organizer of The CLT Zombie Crawl Strikes This Halloween
The premise of Good Eats and Meets is to explore all that each of our cities has to offer in the culinary world, whether it's testing the "Best Of" restaurants or sampling the "greasy spoons." The group is for adventurous people who enjoy sharing a meal and great conversation and the best part about it all?  Membership is absolutely free!  The majority of people living in each of out cities are transplants from other areas and Richard Gruica, the founder, wanted to "provide a gathering place for all those who love food and socializing, with the idea of broadening their knowledge of regional specialties."  The group brings people of all ages and walks of life together in the European style of "breaking bread" and also supports the local restaurant economy.  Road trips, wine tastings, classes, farmer's market tours, dinners, brunches and smaller-scale tasting and dinner parties, as well as many other events can also be found on the social calendar.