THE CLOTH PEDDLER / ARŞIN MAL ALAN - Azerbaijani Musical Comes to Los Angeles

Saturday, September 7, 2013 from 7:30 PM to 9:30 PM (PDT)
Event Details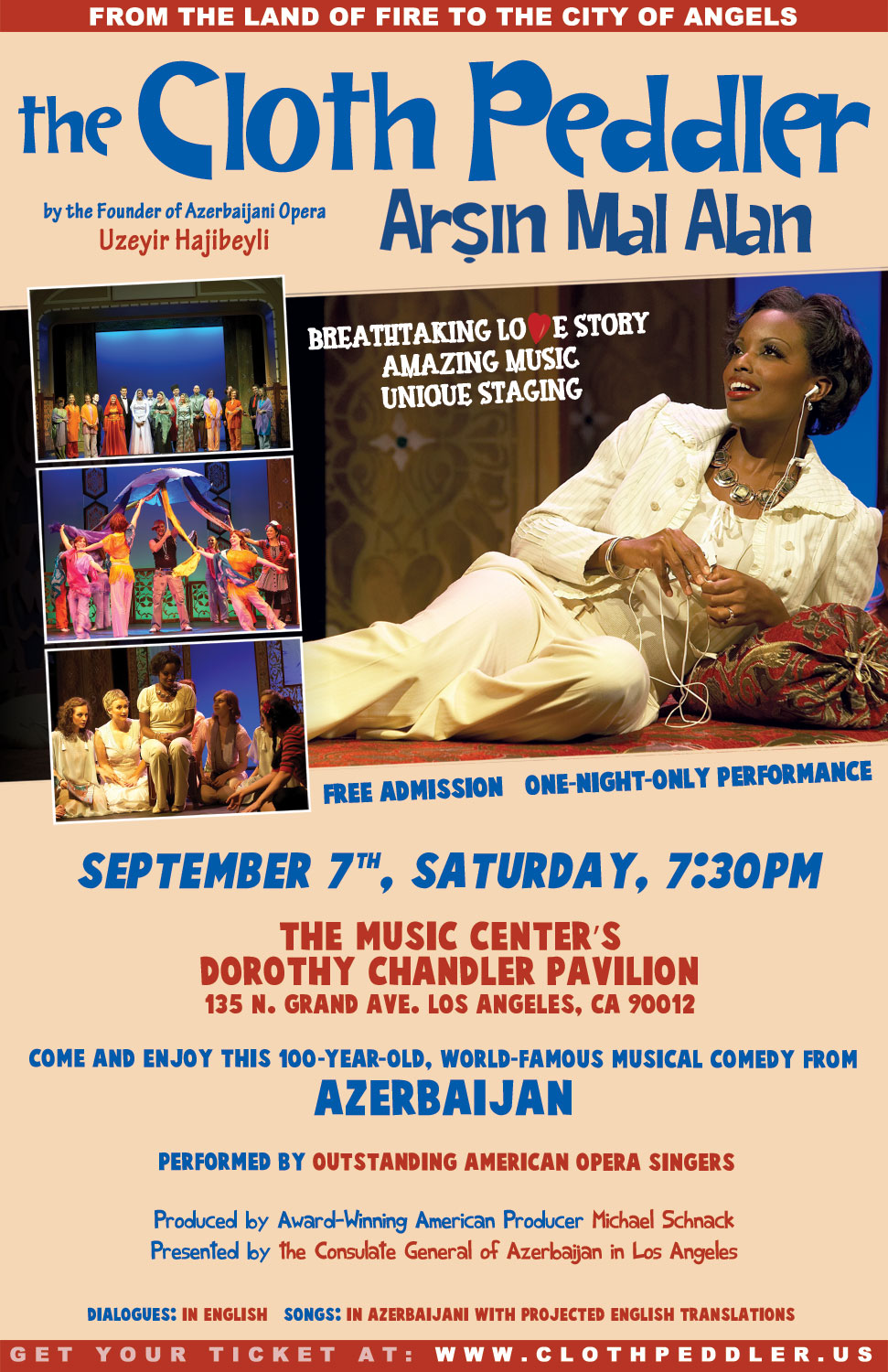 THE CLOTH PEDDLER 

ARŞIN MAL ALAN

COME AND ENJOY
 THIS 100-YEAR OLD,
WORLD-FAMOUS MUSICAL COMEDY FROM

AZERBAIJAN
on SEPTEMBER 7, 2013, SATURDAY
, 7:30 PM

at
 THE MUSIC CENTER'S
 DOROTHY CHANDLER PAVILION

135 N. Grand Ave, Los Angeles, CA 90012
FREE ADMISSION; ONE-NIGHT-ONLY PERFORMANCE
PERFORMED BY OUTSTANDING AMERICAN OPERA SINGERS
DIALOGUES: IN ENGLISH;  SONGS: IN AZERBAIJANI WITH PROJECTED ENGLISH TRANSLATIONS
GENERAL INFORMATION
The musical comedy (operetta) Cloth Peddler/Arşın Mal Alan was composed and staged by the founder of Azerbaijani opera and classical music Uzeyir Hajibeyli in 1913 in Baku, Azerbaijan. This musical comedy with amazing music and breathtaking plot is considered to be the first of its kind in the entire Muslim world. Over the last 100 years, the operetta has been successfully performed in a plethora of languages in over 60 countries of the world, including in Austria, France, China, Greece, India, Russia, Turkey, etc. The musical was performed 300 times in China alone. Its greatly acclaimed 1945 film version was dubbed into 86 languages and shown in 136 countries.
It is the first time that this unique musical comedy will be performed at such a scale in the English-speaking world in general, and in the U.S. in particular. Held by the Consulate General of Azerbaijan in Los Angeles and produced by award-winning American producer Michael Schnack, the musical comedy will be performed on Sep. 7 at 7:30pm by outstanding American opera singers at the Music Center's Dorothy Chandler Pavilion in Los Angeles, which, being one of the premier opera houses of the world, and home to the renowned Los Angeles Opera, is also famous for hosting Oscar Awards ceremonies in 1970-90s. The performers will be singing in Azerbaijani (with projected English translations) and speaking in English. A Los Angeles-based orchestra of exquisite musicians will play the music.
DO NOT MISS THIS EXCLUSIVE AND ONE-NIGHT-ONLY PERFORMANCE!
REGISTRATION INFORMATION
You should receive an order confirmation email after your registration. Please be patient. Sometimes it may take a while until you receive the confirmation email. DO NOT DOUBLE-REGISTER, PLEASE. The registration is limited to 2 tickets. If you need more than 2 tickets, please send us an email at office@azconsulatela.org 
PERFORMANCE DAY
Please print out the Eventbrite ticket/s sent to you following the registration, and bring them along to the event. Your tickets are general admission tickets. So the seats will be occupied on a FIRST-COME, FIRST-SERVED BASIS. The performance starts at 7:30pm sharp. Therefore, we recommend you to arrive at 6:45pm at the latest in order to ensure a relaxed experience when parking and getting your seats. Please consider that although the performance is on a Saturday, you may have some traffic on highways leading downtown Los Angeles. 
PARKING: The Music Center has plenty of parking availability. More info at: http://www.musiccenter.org/visit/Getting-Here-and-Around/Parking/
DRIVING DIRECTIONS: http://www.musiccenter.org/visit/Getting-Here-and-Around/Driving-Directions/
USING PUBLIC TRANSPORT: http://www.musiccenter.org/visit/Getting-Here-and-Around/MetroDash-Taxis/
DRESS CODE: Formal or Business Casual or National Attire
CONTACTS: office@azconsulatela.org or (310) 741-7405
WEBPAGE: www.clothpeddler.us
LOOKING FORWARD TO WELCOMING YOU AT THIS EXCLUSIVE PERFORMANCE!
Watch a short video of The Cloth Peddler's different film versions
and stagings
When & Where

THE MUSIC CENTER'S DOROTHY CHANDLER PAVILION
135 North Grand Avenue
Los Angeles, CA 90012


Saturday, September 7, 2013 from 7:30 PM to 9:30 PM (PDT)
Add to my calendar
Organizer
Consulate General of Azerbaijan
THE CLOTH PEDDLER / ARŞIN MAL ALAN - Azerbaijani Musical Comes to Los Angeles