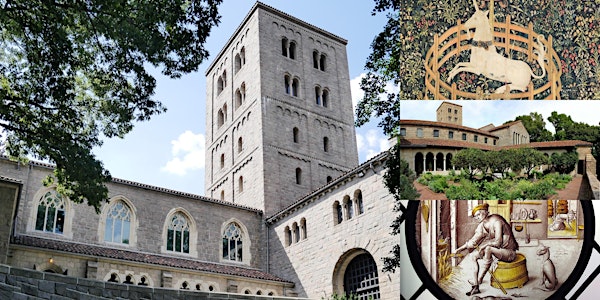 'The Cloisters Museum & Gardens: Medieval European Art in New York' Webinar
Can't make it live? Register and get access to the full replay for one week! New York Adventure Club | www.AdventureClub.com
About this event
While New York City is well known for its towering modern skyscrapers, one of its most famous museums contains rooms and art that date back hundreds of years. But how exactly did a collection of old European chapels and structures find their way to New York, and what historic items were acquired to fill the gothic spaces to make it the premier collections of medieval art in America? It's time to uncover the story behind the incredible art, architecture, and gardens of New York's very own European medieval monastery.
Join New York Adventure Club as we explore the Cloisters museum and gardens in Manhattan's Fort Tryon Park — owned and governed by the Metropolitan Museum of Art, this museum in the neighborhood of Washington Heights is composed of architectural elements from various historic structures mostly in France and Spain along with prized medieval artworks including paintings and sculptures, stained glass windows, illuminated books, and more.
Led by Sylvia Laudien-Meo — art historian, museum educator, and NYC tour guide — this virtual journey surrounding the MET Cloisters, which gives great insight into life during medieval times, will include:
The history of The Cloisters' foundation and its general architecture within Fort Tryon Park
A virtual slideshow through the museum with its beautiful gardens and vistas
A discussion of the museum's collection of medieval architecture and sculpture, artfully integrated into the modern museum architecture
An overview of the enchanting cloister gardens, planted with culinary and medicinal plants, as well as those used for dyeing fabrics like tapestries
A close look at many of the masterpieces of the collection, including paintings, sculptures, and decorative arts
A special focus on the Unicorn Tapestries and Robert Campin's Merode Altarpiece
Afterward, we'll have a Q&A with Sylvia — any and all questions about the Cloisters are welcomed and encouraged!
Can't make it live? Don't worry, you'll have access to the full replay for one week!
See you there, virtually!
*Immediately upon registering, you will receive a separate, automated email containing the link to join this webinar
**For the best possible viewing experience, please ensure you're using the latest version of your internet browser — Google Chrome is the most compatible. Exact technical requirements and a webinar user guide will be shared in the automated confirmation email upon registration.
***A full replay of the experience will be available to all registered guests for up to a week
About Sylvia
Sylvia Laudien-Meo is a freelance Art Historian who works in and around the city in various capacities, specializing on Modern and Contemporary art, with a strong focus on Public Art. She teaches art history at Fairleigh Dickinson University and has been working as a museum educator at MoMA, the Guggenheim and the Jewish Museum for over many years, engaging visitors in conversation based, interactive art experiences of permanent collections and changing exhibitions.
For the Municipal Art Society, UFT, Brandeis Univ., and private clients, she has been touring the city for over 20 years, exploring art and architecture, parks, neighborhoods and history. Working in various different capacities gives her a unique opportunity to make intriguing connections and weave together the complex perspectives that make out the tapestry of our fascinating city.
SLM holds a Masters Degree in Art History (with minors in History and American Studies) from the Joh. Gutenberg University in Mainz, Germany, as well as a Tourism degree from the EST in Paris France.
Testimonials
"Great images and very interesting content." -Karen
"The visuals of the cloisters and the art work." -Karen
"The presenter was knowledgeable about her subject which was The Cloisters, as well as history, religion, and art in general and as they related to the structure and collections of The Cloisters. She had an affable style of speaking that was very engaging and effective in keeping one's attention. Loved it!" -Janet
"I was introduced to.the Cloistered ,in NYC. I heard ky.Mom talking about it growing up, but never made it there with her. This gives me the incentive to go there in the spring or summer." -Laura
"great virtual tour of a museum I really want to visit. Loved the explanations about the complexity of the imagery of the Unicorn tapestries." -Linde
"The little wooden round box with the detailed sculptures." -Michael
"I enjoyed the presenter's perspective and the art objects she focused on. It was interesting to hear the history about how the museum came into being. The architecture and setting are wonderful. I once heard a choir perform and the acoustics were out of this world." -Kathleen
"Her organization of her presentations is always really great as well as how she seems to really enjoy what she is talking about." -Karen
"Information about parts of the Cloisters I have not noticed or learned about before. Some very intricate items, easily missed." -Catherine
"The Cloisters is not new to me, but the information presented by Sylvia will absolutely make my nxt visit more wonderful." -Diane
"Blend of history, art, and culture. Perfect." -Peggy
"I loved revisiting the Cloisters where I have visited a number of times when I used to live in NY but with Sylvia guiding there was a lot more information that fueled curiosity about Medieval art." -Carol
"Sylvia is an excellent presenter, able to seamlessly incorporate chat comments into the presentation without losing her thread of thought. She completely knows her subject and shares her knowledge gently, and thoughtfully. Always a joy! Happy to be doing 2 of her new talks this week." -Barbara
"Sylvia brought such a wealth of history, local history of the region she was describing, New York history architectural history and art history, and social history of the eras the art represented. Her sensitivity and gentle humor and empathy shines through every program she does; I have seen many on NYAC. Always a joy and a learning experience to listen to Sylvia. Great selection of art pieces also to tell the story of the Cloisters in the people who made it possible. " -Sharon
"Very good presentation. I just get a little tired in the evening, and an hour for me is enough. Good slides, and the presenter was knowledgeable and enthusiastic." -June
"The history of the Cloisters which was different than what I usually heard many years ago when I regularly visited the Cloisters." -Jill
"Everything I have listed above. Presenter was very knowledgable." -Gale
"Good overview of the Cloisters." -Ernest
"Great presentation and uniqueness of knowledge." -Jan
"Carl's presentations are always interesting - well researched and a great visual and verbal presentation given with enthusiasm for the subject. A great way to spend 90 minutes." -Lynn
"I liked the presenter and the platform." -Mary
"Presenter very knowledgeable, very prepared, excellent presentation." -Julie
"Beautiful examples of artwork, architecture and sculpture" -Virginia
Disclaimer
By attending a New York Adventure Club experience, you accept our terms of service.
Categories: Virtual, Landmarks