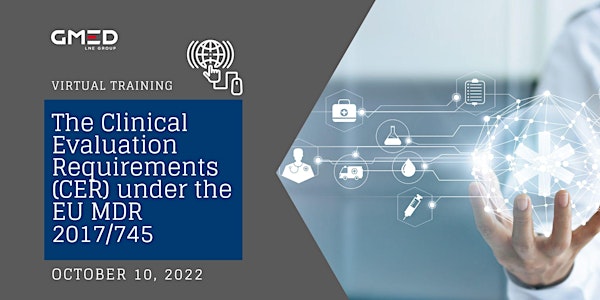 The Clinical Evaluation Requirements (CER) under the EU MDR 2017/745
The Clinical Evaluation Requirements (CER) under the EU MDR 2017/745; October 10, 2022; 1-day training
Refund Policy
Contact the organizer to request a refund.
Eventbrite's fee is nonrefundable.
About this event
About the training
All medical devices sold into Europe, new or existing, and irrespective of specification, must have an up-to-date Clinical Evaluation Report (CER) as part of its Technical File. However, despite the CER being a critical compliance element for medical device manufacturers doing business in the EU, there continues to be a significant lack of clarity regarding key requirements and best practices for creating these reports. Without a clear understanding of what is required, both manufacturers and Notified Bodies (NBs) struggle to apply a consistent approach to the CER process.
Now that the new Medical Device Regulation (EU) 2017/745 has come into force in the European Union, there is an even greater emphasis on providing supporting clinical data, combined with the need to suitably plan CERs and fully document the approach and processes around it.
To seamlessly manage the CER process so that clinical data is regularly updated without causing major bottlenecks, or stalling, in productivity, it is critical that medical device manufacturers establish now a clear strategy towards their Clinical Evaluation Reports (CERs).
REQUIRED LEVEL
Good knowledge and effective practice of the Directives 93/42/EEC or/and 90/385/EEC.
Who Should Attend
Medical Device Manufacturers
Internal and external Auditors
Regulatory Affairs Managers and Quality Managers
R&D specialists
Development, Manufacturing and Marketing Managers
Learning Objectives
Identify the key changes for Clinical data under the Regulation (EU) 2017/745 (MDR)
Determine what is considered "sufficient" clinical data for clinical evaluations
Understand the Clinical Investigation Requirements
Identify the Post-Market Surveillance Requirements (PMS), the Post-Market Clinical Follow-Up (PMCF), and the Periodic Safety Update Report (PSUR)
Educational Resources
Presentations
Practical working sessions
Course evaluation
Program
Changes for definitions between MDR and MDD
Equivalence
Appraisal of clinical data
Analysis of clinical data
Post-market surveillance requirements, including PMCF and PSUR
Unique Device Identifier and Eudamed
Summary of safety and clinical performance (Article 32)
Expert panel consultation (Articles 61 section 2)
Practical working sessions
Group workshop
Course Evaluation
Summary and Discussion with the trainer
About the Trainer
Christopher Brodrick
Design Dossier Evaluator
Christopher Brodrick is a Design Dossier Evaluator at GMED NA specializing in Cardiovascular and Neurovascular devices. He has a Master's Degree in Biomedical Engineering from the University of Virginia, as well as a Bachelor's Degree in Materials Engineering from Virginia Tech. His past roles have included Clinical Affairs Manager at another notified body, Senior Consultant within a large CE Mark consulting company, and he has worked in the cardiovascular device industry as a R&D Engineer. He has broad expertise in the area of Clinical Evaluation for CE Marking and is a frequent speaker and trainer on this topic.