The Climate of Freedom: w/ Lord Christopher Monckton & Tom Ballantyne

Monday, May 28, 2012 from 6:30 PM to 8:30 PM (MST)
Event Details
Another community dialogue brought to you by the Surprise Tea Party. Don't miss what some are calling "the event of a lifetime". Get your tickets now to join 2 of the hottest speakers as they discuss two controversial subjects that affect Americans lives:

The Truth About Man-made Global Warming
Media Collusion on National Matters.
The donations from this event go to the incredible MCSO Cold Case Posse.

Our keynote speaker, coming all the way from London, is the world famous Lord Christopher Monckton. Our primary discussion will cover the climate change movement and its REAL implications on our society. Lord Monckton has been on BBC, SKY, Rush Limbaugh, CNN, FOX, ABC, CBS, GBTV, U.S., Russia, Australia, and the rest. He's traveled the world lecturing various governments.
Known as a riveting speaker, LCM is also recognized as the world's leading expert on the case AGAINST man-made global warming. You'll hear the truth about the political and financial connections between scientists and politicians. A short Q&A will be at the end.
Tom M. Ballantyne Jr. will open the event discussing his new book (Oh Really, O'Reilly!) and the fundamental transformation of America! Tom is a master of both wit and satire who will entertain and enlighten. He will discuss how the state controlled media is the dominant player, alongside the government itself (both state and national), has a far-reaching impact on information, even political scandals. Expect examples!

This event and it's donations will fund the great work conducted by the Sheriff's MCSO Cold Case Posse. Proceeds from Ballantyne's book sales at the event will also go to the Posse. Get a signed copy at the event.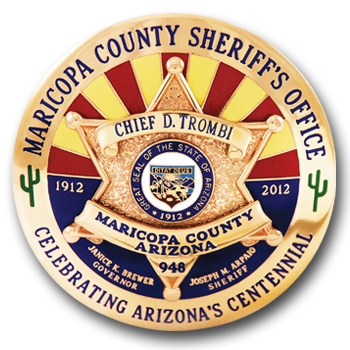 Reservations are required, but the event is FREE and open to the public. Simply select your tickets above, fill in the contact information, and print the attached tickets emailed to you. This is a smaller venue to provide you a more intimate experience. Seating is first come first serve. It should be noted that similar venues charged $125 admission to engage with these speakers.

* Gold Patron Seating – You get front row reserved seats for the main event. These select few individuals meet with the speakers in a private meeting in an adjacent venue before the event. Includes refreshments and pictures with each speaker. These donations go to MCSO Cold Case Posse. Thank You! They truly need financial help to continue their incredible work.

Update 5-22-12: National Press Coverage. View World Net Daily article: Margaret Thatcher Adviser...
  __________________________________________________________________________________

Keynote: Lord Christopher Monckton
Businessman, Newspaper Editor, Inventor, Classical Architect, Trained Orator and "High Priest" of climate skepticism. LCM will discuss efforts that are trying to relinquish our freedoms, wealth redistribution schemes, and losing our ability to make our own decisions. This includes those decisions that concern our daily living, down to what kind of light bulbs we can use in our homes. All of this is done under the assumption that there is such a thing as man made global warming.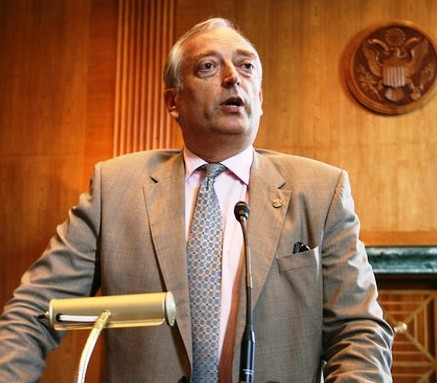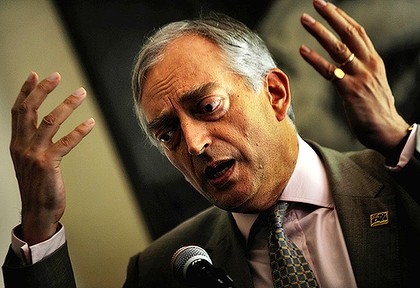 Lord Monckton, age 58, has given speeches, lectures, and university seminars on the science and non-science of climate in the US, including our Congress, and all over the world. He is widely consulted by governments, corporations, and professors, and has authored over 100 publications on the climate issue for the layman, as well as for the scientific journals. He has challenged Al Gore and John Kerry to a televised debate on the climate, but neither has accepted.

He has also prevented several government-level scientific frauds while serving as a Downing Street domestic and science policy advisor to Margaret Thatcher, saving British taxpayers billions. In 1986 he was the first to advise the Prime Minister that "global warming" caused by CO2 should be investigated. Two years later she set up the Hadley Center.

His 40-page report for the London finance house bluntly concluded that, though some warming could be expected, it would be small, harmless, and beneficial. Lord Monckton also found evidence that a well-funded clique of scientists, bureaucrats and politicians had been manipulating data and fabricating results to exaggerate the supposed problem. The Climategate emails amply confirmed his suspicions.

His climate change lecture to Cambridge University undergraduates was later turned into a full-length feature film (Apocalypse? NO!). His speech to 1,000 citizens of St. Paul, Minnesota drew public attention to a then little-known draft plan by the UN to establish a one world government at the climate summit at Copenhagen in December 2009. It received 1,000,000 YouTube hits in a week, thought to be the fastest-ever YouTube viewing for a speech. He has spoke about "global warming" to 100,000 mineworkers and their families on a mountain-top in West Virginia and to 15,000 at a Tea-Party Rally in Houston. His interview with a Greenpeace activist in Berlin in December 2009 is used in university law classes to teach debating and cross-examination.
UN Treaties and The Loss of U.S. & Individual Freedoms
 __________________________________________________________________________________

Opener: Tom M. Ballantyne Jr.
A strong conservative, Tom was born and raised in Bellaire, TX in 1950.  He has a sister and two brothers who are conservative (for the most part says Tom). Some 25-30 years ago they moved to Nashville, TN. While raising children Tom got his first taste of citizen involvement. He became a regular caller on the Phil Valentine radio talk-show. He later became involved in what's known as the "Tennessee Tax Revolt." , a successful attempt at stopping the creation of a State income tax.
He has written several other books including the very popular "Uncommon Sense" which brings to light the just causes of the people's outrage in today's "fundamentally transformed" America.
What started out as an expose on the spin of Bill O'Reilly and a few of his media cohorts evolved into a factual novel of collusion and intrigue. Mr. Ballantyne's new book (Oh Really, O'Reilly!) is considered the Bible by some, regarding constitutional legitimacy of our nation's 44th President. Tom will commment using a "Fair and Balanced" approach to the facts. You will be both shocked and overwhelmed by the massive volume of incriminating media evidence! Arm yourself to restore our freedoms, our prosperity, and our cherished way of life!

We look forward to seeing you and your friends for what will be a great Memorial Day event. Thank you for supporting the MCSO Cold Case Posse!
 __________________________________________________________________________________
Surprise Tea Party
14465 R. H. Johnson Blvd.
(Corner Stardust Blvd. & RHJ)
Sun City West, AZ
(Click map for Google directions)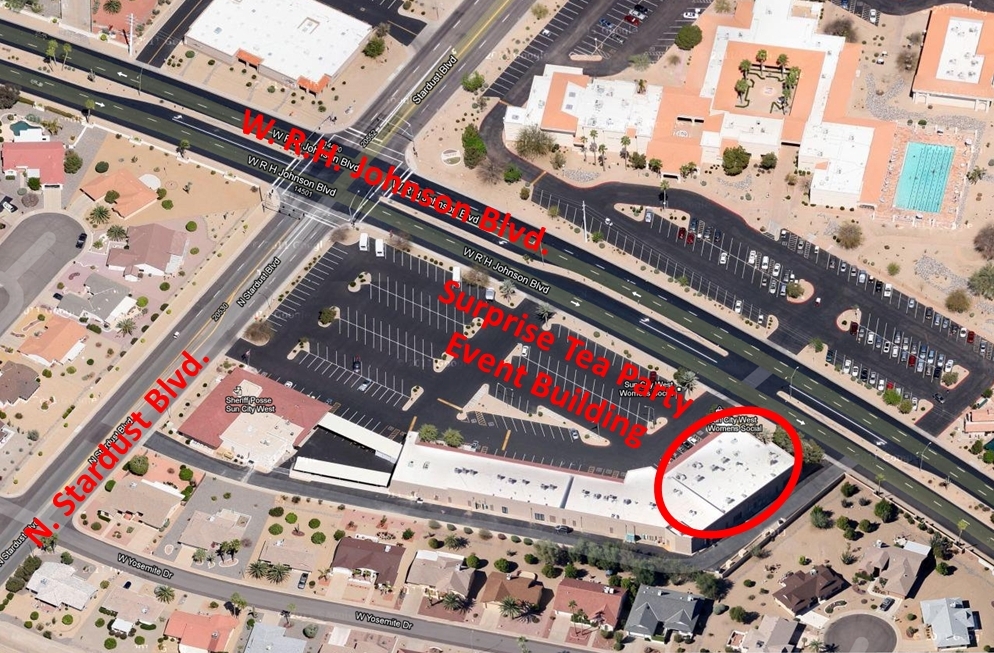 When & Where

Sun City West Foundation Plaza
14465 W R H Johnson Blvd
Sun City West, AZ 85375


Monday, May 28, 2012 from 6:30 PM to 8:30 PM (MST)
Add to my calendar
Organizer
Surprise Tea Party
The Surprise Tea Party is a grassroots, non-partisan organization of private citizens united by our shared values and opposed to wasteful government spending. We believe in fiscal responsibility, constitutionally limited government, and free markets.  In addition as Arizona residents we believe in legal immigration and will work to eliminate illegal immigration. Our mission is to organize like-minded individuals, educate and inform ourselves and others based on our core values, to secure public policy consistent with those values, and to positively affect the outcome of elections.

The Climate of Freedom: w/ Lord Christopher Monckton & Tom Ballantyne