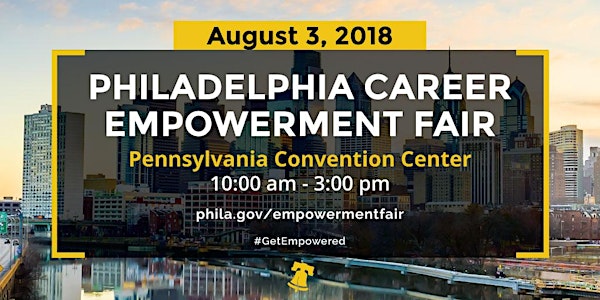 The City of Philadelphia Career Empowerment Fair
When and where
Location
Philadelphia 1201 Arch St Philadelphia, PA 19102
Description
The Career Empowerment Fair, presented by the City of Philadelphia, will be held on August 3rd, 2018 at the PA Convention Center. The Career Empowerment Fair gives you the opportunity to meet face-to-face with local employers and participate in a variety of professional development workshops. The Career Empowerment Fair is an annual event that aims to help Philadelphians find rewarding employment opportunities.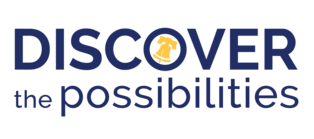 Featured Employers: Wawa, Aramark, CVS, The Kintock Group, Dietz & Watson, Inc., First Student Transportation, Wells Fargo, Starbucks, PGW, PECO, SEPTA, the Philadelphia International Airport... Download the Career Plus App for a complete listing of participating employers!

The Career Empowerment Fair will:
Connect Philadelphia residents and area employers

Offer a variety of professional development workshops before and during the fair. Register for a workshop on the next page!

Connect various area non-profit organizations and government agencies that specialize in a variety of issues with participants seeking information and assistance.


Provide tools and resources needed to pursue and achieve career goals.

Provide onsite resume assistance - Bring a copy of your resume for immediate feedback!
Download the app to use before, during, and after the event
The Career Fair Plus app has a host of features at your fingertips:
An interactive floor plan

A complete company listing

Event details
You can even create your preferred list of employers—so you don't miss a thing.
***If a workshop is full, you are welcome to show up and put your name on a "stand-by" list. If registered participants do not show up, we will add individuals from the stand-by list in order of arrival time. We cannot guarantee that any stand-bys will get into a full workshop***
Participating Organizations:
AARP
ASPIRA INC
Aramark
CVS
Cabrini University
Child Guidance Resource Center
Children's Crisis Treatment Center
City of Philadelphia - Philadelphia International Airport
City of Philadelphia, Department of Revenue
Community Behavioral Health
Community College of Philadelphia
Community Learning Center
DBHIDS - Dept. of Behavioral Health and Intellectual disAbility Services
DeVry University
Department of Human Services
Department of Planning & Development
Department of Public Property
Dietz & Watson, Inc
First Judicial District of PA
First Student Transportation
Free Library of Philadelphia
Free Library of Philadelphia, Workplace at the BRIC
Graduate! Philadelphia
Immaculata University
Imperial Events Security Services
Kelly Educational Staffing
LaSalle University
Mayor's Office of Labor; Office of Benefits and Wage Compliance
Mayors Office Of Reintegration Services
Oak Street Health
Office of Fleet Management
Office of Property Assessment
Office of Workforce Development
PA CareerLink
PA State Police
PECO
Peirce College
PennDOT
Pennsylvania Department of Corrections (DOC)
Philadelphia Commission on Human Relations & Fair Housing
Philadelphia FIGHT/Institute for Community Justice
Philadelphia Fire Department
Philadelphia Job Corps
Philadelphia Law Department
Philadelphia Marine Officer Program
Philadelphia Office of Human Resources
Philadelphia Office of Innovation and Technology
Philadelphia Police
Philadelphia Sheriff's Office
Philadelphia Streets Department
Philadelphia Technician Training Institute
Philadelphia Water Department
Prospanica
Resource for Human Development
SEPTA
School District of Philadelphia
Starbucks
TJX/Marshalls Distribution Center
Tech Impact/IT Works
The Kintock Group
The Salvation Army (Work-Tech)
The Philadelphia Mental Health Care Corporation(PMHCC)
Union Packaging
Urban League of Philadelphia
Values Into Action
Wawa
Wells Fargo
West Chester University Graduate Studies
West Philadelphia Financial Services Institution
Year Up