WRAP's First Annual Movies in the Vineyard Series: Shining a Light on Healthy Relationships
About this event
WRAP has been working since 1975 to assist survivors of sexual assault and domestic abuse through the provision of a wide array of free and confidential services. In 2019-20, WRAP served more than 2,000 survivors of abuse, mostly women and their children, in 19 West Tennessee counties. 96% of those we helped were able to realize their goals for justice, autonomy, safety, and/or well-being. We are proud of these results, and we believe that results like these are worth your investment, for when you give to WRAP, you are, in fact, investing in safer, healthier relationships, families, and communities in West Tennessee.
Out of an abundance of caution and concern for the well-being of our community, WRAP has not offered its major fundraiser, Denim & Pearls, for the last two seasons, but we did want to provide our community with the opportunity this year to invest in the work we do AND have a great time in a safe venue. Movies in the Vineyard is a series of three movies being offered in April and May at three different but exciting outdoor venues. The first will be a showing of that fun family adventure film, Indiana Jones, at Century Farm Winery on April 23, 2021 (rain date is April 30th) at 7 PM. The second is a showing of another family favorite, Legally Blonde, at the Samuel T. Bryant Distillery on May 7 (rain date is May 21st) at 7:15 PM. The third is a showing of everybody's favorite, Mamma Mia!, at Crown Winery on May 14, 2021 at 7:30 PM rain or shine.
The first event on April 23 will also have a silent auction with some great gifts up for bid. Food and beverages will be available for purchase at all three events.
We hope you will consider bringing the family out for a night of film and fun with our community! If you do, you will ensure that WRAP has the funds we need to continue serving victims of crime in our community in spite of the pandemic! Thank you for your support!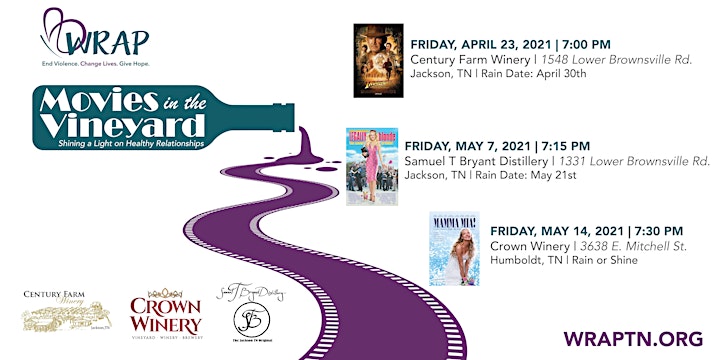 Single event sponsorships range from $100 to $200 and include entry for 2 to 6 people with one to three bottles of wine or shine.
General admission tickets are $20 each. Youth and children 13 and under enter free.
Organizer of The City of Jackson Presents WRAP's First Annual Movies in the Vineyard
Founded in 1975, WRAP now serves 19 West Tennessee counties and is the area's only dual domestic violence and sexual assault agency.  WRAP provides a wide array of services to women, men, and children who have experienced family or sexual violence, including a 24/7 crisis line, court advocacy, hospital accompaniment, individual and group counseling, therapy, shelter, job readiness, resource linkage, rapid rehousing, case management, and educational outreach.  In providing these services, WRAP's mission is to embrace and empower adult and child survivors of domestic and/or sexual violence so that the quality of life of those we serve and the communities in which they live is sustainably enhanced.  If you need help, please contact 1-800-273-8712.