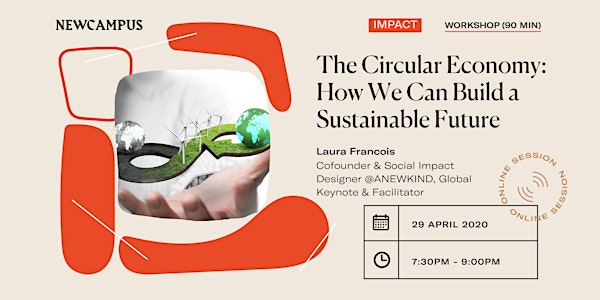 The Circular Economy & How We Can Build A Sustainable Future
The Circular Economy: How We Can Build A Sustainable Future
Refund Policy
Contact the organizer to request a refund.
Eventbrite's fee is nonrefundable.
About this event
The circular economy is about designing out waste and pollution, keeping products and materials in use, and regenerating natural systems. We'll be exploring the differences between our current, resource-draining linear systems and the shift needed in business, product design and culture to create a truly sustainable future. We'll equip you with the toolbox you need to re-think and re-design the world around you.
A NewCampus class is are live, relevant and iterative. We work with global thought leaders and practising industry experts, turning their current work into practical online lessons holding unique insights.
Learn more about this class here!
━━━━━ ✻ 𝐊𝐄𝐘 𝐓𝐀𝐊𝐄𝐀𝐖𝐀𝐘𝐒
1. Explore the key differences between linear and circular systems
2. Discover real-world examples of successful, and not so successful projects!
3. Think outside of the box by redesigning an everyday product or service by reflecting on circular strategies
━━━━━ ✻ 𝐀𝐁𝐎𝐔𝐓 𝐓𝐇𝐄 𝐂𝐋𝐀𝐒𝐒 𝐇𝐎𝐒𝐓
Laura Francois is a community engager, storyteller and environmental creative. A human-centred designer working the sustainable and ethical fashion space in Asia, Laura focuses on collaboratively designing circular economy models - dedicated to exploring new ways of thinking about systemic environmental problems and encouraging others to question the provenance of everything we consume.
━━━━━ ✻ 𝐀𝐁𝐎𝐔𝐓 𝐍𝐄𝐖𝐂𝐀𝐌𝐏𝐔𝐒
NewCampus helps you stay relevant and curious in our ever-changing world with small group discussion-led classes, workshops and unique offline community events, all under one membership curated just for you.
For more information visit newcampus.co or follow @newcampushq