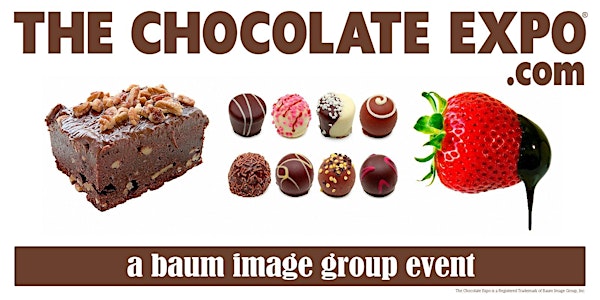 The Chocolate Expo 2023 Boston/Wilmington
Come celebrate your love of chocolate & great local foods at the Shriner's Auditorium in Wilmington, MA.
When and where
Location
Shriners Auditorium 99 Fordham Road Wilmington, MA 01887
About this event
The New York Metro region's largest chocolate event comes to the Boston area for the first time!
Enjoy tastings & sales of chocolates, baked goods, gourmet & specialty foods, cheeses & dairy products, ready-to-eat foods and local craft beverages.
Tickets purchased online for The Chocolate Expo are just $20/adult & $10/child (ages 5-12). Children under age 5 are free. Tickets purchased at the door are $30/adult & $15/child (ages 5-12), so be sure to get your tickets online to save money!
"Timed-entry" tickets at this location to help ensure a smoother flow of guests throughout the day. Please come during the time designated on your tickets, as priority entry will be given to these ticket holders, and this entry procedure will enhance the experience for everyone! Once inside the event, attendees can stay for as long as they like.
A limited number of "VIP Tickets" will be also available online-only for $40 each through January 29th or whenever tickets are sold out.
VIP Tickets offer priority admission at anytime during the day and include one deluxe insulated Chocolate Expo shopping bag (reg. $20). 
Our "4PM Late-Day Special" discounted tickets are available online only for just $10/person (all ages 5 and above) for the last two hours of the Expo between 4 and 6pm when crowds are typically smaller and the atmosphere is more relaxed. At the door, the 4PM Special tickets are priced at $15/person (all ages 5 and up).
Most vendors will still have plenty of samples after 4PM, and plenty of products are typically available for purchase during this later part of the day.  
Please note that "Late-Day Special" ticket holders will NOT be admitted before 4pm. Also note that all tickets are sold on a non-refundable basis. 
Tickets purchased online will be sent to you electronically in a PDF file (attached to an Order Confirmation email), which should arrive in your Inbox IMMEDIATELY after you place your order.  If you don't see the email right away, it may have been put in a junk email folder by your mail server, so be sure to check there, as well, if you don't get your tickets right away. Print out these tickets and bring them with you to The Chocolate Expo or show the tickets to us on your phone.
You may also purchase tickets on your mobile device using the Eventbrite App. We can scan your ticket barcode directly from your phone or tablet.
Parking:  There is free parking at the Shriner's Auditorium.
For more details, please see our website at:  www.ChocolateExpo.com. 
Also, we highly recommend first-time attendees check out the FAQs on our website.
We look forward to seeing everyone at The Chocolate Expo!