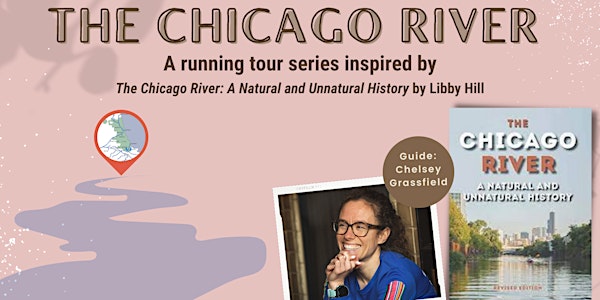 The Chicago River(s) Run Series Part 6: Running Tour of I&M Canal
In Part 6 of Read & Run Chicago's running tours along The Chicago River, we head to Lemont, IL!
When and where
Location
Lemont Metra Train Station Parking Lot (South Side of Tracks) 101 Main Street Lemont, IL 60439
About this event
In this series, Read & Run Chicago Guide & Friends of the Chicago River Policy Manager Chelsey Grassfield leads runners on a series of river runs inspired by Libby Hill's The Chicago River: a Natural and Unnatural History!
In her book, Libby Hill writes, "The early nineteenth century was the era of canals." For the 6th and final edition of this series, we'll see two of the historic canals, the Illinois & Michigan Canal (I&M) and the Chicago Sanitary and Ship Canal (CSSC). Although we may be leaving Chicago, these two waterways begin in the city. If you joined us for the third run of Bubbly Creek (or have ever been to Bubbly Creek on your own), you know that the I&M Canal began in Bridgeport before being replaced by the CSSC. The I&M Canal Corridor has been designated as the first National Heritage Area in the nation. We'll explore the history of these two vital waterways and how they impacted the health, growth, and prosperity of Chicago. If you take only one thing away from this series, let it be that Chicago would not be what it is today if it were not for our natural and human-engineered waterways.
Here's everything you need to know about PART 6 of this series!
(NOTE: You do NOT have to have attended any previous river tours! The content of these runs build off each other but also stand alone)
MEET UP: Meet at 10am on Saturday, December 10 at the Lemont Metra Station (101 Main Street in Lemont). Though we will begin our route at the Metra station, please note that this Metra line may not be running on the weekends, so do not count on public transportation.
RUN: This event features two options: ~3-mile, easy-paced route or ~5-mile, easy-paced route. Both options include the same talking points; the 3-mile group will split early from the 5-mile group.
POST-RUN: Join Read & Run and guide Chelsey Grassfield for optional (not included) post-run hangout at Corner Stone Tavern.
OPTIONAL READING: As this event is a running tour, reading the book prior is optional. If you do read the book inspiring this series, we suggest reading the following chapters from The Chicago River: a Natural and Unnatural History by Libby Hill: Chapters 7-9, 12-14, 23. (If you been reading along the whole way, the only chapter that remains for you to finish the book is 19 about the Skokie Marsh).
About Guide Chelsey Grassfield:
Chelsey Grassfield has attended numerous Read and Run Chicago events and now enjoys guiding her own, based on some of her favorite Chicago-themed books. The most rewarding aspect is meeting others who value opportunities to explore the city on foot and through literature. She's delighted to bring her expertise on the Chicago and Calumet Rivers, as Policy Manager at Friends of the Chicago River, to a series that explores the rivers' history, present, and future.z
The Chicago River(s) Run series will feature runs along the North Branch, Main Stem, and South Branch of the Chicago River, as well as the Calumet River and Chicago Sanitary and Shipping Canal. Runners will be encouraged to read select passages from The Chicago River: a Natural and Unnatural History by Libby Hill. Come learn about the river that put Chicago on the map and makes its way through so much more of Chicago than just the downtown Riverwalk (though we'll run that iconic location as well). Guide Chelsey Grassfield is the Policy Manager at Friends of the Chicago River and will be inviting colleagues from various organizations and agency partners to share their expertise on these runs.
About Read & Run Chicago:
Read & Run Chicago is the city's first and only running tour organization with routes built by stories! Our free running tours and book club runs are inspired by books set in Chicago, written by local authors. We connect runners and authors to run with purpose, explore thoughtfully, and bring books to life! Read & Run Chicago is queer woman-founded and operated. All bodies, paces, and walks of life all welcome. We've been featured in various media outlets including Runner's World, WGN Radio, Block Club Chicago, and more.
Stay in touch:
WAIVER
By registering for this run, I acknowledge that Read & Run Chicago is not responsible for any personal harm endured by participants. I am aware that this run, in addition to the usual dangers and risks inherent, has certain additional dangers and risks, some of which include: physical exertion for which I may not be prepared and weather extremes subject to sudden and unexpected change. I accept all the inherent risks of the proposed route and the possibility of personal injury, death or property damage or loss resulting there from. I agree that if I suffer injury or illness Read & Run Chicago can, at my cost, arrange any medical treatment and emergency evacuation service as it or they deem necessary for my health and safety.I agree to have my photograph taken at the run to be used on social media and Read & Run Chicago's website.By reserving the ticket(s), I affirm that I have fully understood and agree to these Terms and Conditions, Waiver and Release of Liability.