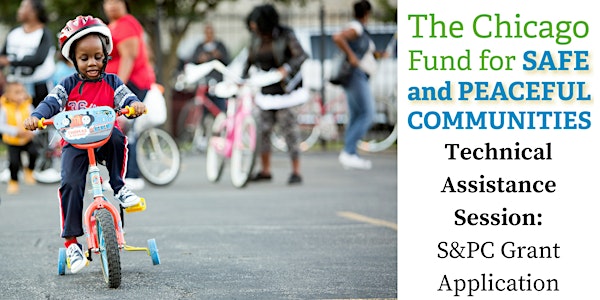 The Chicago Fund for Safe and Peaceful Communities Information Session
This RFP seeks to support grassroots programs in 21 prioritized communities to promote safety and well-being during summertime months.
About this event
The Chicago Fund for Safe and Peaceful Communities seeks to support programs in 21 prioritized communities designed to promote peace, build trust and strengthen relationships among neighborhood residents across ages. The Fund's application is simpler than traditional foundation proposal requirements, and grants will be awarded faster than the standard timeline; this is to ensure that monies are available to fund community-based programs as early as mid-June, aligned with out-of-school, summer activities for children and youth.
To apply, organizations must prepare a short proposal and budget, and have 501(c)3 nonprofit status or partner with an organization with status. The grant application and helpful preparation tips are available at www.safeandpeacefulchi.com.
We're hosting technical assistance for those interested in submitting a proposal for our grants and may have questions. If you have questions or are in need of assistance please join us. If you require an accommodation to fully participate in the session, please indicate that in the RSVP or feel free to email Laura at info@safeandpeacefulchi.com or +1 (312) 616-6769.
Information Session & Application TA Session 
FAQs
Who can attend this event?
Anyone interested in applying is welcome to attend. This event is free but RSVP is required. 
Am I required to attend a session in order to apply for a grant?
No. Attending a technical assistance session is not a requirement for submitting a grant application. 
How can I contact the organizer with any questions?
You can contact the project specialist at lgutierrez@cct.org or call and leave a voicemail at +1 (312) 616-6769 with any questions.