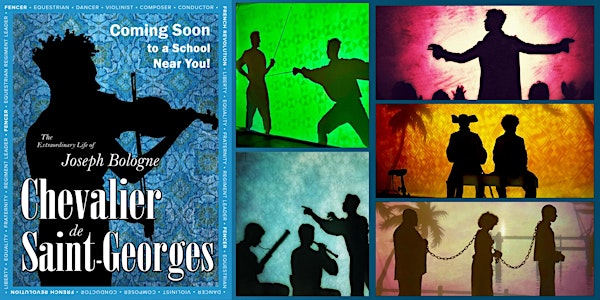 The Chevalier Project
The VITA Academy Presents
Location
Crest Theatre
1013 K St
Sacramento, CA 95814
The Chevalier Project: "The Extraordinary Life of Joseph Bologne, Chevalier de Saint-Georges"
About this event
Born in 1745 on the island of Guadeloupe, son of an enslaved Senegalese woman and a wealthy French landowner, Joseph was taken to Paris as a young boy to be educated at the best schools, trained as a fencer, equestrian, dancer and, above all, violinist, composer and conductor. Through music, narration, and shadow artistry, the Chevalier Project will bring to life the music and talent of Saint-Georges, allowing young students a glimpse of the challenges he faced because of his skin color while emphasizing his strength of character, his intellectual prowess, and his exceptional gift for music.
Susan Lamb Cook (cellist), Deborah Pittman (clarinetist), and Christopher Cook (visual artist/director) collaborate to create a multimedia work narrated by vocal artist, Omari Tau in this new and imaginative work that marries fascinating historical narrative, vibrant visual art, and majestic music to tell this awe-inspiring tale.​
The film and study guide will be available beginning Fall 2021 free of charge to all schools not only in the greater Sacramento and Nevada City areas but also nationwide, The film is educational and entertaining for all ages; the Study Guide aligns with California Standards for 4-6 grade students.
Read more about The Chevalier Project here: vitaacademy.org/chevalier-project
Susan Lamb Cook: Producer / Musician
Lecturer in cello and chamber music at the University of California, Davis, a member of the Sacramento Philharmonic & Opera and the Sacramento Choral Society and Orchestra, and director of the VITA Academy's Great Composers Chamber Music Series at the Harris Center in Folsom.
Deborah Pittman: Producer / Musician
Holds BS and MA degrees in music performance from the Brooklyn College Conservatory and has done doctoral studies at the Manhattan School of Music. A professor emeritus after 23 years as Professor of Clarinet and Musical Theatre at California State University, Sacramento, she continues to receive commissions to create performance pieces for the stage.
Christopher Cook: Director / Designer
Puppeteer, designer, builder and performer, working throughout the Sacramento area. His creations have appeared with numerous community organizations and universities including the Sacramento Chorale Society and Orchestra, Sacramento Theatre Company, Barnyard Theatre, and the Pacific Rim Festival.
Omari Tau: Narrator / Saint-Geroges
Omari Tau is known primarily as a singer of styles ranging from classical, jazz, and musical theater to pop and R&B. He is currently professor of Vocal Music at Cosumnes River College, and Artistic Director of Rogue Music Project (RMP), a collective specializing in opera and classical music on the fringe.
Amaryn Olmeda, violin: Omid Zoufonoun, conductorJoseph Bologne, Chevalier de Saint-Georges Rondo from Violin Concerto in D, Post. No. 2
Parker van Ostrand, piano: Soloist
Joseph Bologne, Chevalier de Saint-GeorgesAdagio in F minor for solo piano