THE CHARLOTTE ZOMBIE BAR-OCALYPSE...The World's 1st Interactive Bar Crawl

Saturday, November 1, 2014 at 6:00 PM

-

Sunday, November 2, 2014 at 2:00 AM (EDT)
Event Details
 This is an official
CDC CLT HEALTH ALERT No. 1101
 SUBJECT: ALERT: ZOMBIE OUTBREAK
Due to rampant reports that Uptown Charlotte is teeming with the Un-Dead, the CDC CLT is on heightened alert status and recommends the use of EXTREME CAUTION.  The best means of survival and reaching safety is to evade the ever growing Zombie hoard.  Make your way through the streets of Uptown Charlotte, avoid getting attacked and turned by gruesome Zombies by taking part in the...
CHARLOTTE ZOMBIE BAR-OCALYPSE
and SURVIVE to tell your tale! 
Can You Survive?
Join Good Eats and Meets on Saturday, November 1st for this ONE-OF-A-KIND event.
Take part in the WORLD'S 1st LIVE ACTION INTERACTIVE BAR CRAWL!!!
Join us for the Charlotte Zombie Bar-Ocalypse…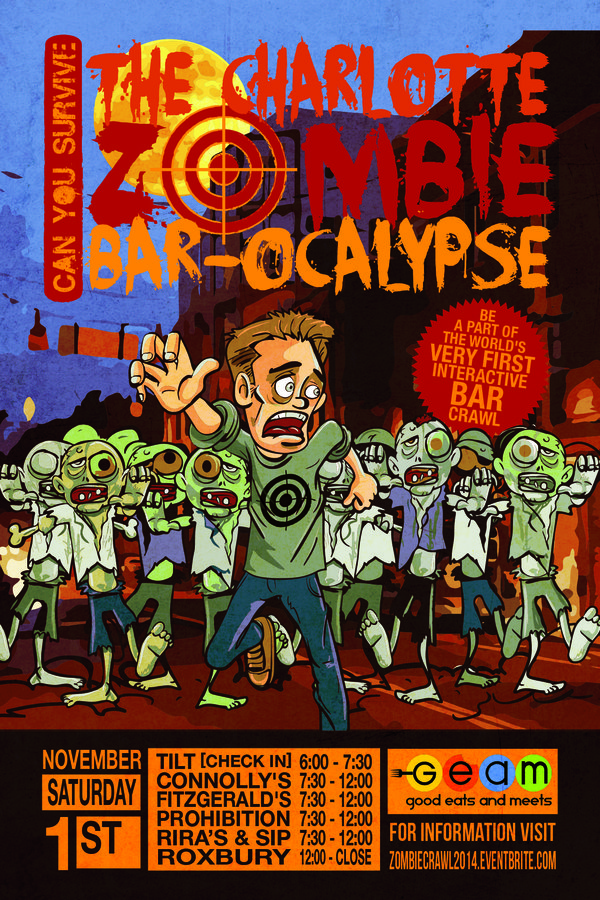 So, forget the same old, regular bar crawl…this is a bar crawl unlike any other, as we are taking things to a whole new level and we guarantee you have NOT experienced anything like this before! This Is NOT Your Typical Bar Crawl!!!
Guests will start the crawl as humans and it is their mission to survive the night without being infected/turned by the Zombie horde (we will have a VERY select group starting the crawl as Zombies-You can choose this VIP option package and receive a FULL Zombie Makeup Session and be the 1st group of Zombies), while going from bar to bar.  Each bar taking part will be "SAFE ZONES", with no "infecting" taking place inside the bars.  All the fun will take part outside on the streets!  Think of it as "Humans versus Zombies" in a HUGE game of Tag combined with Hide and Seek.  Zombies will try their best to "TURN" the humans for the duration of the crawl, until there are no humans left. Those few humans that survive the Zombie onslaught will be rewarded with a special surprise at the end of the night. 
The cost for the Charlotte Zombie Bar-Ocalypse is only $10!!!  The price will go up by $5 the day of the event.  Your ticket will get you awesome drink and/or food specials, NO COVER to any of the places taking part in the Crawl, FREE base Zombie make up, a Zombie Crawl T-shirt and loads of swag and prizes!
There is no need for a costume, we do everything for you!
Check out this Video explaining the Zombie Bar-Ocalypse
https://www.youtube.com/watch?v=BO1rtbZqFlc&feature=youtu.be
The Registration and Check is at Tilt on Trade, 127 W. Trade St from 6:00-7:30. From 7:30 until 12:00, Connolly's, Fitzgerald's, Prohibition, RiRa and SIP will be our "SAFE ZONES" and humans will go from bar to bar during that time trying to avoid the Zombies. At 12, everyone will then make their way to Roxbury to redeem their prizes for the survivors and join the Zombies to dance the night away!
(We will have the Get Dead Crew and their professional makeup artists on hand to "Zombify" ALL CRAWLERS.) Humans that are "turned" throughout the night can simply come back to Tilt on Trade and get Zombified! Last year out of hundreds of crawlers, we only had 6 survivors!
They will provide the following options. 
Barely Dead~ Pale face, sunken eyes. FREE
Fresh Meat~ The Barely Dead, with a side of bite marks $3
Bloody&Bruised ~ All of the above, with blood and bruises $5
The Spoiled Rotten~ The TOTAL package, all of the above, complete with an oozing 3D latex wound. $10
http://www.breathingcanvasfx.com/THE-GET-DEAD-CREW.html
Please go to https://zombiecrawl2014.eventbrite.com to get your pass and get ready to eat BRAINS…BEERAINES! Prepare yourself for the hordes of Zombies, chaos and an un-deadly good time!
The Charlotte Zombie Bar-Ocalypse
This Is NOT Your Typical Bar Crawl
THE WORLD'S 1st LIVE ACTION INTERACTIVE BAR CRAWL!!! 
Good Eats and Meets is the largest dining, drinking and socializing group in the US and you can find more information at...
https://www.facebook.com/goodeatsmeets
https://twitter.com/goodeatsmeets
http://pinterest.com/goodeatsmeets
http://instagram.com/goodeatsmeets
When & Where

Tilt On Trade
127 W. Trade St.
Charlotte, NC 28202


Saturday, November 1, 2014 at 6:00 PM

-

Sunday, November 2, 2014 at 2:00 AM (EDT)
Add to my calendar
Organizer
The premise of Good Eats and Meets is to explore all that each of our cities has to offer in the culinary world, whether it's testing the "Best Of" restaurants or sampling the "greasy spoons." The group is for adventurous people who enjoy sharing a meal and great conversation and the best part about it all?  Membership is absolutely free!  The majority of people living in each of out cities are transplants from other areas and Richard Gruica, the founder, wanted to "provide a gathering place for all those who love food and socializing, with the idea of broadening their knowledge of regional specialties."  The group brings people of all ages and walks of life together in the European style of "breaking bread" and also supports the local restaurant economy.  Road trips, wine tastings, classes, farmer's market tours, dinners, brunches and smaller-scale tasting and dinner parties, as well as many other events can also be found on the social calendar.