THE CHARLOTTE JUMP OFF 2015 | Vapiano | Heavy Hitters DJ Lonnie B
Description
Eddietainment, Pearl Vision Group, Eddleton Events, J&J Entertainment Group
get the big tournament started in style
Thursday February 26, 2015.
Doors Open at 6pm - 2am
Audio by
DCs DJ Biggs
&
VAs DJ Lonnie B of the Heavy Hitters

FREE BEFORE 7pm with RSVP!!!
Contact Eddie at eddiet456@gmail.com for Table reservations & Bottle Service.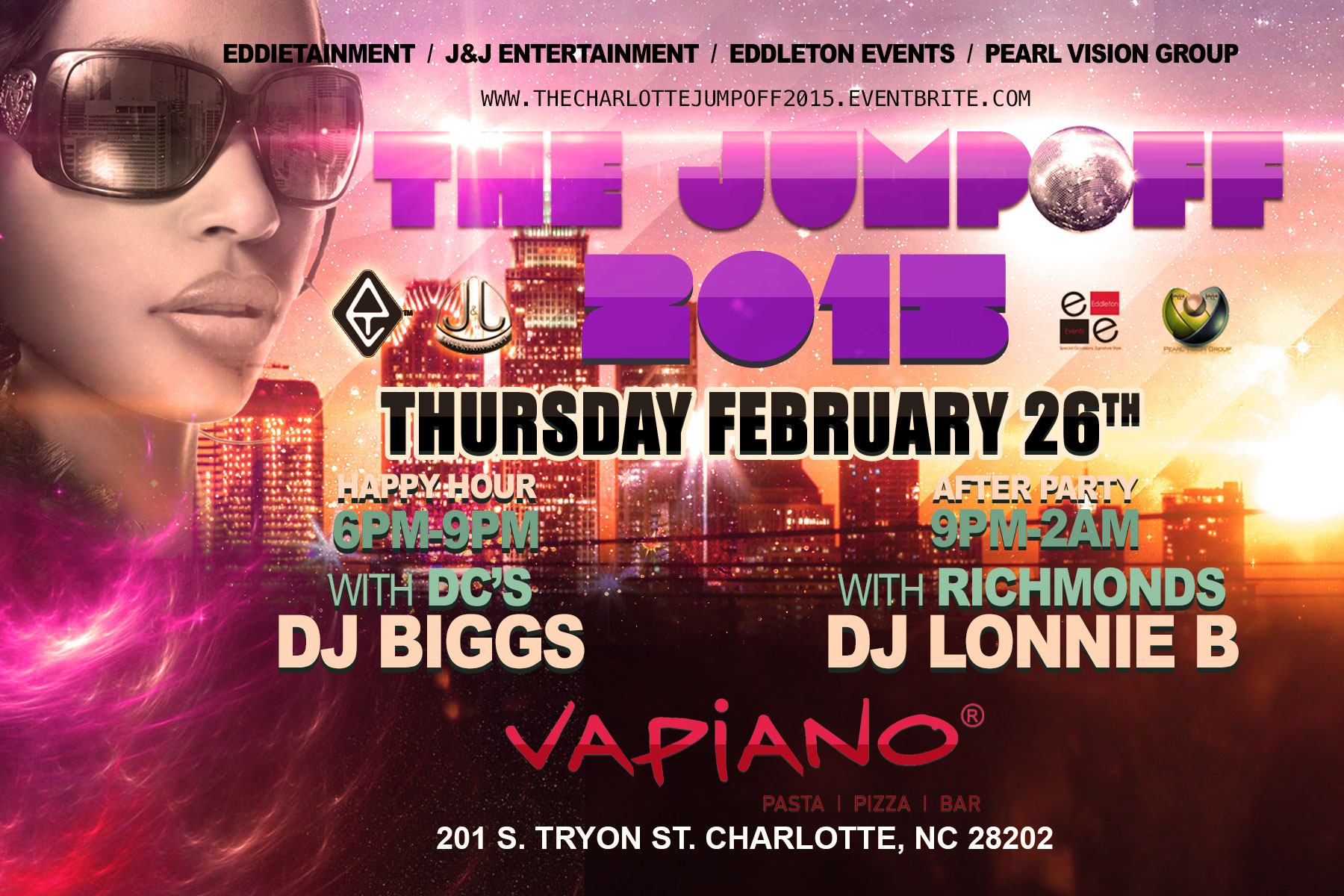 The Top 6 Reasons The 3rd Annual Charlotte JumpOff 2015 @Vapiano is the best Thursday night party CIAA Weekend.
1.

Classy posh venue. Vapiano's gives you the Euro-chic feel in the heart of Charlotte.
2. The party stays jumpin'. It's a well attended event every year with people lining up early to get in. FREE entry with RSVP before 7pm. RSVP HERE
3.

The Food is Amazing. Made our list of the top places to eat CIAA Weekend (Make sure you get that download HERE!). Happy Hour Food & Drink Specials 5-8pm. Food also served late.
4.

Available seating. Multiple places for the ladies to sit and rest their feet in their expensive high heels. :)
Also multiple areas with table packages available starting from $150. Yes, $150!!!




Contact Eddie at

eddiet456@gmail.com

for Table Reservations & Bottle Service.
5.

Fair drink and bottle prices relative to the other venues. Get the most for your money. Why pay double?
6.

DC's DJ Biggs spins the old school hip hop & r&b for happy hour 5-8pm. Richmond's DJ Lonnie B of the Heavy Hitters spins the late night 8p-2am. Everyone has a great time.