The Charlotte Coffee Crawl-A Caffeinated Celebration of Coffee Culture

Saturday, December 5, 2015 at 11:00 AM

-

Sunday, December 6, 2015 at 5:00 PM (EST)
Who's Going

Loading your connections...
3 of your friends are going.
Share it to get more people on board!
Share

Sara Haughty
San Francisco, California

Luke Picard
London, United Kingdom

Rick Vespucio
Florence, Italy
Event Details
Good Eats and Meets is proud to announce that we are partnering with most of Charlotte's best-loved coffee houses and roasters for the CLT Coffee Crawl, a caffeinated celebration of local coffee culture which will take place over the weekend of December 5th and 6th.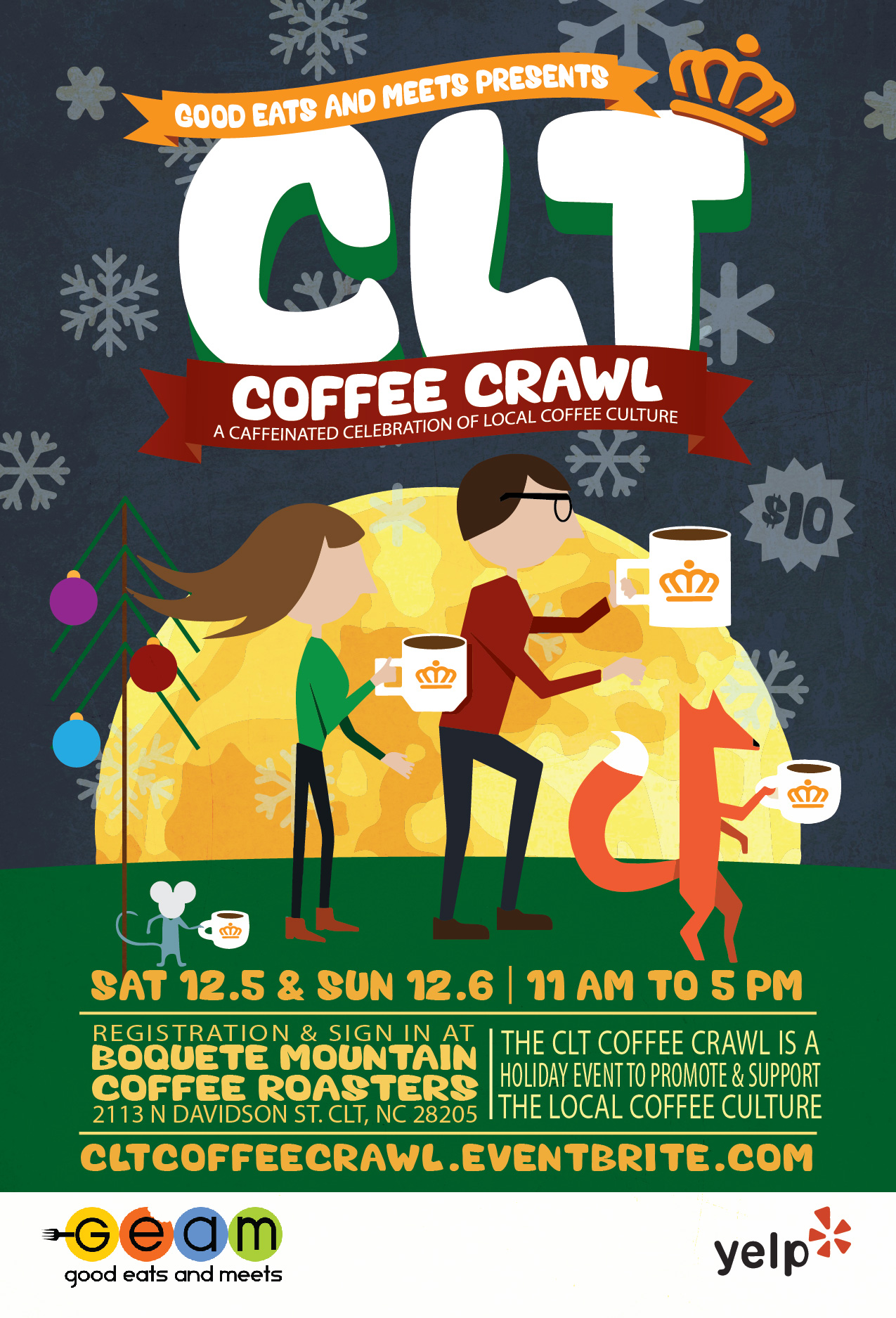 The CLT Coffee Crawl will give all attendees an opportunity to share and experience what the passionate baristas, specialty coffee shops and roasters in Charlotte are doing and to learn more about the quality, technique and process of each stop on the crawl.  Each stop on the CLT Coffee Crawl will be offering a variety of coffee samples, demonstrations and tours throughout the day.  Each venue will be doing something different, so make your crawl an adventure by stopping at each one.  Unlike a typical bar crawl, all participants won't have to drink consecutive cups of coffee in one sitting; instead crawlers will have ample time to try all the unique coffee experiences being offered on the crawl.  Do it in 1 day or 2, that is up to you. The Crawl will take part from 11-5 both days (unless otherwise noted) and can be started at any time during those days by first coming to the host location at Boquete Coffee. The Coffee people in Charlotte are serious about what they do and their dedication will show at each participating business and we want you to see that and feel good about supporting the local coffee culture at the same time. 

 CLT Coffee Crawl FAQs for Crawlers (ticket holders):
Love coffee? Enjoy visiting new shops, tasting great drinks, and learning more about the people and techniques that go into the craft? By joining the CLT Coffee Crawl, you will be supporting your local beverage culture, signing up for a super fun time. 

Questions? They are below

What is the CLT Coffee Crawl? Well, funny you should ask! Essentially, it's the coolest coffee event ever to pull consumers and professionals together in a celebration of the local Charlotte beverage culture. Participants will get a CLT Coffee Crawl map at the registration location with your first sample of coffee and a custom CLT Coffee Crawl Java Jacket (the way all the locations know you are with the crawl).  It will be your mission to try all the spots on the CLT Coffee Crawl at your own pace with self-guided visits to the CLT Coffee Crawl spots over a 2 day period.

What's it like to go on a Coffee Crawl? Glad you asked. It's a blast. Prepare to drink lots of coffee, participate in fun and educational presentations, pick up some great gifts for friends and family for the Holidays and meet new people who love coffee as much as you do. You'll be joining what's becoming a cherished tradition for many folks across the country and we can now do it here in Charlotte. We will be happy to see you join us.

I bought my ticket, now what? Congrats! We're thrilled to have you along. Tell your friends! Maybe they'd like to come along—the CLT Coffee Crawl will be an awesome social event.  You will start your crawl by coming to Boquete Mountain Coffee Roasters anytime between 11-5 either day and check in at registration. Once you are checked in, you will be given the CLT Coffee Crawl Map with all the locations on the crawl and an OFFICIAL CLT COFFEE CRAWL Java Jacket.  That coffee sleeve and map are the ways all the locations will know that you are taking part in the crawl.  All you have to do now is go from spot to spot and enjoy the CLT Coffee Crawl. We will have a CLT Coffee Crawl Goody Bag for crawlers that go to each spot on the crawl and turn their map back in at Boquete, so make sure to go to each one.  It's that simple!

How should I dress? Weather-appropriate, with layers, since you'll be going in and out of shops and vehicles.
Registration/Sign In- Boquete Mountain Coffee Roasters-2113 N. Davidson St. CLT 28205-704-243-8900-(Look for the Red and White BOCO sign out front) Boquete will be offering Tastings, Tours and Demos where CLT Coffee Crawlers can taste brewed coffees, espresso drinks, Cascara Seca and Cold brew coffee.  BOCO will also be offering a personal tour of their roaster and demonstrate their roasting process both days. They will also have for sale at a discounted rate, several of their special blends. On Sunday, they will be offering a "How to Properly Make Coffee at Home" class at 2:30, so make sure to come back Sunday for the class!
Boquete Mountain Coffee is a full service specialty coffee roastery that carefully chooses the finest coffees from around the world to serve to their customers. The coffees are sourced using the Direct Trade method, by which coffees are purchased directly from the farmers that grow it. This practice assures that the farmers produce a high quality product for a guaranteed fair price. When the coffees arrive, they meticulously roast each to its individual perfection, then brew it many different ways to determine its potential. Once that is accomplished, we consistently roast it in larger batches for distribution.
 You can find them at…
 https://www.facebook.com/BoCoClt
 https://twitter.com/BoqueteRoasters
Our Other CLT Coffee Crawl Spots-
Cotswold
NEW STOP-Julia's Café & Books-1133 North Wendover Road CLT 28211-704-295-4585-All Crawlers will receive the option of a FREE 12oz drip coffee OR a $2 12oz latte, as well as, ALL 12oz coffee bean bags will be $5 off!! (Some restrictions may apply) Julia's proudly features Magnolia Coffee, another local Charlotte roaster. Magnolia touts itself as Artisan Roasted. Truly Delicious. Socially Responsible.
Julia's Café & Books is a fundraising division of Habitat for Humanity Charlotte. They are located right next to the Habitat ReStore. Julia's offers a huge and unique selection of used books, as well as, delicious locally roasted coffee and local and organic breakfast and lunch options. So come enjoy the warmth of your favorite coffee drink and a bite to eat while you explore our great selection of books!
*Please note that Julia's is CLOSED on Sunday, so make sure to visit them on Saturday.

 You can find them at…
 www.instagram.com/JuliasCafeandBooks
Elizabeth
Crown Station Coffee House and Pub-1425 Elizabeth Ave. CLT 28204-980-224-8020-Crown Station will be offering Coffee Cocktails (YES BOOZE!!!) specials for the duration of the crawl and will be discussing the creation of those cocktails, both alcoholic and non-alcoholic, which can easily be made at home.  Their Coffee Cocktail Demo and Sampling (Must be 21+) will be at 1:30, 3:30 pm and 5 pm Sat. and Sun. 
Crown Station offers organic fair trade coffees & teas as well as the best chai in town. Want coffee and a drink? Why choose…have both! They have a full bar available, with a wide variety of craft beers and premium cocktails. Their cozy comfortable environment and friendly staff hosts live entertainment every night for your enjoyment.
 You can find them at…
 https://www.facebook.com/CrownStation
 https://twitter.com/crownstation
 http://instagram.com/crownstation
Indian Trail
NEW SPOT-Madison's Coffee House-7878 Idlewild Road Indian Trail 28079-704-628-0106-Madison's will be serving every crawler a FREE bag of hot mini doughnuts made right before your eyes for each coffee purchase. They feature coffee from The Climb coffee roasters.  
Madison's is a family friendly cafe and ice cream bar with plenty of delicious drinks and snacks, a patio for customers' pets, space for children to play and friends to meet.
You can find them at…
https://www.facebook.com/madisonscoffee
Noda
Boquete Mountain Coffee Roasters-2113 N. Davidson St. CLT 28205-704-243-8900-See Info Above
Smelly Cat Coffeehouse-513 E. 36th St. CLT 28205-704-374-9656-Smelly Cat will have a demo on roasting at 12, 2 pm and 4 pm Sat. and Sun. They will be offering a FREE sample of their Sweet New Orleans cold brew coffee on tap, a taste of their single origin coffee hot brew/pour over, 10% OFF ALL PURCHASES and house made cookies.
The Smelly Cat Coffeehouse, whose tag line is "fueled by coffee, nurtured by community" is the ONLY CLT coffee shop with its own roaster in house. Their Probat L12 vintage coffee roaster has been amazing both staff and consumers by its unique character development of the coffee depending on its origin or blend. Come watch the roasting, experience the extraction and sip the perfection.
You can find them at…
 https://www.facebook.com/SmellyCatCoffeehouse
 https://twitter.com/SmellyCatCoffee
 http://instagram.com/smellycatcoffee
Pineville
NEW SPOT-Mama's Coffee House-716 N Main St Pineville 28134-704-248-4882-Mamas will be giving demonstrations each hour on the hour on how a cafe con leche is crafted. Enjoy their homemade horchata latte or a traditional cafe Cubano espresso. All of their drinks pair well with the delectable tres leches cakes from Las Delicias Bakery, which they will be featuring during the crawl.
Mama's does a great job combining super tasty coffee, a stellar atmosphere, delicious food, pastries and desserts. One of the features of the shop is everyone who visits are free to sign/decorate the walls and leave their mark.
 You can find them at…
 http://www.mamascoffeehouse.com/
 https://m.facebook.com/MamasCoffeeHousePineville
 http://instagram.com/mamascoffeehouse
Quail Corners
NEW SPOT-FABO Coffee Art Bar- 8428 Park Road CLT 28210-704-612-9768- FABO will be giving away FREE mini apple cake muffins made by local baker Anne Sadler with purchase of any coffee beverage.  As an extra special offer, between 1:00 p.m. and 3:00 p.m. Sat and Sun, local artist Marvin Espy will be doing caricatures of crawlers during the event to promote the support of local artists.
*Please note that on Sunday, December 6th FABO's doors close at 3:00 p.m. so crawlers should plan their visit accordingly. 
FABO is a local coffee shop, bar, and art gallery that specializes in delicious locally roasted coffee and showcasing local artists' works.
 You can find them at…
 https://www.facebook.com/FABOCafe/
 https://www.instagram.com/fabocafe/
Selwyn/South Park
Mugs Coffee-5126 Park Rd. #1 CLT 28209-704-733-9014-Mugs Coffee will be offering BUY ONE GET ONE FREE on ALL Coffee purchases.
Mugs Coffee is all about local, from their coffee beans (they feature Magnolia Coffee) to their art, just about everything they feature is local and sourced in North Carolina.  They are also known for their artwork, which also features local artists. 
 You can find them at…
 https://www.facebook.com/Mugs-Coffee-188668647824076/    
 You can find Magnolia Coffee at…
 http://www.magnoliacoffeeco.com/
 https://www.facebook.com/Magnolia-Coffee-Company-146354888755267/
 https://twitter.com/MagnoliaCoffeeC
 https://www.instagram.com/magnoliacoffeeco/
Uptown/Third Ward
NEW SPOT-Enderly Coffee Co. Pop Up @ Rhino Market-1500 W Morehead St #E CLT 28208-704-348-1428-Enderly and Rhino will be pairing up for a coffee and dessert sampling.

The Enderly Coffee Company is a family owned, artisan small-batch coffee roaster right here in West Charlotte, NC that is focused on great coffee and doing GOOD by turning modest profits into great works of compassion.
You can find Enderly Coffee at…
 https://www.facebook.com/EnderlyCoffee/?fref=ts
 https://twitter.com/enderlycoffeeco
 https://www.instagram.com/enderlycoffeeco/
The Rhino Market & Deli offers craft beer, fine wine, and deli sandwiches, soups and salads, local products and of course local COFFEE!

You can find Rhino Market at…
 http://rhinomarket.com/index.html
 https://www.facebook.com/rhinomarketanddeli/?fref=ts
 https://twitter.com/RhinoMarketDeli
 https://www.instagram.com/rhinomarket/
A CLT COFFEE CRAWL BONUS!!! EagleSpeak Coffee House will have a concert Sat. Night for CLT Coffee Crawlers with live music at 8 pm with Henry River Honey-Americana, bluegrass, singer-songwriter, deep and dusty blues with a heaping helping of heaven is the only way to accurately describe the sound that just can't be square- pegged into a round hole. They open at 7 pm…a perfect stop after the regular crawl hours.
EagleSpeak Coffee House-3907 South Blvd. CLT 28209-980-297-9643
We would love that you share your CLT Coffee Crawl moments with others and ask that you use the hashtag #CLTCoffeeCrawl for Social Media purposes.  Please remember to be timely for all demos as there has been a lot of work in putting them together for your benefit.  Also keep in mind that TIPS ARE GREATLY APPRECIATED by the staff working the CLT Coffee Crawl over the weekend. We look forward to having you and your friends attend the CLT Coffee Crawl.  See you soon and come thirsty!

When & Where

Boquete Mountain Coffee Roasters
2113 N Davidson St
Charlotte, NC 28205


Saturday, December 5, 2015 at 11:00 AM

-

Sunday, December 6, 2015 at 5:00 PM (EST)
Add to my calendar
The Charlotte Coffee Crawl-A Caffeinated Celebration of Coffee Culture