The ChangHer Connections Monthly Business Networking Mixer
For the Women in Business... We.Connect, We.Grow, We.Change and We.WIN!
About this event
WE are ONLY as STRONG as the COMPANY we KEEP!!!
The "Game ChangHers", which is a Community of Support for Women of God in Business will be STARTING BACK our MONTHLY Networking Mixer as usual, but NOW on EACH & EVERY 3rd FRIDAY of the Month from 7pm to 10pm... And We INVITE YOU to JOIN US Face-to-Face for this AWESOME and FUN-FILLED Monthly Event! It's been a while since we've met up for a night of Networking...and we are EAGER and EXCITED to See each and Every one of YOU as we KICK OFF our event at OUR NEW BUSINESS + EVENT Space- "The Be Studios"!
Each Month we Host a Different Theme! So EVERY MONTH is EXCITING, ENGAGING and NEW!!!
You DON'T want to miss this Intimate, Professional, YET FUN Setting-- Come JOIN US as we Mix & Mingle, while Enjoying COMPLIMENTARY Cocktails/Mocktails, Lite Bites, GREAT, RESOURCEFUL and IMPACT-FULL Information and a Monthly Topic from our Host and Founder (DaNielleIAM) along with Special Guests, also shopping with Vendors, Gift Give-Aways provided by some REALLY COOL Companies, a Goodie Bag for Each Attendee, Games, Music, Fellowship, & MORE!!!
WE know how to HANDLE Business...and have FUN while DOING SO!
***Have your Business Cards, Flyers, Promo Material, etc. READY to SHARE to enjoy a BETTER Networking Experience....AND to ENTER into our Give-Aways that night!
***THIS Networking Mixer is Designed to help CHANGE 'HER' (the Women of God IN Business) through POSITIVE CONNECTIONS, INTERACTIONS, CONVERSATIONS, EDUCATION, EMPOWERMENT, ACCOUNTABILITY and through SUPPORT for our Businesses! THIS EXPERIENCE will be FUN, FUN & MORE FUN but also INFORMATIVE!!! DON'T MISS and Hope to See YOU there!
PLEASE NOTE:
Tickets are $25 for General Admission!
And our Vendor Space is $45, and ALL can be Purchased via Eventbrite!
(*A General Admission ticket still needs to be purchased if you want to participate in the Mixer and the Event's activities.)
For More Information on the Mixer, to be one of our Monthly Vendors, to have your Information placed in our "ChangHer Goodie Bags", or if you would like You or Your Brand to Host our NEXT Mixer, please Contact Da'Nielle Lucas @ 972-914-8919 or by email at thegamechanghers@gmail.com.
(We EDUCATE HER...We EMPOWER HER...We MOTIVATE HER...We INSPIRE HER)
To REGISTER for YOUR Ticket(s) and/or to Pay for your Vendor Space, please Visit Us at: https://www.thegamechanghers.com/events!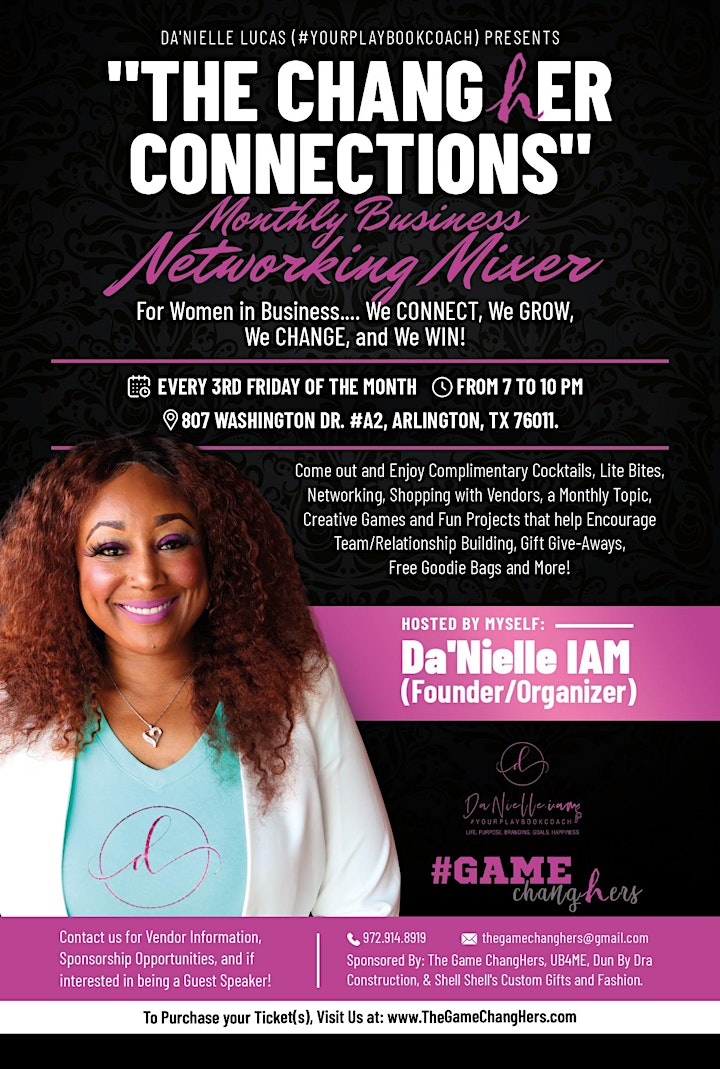 Organizer of The ChangHer Connections Monthly Business Networking Mixer
A Little About Who WE Are...What WE Do...and Why WE Do IT! 
▪This group is designed to EMPOWER, EDUCATE, and INSPIRE Women to "Change HER Game in Life...in Order to Change THE Game in BUSINESS!" Powered By Da'Nielle.IAM and the "I.AM the Change" Movement, for WOMEN in Business that desire to BE 'SET APART' and ABOVE AVERAGE in ALL that you do! This group is for Women that are BELIEVERS of Making CHANGE a Daily Lifestyle, but also that desire to make an IMPACT with that change BOTH Personally & Professionally!
▪It's ALL about helping Women realize that ANY 'CHANGES' they desire to see, MUST and will ALWAYS begin with the person they see....Themselves! It's ALL about Evolving, Self-Improvement and Advancement and helping other Women DO THE SAME!
In this group you are Encouraged to share your Knowledge, Skills, Advice, Tips, Motivational Quotes, Positive Life Events or Experiences that will promote healthy dialogue in order to Inspire HER (Women) to Change in Life....which will Ultimately Create Growth for HER Business!
-------------------------------------------------------------
Def of a Game Changer (noun): An Event, Idea, Procedure or PERSON that effects a significant shift........ So LET'S BE THAT Shift Ladies! A #GameChangHer
Are YOU A #GameChangHer? #IAMAGameChangHer
Are YOU A Woman in Business? CLICK to JOIN/VISIT OUR Community of SUPPORT TODAY: www.TheGameChangHers.com