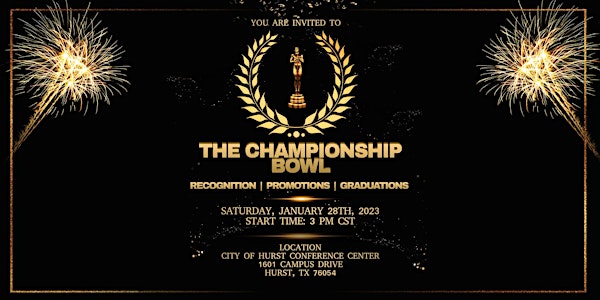 The Championship Gala "Recognition, Awards, Celebration"
Recognition, Awards, Celebration
When and where
Location
City of Hurst Conference Center 1601 Campus Drive Hurst, TX 76054
About this event
Gala!
We are dedicated to our community and this event will show you just that! Do you have a charity or organization that you'd like for our organization to consider donating to?
We'd love to hear about its initiatives and enter it into the drawing for the end of the night. This event will leave you thrilled, excited, moved, inspired, and feeling a part of something greater than yourself!
At the "The Championship Bowl Gala", we will bring a full year to an end and celebrate great achievements in the arena of charity, mission, and excellence centered around empowering our community throughout the United States, Puerto Rico, and Canada. We will celebrate those who have carried the mission as flag carriers by impacting the most communities. We will embody and harness the mission of "We Are Our Brothers & Sisters Keepers" in a unified manner. We will discuss the many disparities yet opportunities to help the diaspora.
There will be music, awards, celebrations, panel discussions, appetizers, beverages and so much more. Amongst those in attendance will be professionals from all walks of life including but not limited to IT professionals, medical professionals, engineering professionals, business owners, and many more.
We'd love to see you there. Please email your charity/organization information to eldteamacct@gmail.com to be entered into the drawing. We will donate to four chosen charities at the end of the event. We hope to see you there for a night to remember!