| | |
| --- | --- |
| The Center for Cartoon Studies 2011 Summer Workshops | |
Event Details
PLEASE NOTE:
Create Comics is currently sold out. To be placed on the waiting list, e-mail registration@cartoonstudies.org.
There is curently one space remaining in Cartooning Studio.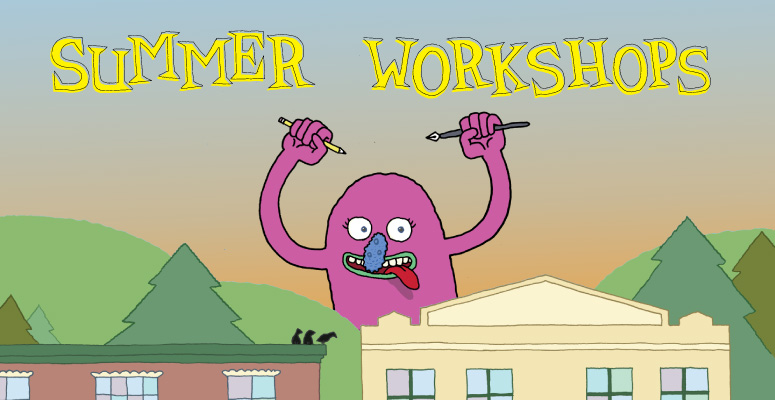 CREATE COMICS | July 18-22

Create Comics Summer Workshop is a 'boot camp' for cartoonists. The 5-day workshop packs in the essentials for producing your own comics.
Through lectures, exercises, and group projects, students learn about story structure, page composition, pacing, materials and techniques, character design, environmental drawing, and production. Students collaborate on a comic anthology that they self-publish during the workshop. Create Comics is for both beginner and advanced students age 16 and over.
CARTOONING STUDIO | August 1-5

Cartooning Studio is a 5-day cartooning intensive, ideal for adults and college students (with a for-credit option). Through lectures and classroom exercises, CCS faculty will cover the basics of visual storytelling. There will be a strong focus on designing, crafting and self-publishing comics. This is a goal-orientated workshop in which students are given the support necessary to create and self-publish their own independent project.
Cartooning Studio participants will have 24-hour access to studio space and the CCS Production Lab, allowing them to extend their experience beyond scheduled class time. Apple laptops, equipped with essential programs like Adobe Photoshop and InDesign, will be available for check out. Registration fees include black & white and color printing and copying, screen printing lab access, and more.
CCS will offer optional evening classes and tutoring sessions, allowing students to tailor their learning experience.

* FOR-CREDIT OPTION:
Cartooning Studio can be taken for 2 undergraduate credits. Policies on transfer credit vary by institution and by program, so please check with your college or university Register and/or Program Chair before registering for-credit. To enroll for-credit, students must have an official transcript sent to:
Summer Workshops
The Center for Cartoon Studies
PO Box 125 / 94 S. Main Street
White River Junction, VT 05001
EXTENDED STUDIO  | August 8-10
This additional 3-day workshop after Cartooning Studio is designed for students who wish to extend their time at CCS working on independent projects under the guidance of faculty, with full access to CCS resources such as studio space, the production lab, and the Schulz Library.

NEW!
ANIMATION FOR CARTOONISTS | August 15-19

Animation is a natural outgrowth of cartooning, but the skill set, tools and tricks of the trade are very different. A faculty of experienced and award-winning animators and animation producers will guide students through the fundamentals of 2D animation: designing characters that can move and act, creating compelling sound design, pacing the action, and structuring stories & gags. Students will work hands-on in every facet of the process, and each student will complete his or her own short animated scene. We'll explore the history of animation from its humble beginnings to the current state of the animation industry today. Students will emerge with a rich understanding of how to make an animated film, and the skills to get started. This new workshp will be taught by Scott Dikkers, founding editor of The Onion.
HOUSING
Student housing is available in the hostel section at the nearby Hotel Coolidge.
Special rates are:
$21/night for a shared room
$35/night for a single room
$45/night for a single half-bath room
$55/night for a double half-bath room (full bed)
To make a reservation, contact the Hotel Coolidge, (802) 295-3118. Please let them know you plan on attending a summer workshop at CCS. Book now, space is limited!
Click here for a listing of additional area hotels with discounts for summer workshop attendees.
Refund policy: Tuition is refundable up until 3 weeks prior to the first day of the workshop, minus a $50 fee and any fees assessed by Eventbrite. Tuition is non-refundable after that date.
Questions?
cartoonstudies.org
registration@cartoonstudies.org
(802) 295-3319
Where

The Center for Cartoon Studies - Colodny Building
94 South Main Street
P.O. Box 125
White River Junction, VT 05001


Organizer
The Center for Cartoon Studies (CCS)
The Center for Cartoon Studies course of study is designed for a small group of dedicated students with a passion and appreciation for graphic novels, storytelling, writing, comics, and design. Faculty includes experienced and internationally recognized cartoonists, writers, and designers. Offering the MFA degree, One- and Two-Year Certificates in Cartooning, and summer workshops.
The Center for Cartoon Studies 2011 Summer Workshops