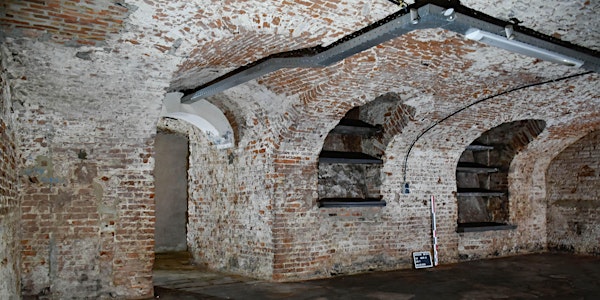 The cellars of "La Renommée / De Faem", Grand-Place - Grote Markt 13
Location
Grote Markt 13
13 Grote Markt
1000 Brussel
Belgium
Discover the cellars of the house "La Renommée / De Faem", Grand-Place - Grote Markt 13
About this event
Horaire des visites guidées / Uurregeling van de rondleidingen / Schedule of the guided tours
Opgelet: rondleidingen enkel in het frans / Attention: guided tours only in French
Durée / Duur / Duration: 30 min
Non accesible aux PMR / Niet toegankelijk voor PBM / Not accessible for PRM
10.00 (FR)
11.00 (FR)
13.30 (FR)
14.30 (FR)
15.30 (FR)
16.30 (FR)
17.30 (FR)
La Renommée/De Faem est une habitation en intérieur d'îlot, accessible depuis la Grand-Place par un passage situé entre le no 14 et le Hard Rock Café (no 12A). L'habitation est attestée archéologiquement et historiquement depuis la fin du Moyen Âge. Elle forme alors une habitation d'au moins deux ailes perpendiculaires, dont une est munie d'une cave. Cette première construction, à vocation résidentielle, s'insère dans un îlot encore aéré et peu construit. La situation change radicalement après le bombardement de 1695. L'installation d'une fratrie de marchands de vin en gros (les vander Meulen) aux nos 13-14, dont les activités commerciales nécessitaient une augmentation des espaces de stockage et de vente, va se matérialiser par la reconstruction de la cave préexistante détruite lors du bombardement et la construction ex nihilo d'au moins deux autres salles et de leurs espaces de communication, le tout autour d'une cour centrale comme point nodal de distribution. La densification va encore s'accentuer dans la seconde moitié du 20e siècle pour aboutir à la situation actuelle.
De Renommée/De Faem is een woning in het interieur van een huizenblok, toegankelijk vanaf de Grote Markt via een doorgang tussen nr. 14 en het Hard Rock Café (nr. 12A). De woning is archeologisch en historisch gedocumenteerd sinds de late Middeleeuwen. In die tijd vormde het een woning met ten minste twee haaks op elkaar staande vleugels, waarvan er één een kelder had. Deze eerste constructie, bestemd voor bewoning, werd gebouwd in een blok dat nog open was en niet erg bebouwd. De situatie veranderde radicaal na het bombardement van 1695. De vestiging van een familie van wijngroothandelaars (de Vander Meulens) op nr. 13-14, die voor hun commerciële activiteiten meer opslag- en verkoopruimte nodig hadden, resulteerde in de heropbouw van de bestaande kelder die tijdens het bombardement was vernield en in de bouw ex nihilo van ten minste twee andere zalen en bijbehorende communicatieruimten, alle rond een centrale binnenplaats als knooppunt voor de distributie. De verdichting werd nog sterker in de tweede helft van de 20ste eeuw, wat leidde tot de huidige situatie.
The Renommée/De Faem is a dwelling in the interior of a housing block, accessible from the Grand Place via a passageway between no. 14 and the Hard Rock Café (no. 12A). The dwelling has been archaeologically and historically documented since the late Middle Ages. At that time it formed a dwelling with at least two perpendicular wings, one of which had a cellar. This first construction, intended for residential use, was built into a block that was still open and not very well built. The situation changed radically after the bombing of 1695. The installation of a family of wholesale wine merchants (the Vander Meulens) at nos. 13-14, whose commercial activities required an increase in storage and sales space, resulted in the reconstruction of the pre-existing cellar destroyed during the bombing and the construction ex nihilo of at least two other rooms and their communication spaces, all around a central courtyard as a nodal point for distribution. The densification was to become even more pronounced in the second half of the 20th century, leading to the current situation.