Description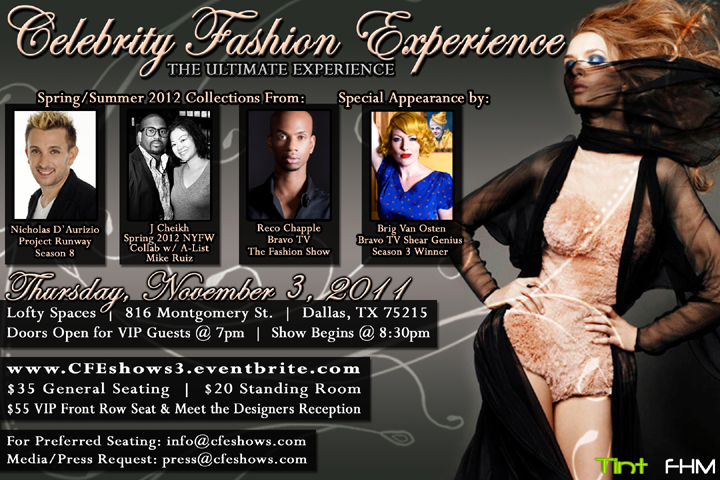 FOR IMMEDIATE RELEASE-
RECO CHAPPLE, J. CHEIKH, AND NICHOLAS D'AURIZIO SHOWCASING SPRING/ SUMMER 2012 COLLECTIONS IN DALLAS ON NOVEMBER 3rd 2011 W/ CELEBRITY APPEARANCE BY MIKE RUIZ AND BRIG VAN OSTEN
(Tuesday, October 11, 2011) - Front House Management will be featuring the ultimate fashion experience on Thursday, November 3, 2011. The "Celebrity Fashion Experience III" featuring collections for the spring/summer 2012 season by national designers, each designer has shown their latest collections recently for New York Fashion Week which will be shown here in Dallas and hosted by Dallas' very own Dawn Neufeld from VH1 Football Wives. CFE would not be the same without presenting a swimwear segment therefore there will be a swimwear segment presented by male and female models modeling the "IT "swimwear pieces for spring / summer 2012 season.
To "Experience" a total Bravo moment, Brig Van Osten winner of Bravo TV Shear Genius season 3 will be in attendance orchestrating hair and make-up techniques to Tint School of Cosmetology & Make-up.Brig Van Osten work has been featured on the pages of many magazines including Allure, RedBook, 303, Life & Style, and her work has been seen in Modern Salon, and American Salon Magazine.
J.Cheikh collaboration with photographer Mike Ruiz for his Spring Summer 2012 Collection during fashion week was based on the Dakar Rally titled "The Dakar". Expect to see influences of Western and Northern Africa through the rich textures and colors of their textiles and the refined structure of European tailoring in this exciting collection. Delicate sand washed silk will be paired with lustrous shine suiting and accented with complex prints. J. Cheikh has collaborated with Mike Ruiz; world renowned photographer, TV personality, former model, actor and director to complete a men's collection destined to be reckoned with some of the industries top menswear designers.
Reco Chapple captured the hearts of millions across the world with his larger than life personality on Bravo TV the Fashion Show, Season 1 as succeeding as one of the top four finalists. With high profile clientele including but not limited to Actress Stacy Dash and R&B signer Keri Hilson, Reco has managed to make a name for him self and create a brand that has become a permanent and well respected fixture within the fashion industry.
Nicholas D'Aurizio comes from New York, and is known for being a contestant on season 8 of Project Runway.D'Aurizio decided in 2009 to pursue his dream of creating his own fashion label, Nicolena. His women's wear line — Interview with the Vampire, with dark cloaks and sexy silhouettes —helped him land on the reality show. Nicholas is truly passionate in regards to designing with a personality that most people can't help to adore.
Hair and Makeup team: Tint School of Cosmetology & Makeup
Thursday, November 3, 2011 @ Lofty Spaces 816 Montgomery Dallas, TX 75215
7:00 pm- 7:45pm- Celebrity Appearance by Mike Ruiz
7:00 pm- 8:00 pm – VIP reception with Porsha Kimble "Cake Boss"
Pastry Chef Porsha Kimble with Cake Diva and past apprentice under Buddy Valastro of TLC's Cake Boss will fulfill guests sweet desires during the Celebrity Fashion Experience VIP reception with her alluring Cupcake displays. Porsha Kimble was interviewed by TLC in NYC to do the cake challenge for this season's filming. While in New York, She worked side by side in the new Cake Boss facility with Frankie Amato standing by her side, observing her phenomenal cake skills. If you've never had Cake Diva, you're in for a treat! www.mycakediva.com
8:00 pm- General seating & standing room access
8:30 pm- Runway Presentation begins
For ticket information please visit: http://cfeshows3.eventbrite.com
For preferred seating arrangements please contact: info@cfeshows.com
For backstage credentials and interview request, please email press@cfeshows.com
###