Description
ONLY 24 SEATS AVAILABLE FOR THIS ALL-INCLUSIVE WORKSHOP... GET YOUR TICKET TODAY!
This is the most anticipated "Mobile App Workshop" for business owners, entrepreneurs & decision-makers. If you are serious about your business, this event is a "MUST ATTEND!"

Mobile devices have taken over the world. The average person feels uncomfortable being away from his or her smartphone for an even an hour. Building an app for your business opens up a direct marketing channel on a device that is always within arm's reach for your customers. Savvy business owners are joining the app revolution to build their brand, improve customer engagement, cultivate customer loyalty, and open up a new revenue stream.
Click to download our Mobile App Showcase and see how different businesses have benefitted from our mobile apps.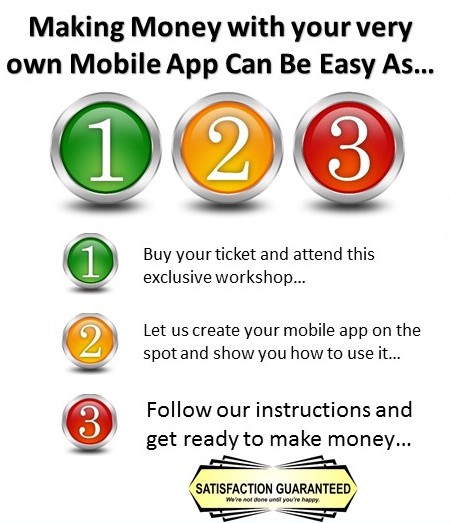 No Prereqs Required: This is an interactive workshop which requires no prior technical or programming knowledge! (Feel free to bring your laptop and/or tablet.)
Here is what you get:
1 Reserved Seat
Complete Custom Mobile App Development ($4,995 value)
1-Year of hosting (Includes unlimited downloads in The App Store and Google Play ($1,188 value)
Complete Mobile App Marketing Training ($295 value)
6-months of Premium Consultation ($2,970 value)
A $9,448 total value!
Meals Included: Catered continental breakfast, catered lunch, and beverages & snacks served in the afternoon.

You'll learn why a Mobile App is important... and why you should attend this event and let us design it for you...

"Apps help build visibility, brand, and recognition for your business. The average American spends two hours on his or her mobile device every day. 80% of that time is spent in apps. While it's unlikely that those two hours will be devoted solely to interacting with your app, having your app displayed on your customer's mobile device constantly keeps your business top of mind."

"Create a new revenue stream for your business by using commerce features such as mobile food ordering or by integrating your online store into your app."

"Mobile apps are one of the best ways to cultivate a loyal customer base. Your customers are able to open a direct two- way line of communication at any time. On top of that, you can reward your customers via in-app loyalty programs and coupons to keep them coming back time and time again."

"Having an app opens up a direct marketing channel to your customers that's available 24/7. Customers are always a click and a swipe away from engaging with your business. Additionally, features such as push notifications allow you to avoid the noise of the email inbox and send messages directly to your customers."

"As of today mobile apps at the small business level are still rare, which means there is a major opportunity to take a giant leap ahead of your competitors. Similar to how there was a first mover's advantage for businesses who were early adopter of websites, the same sort of opportunity exists for apps."

"We take care of all of the design and backend coding work. All you need to do is attend and we'll build you a stunning, feature-rich mobile app available for download in your favorite app stores... and show you how to make money with it!"