The CBDC Forum seeks to become an international platform to share knowledge and build collaborations on central bank digital currency.
About this event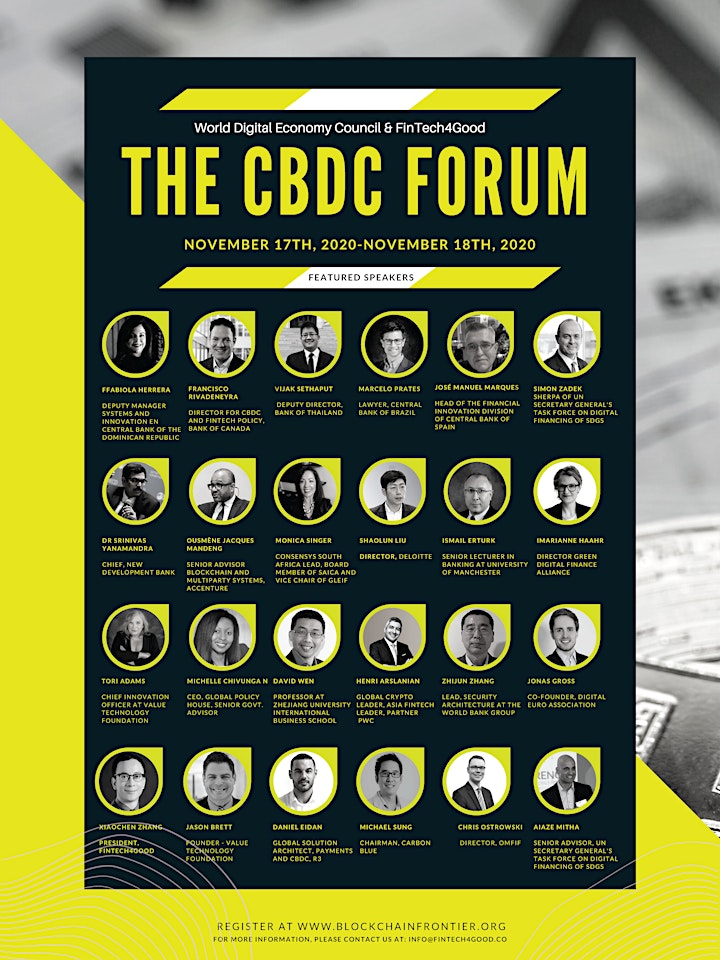 The UN Secretary General's Task Force on Digital Financing for SDGs will launch its final report on August 26th, 2020. The report identifies opportunities for digitalization to deliver billions of dollars of financing to tackle problems such as lack of access to capital for small and medium sized enterprises, and for investments in sustainable infrastructure addressing climate change, biodiversity destruction. For more information, please go to the Task Force site: https://digitalfinancingtaskforce.org/
Central Bank Digital Currency is one of the most impactful innovations which has the potential to remove several key barriers for individuals to contribute to SDGs financing. In this Forum, we will share the Task Force's findings and recommendations followed by discussions on the landscape, risk and benefit framework and new trends of CBDC.
Topics to be covered:
The landscape of CBDC Innovations around the world;
The risks and benefits of CBDC;
The implementation challenges of CBDC;
The public private collaboration on CBDC;
The future of CBDC
For more information, please go to our website: www.blockchainfrontier.org
Or contact us at: info@fintech4good.co
Organizer of The CBDC Forum III
FinTech4Good (FT4G) is a global network that connects start-ups, technologists, industry leaders and public sectors in North America, Asia, Europe, Africa, and Latin America, to bring fintech and blockchain technology applications to frontier markets.
The World Digital Economy Council mobilizes resources and brings together global leaders to provide thought leadership and implement powerful initiatives in advancing global digital transformation.
The Digital Finance Advisory Group (DF17) is a group of experts and leaders in blockchain, fintech, AI, and international development who share the same vision in scaling exemplary initiatives to realize the true potential of digital financing for Sustainable Development Goals (SDGs) in different countries. The China Digital Finance Advisory Group (CDF17) is the first country-level effort of the DF17. CDF17 members not only have deep knowledge of digital financing for sustainable development goals, but also are willing to put their knowledge and expertise in supporting the related international process on the 2030 Agenda.