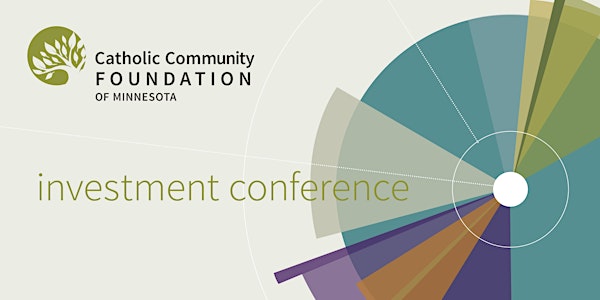 The Catholic Community Foundation's Annual Investment Conference
When and where
Location
University of St. Thomas Woulfe Alumni Hall 2115 Summit Avenue Saint Paul, MN 55105
Description
Bringing together Minnesota donors and investors interested in giving and investing with a Catholic heart.
Who's this event for?
We've designed this event for people who want to better understand the world of Catholic investing and philanthropy. More specifically, this event is for you if you're...
a donor, who wishes to live your faith with gifts of treasure that last
a pastor, parish business administrator, or trustee responsible for stewarding the treasure of your parishioners
a professional advisor who wants to provide additional value to your philanthropic Catholic clients
What will I learn?
You'll gain clarity around what 2017 has in store for the economy. You'll learn how Catholic investing continues to evolve. And, you'll better understand how CCF manages more than 273 million charitable dollars to meet the needs of our local community.
Who should I bring?
Please invite your friends, colleagues, fellow board or committee members, your parish trustee, or your pastor. Anyone with an interest in the health and growth of our Catholic faith and community will find this event intriguing. You can register guests or scroll down for easy-to-share social media and email buttons.
Space is limited! This event was well-attended last year, and we anticipate registration will fill up. Register now.
SPEAKERS
Jim Paulsen
Chief Investment Strategist
Wells Capital Management
An investment management industry professional since 1983, Jim is nationally recognized for his views on the economy. He frequently appears on several CNBC and Bloomberg Television programs. BusinessWeek named him "Top Economic Forecaster" and BondWeek twice named him "Interest Rate Forecaster of the Year." For 30 years, Jim has published his own commentary assessing economic and market trends through his newsletter, Economic and Market Perspective, which was named one of "101 Things Every Investor Should Know" by Money magazine.

Rev. Séamus Finn, OMI, Th.D.
Chief of Faith-Consistent Investing
Oblate International Pastoral Investment Trust

Rev. Séamus Finn, OMI is an international leader and consultant in faith-consistent and socially responsible investing. He is the chair of the board of the Interfaith Center on Corporate Responsibility and has been instrumental in the formation of the International Interfaith Investment Group. Fr. Séamus actively engages with multinational corporations in the financial and natural resource sectors to advance justice and socially responsible business practices. He served as director of the Justice, Peace, and Integrity of Creation Office from its inception in 1999 until 2015. He is a contributing author for the Huffington Post.
AGENDA
7:15 AM - - - Networking Breakfast
8:00 AM - - - Introduction
Anne Cullen Miller, CCF President
8:20 AM - - - CCF Portfolio Update
Scott Freeman, LCG & Associates
8:50 AM - - - 2017 Economic Landscape
Jim Paulsen, Wells Capital Management
9:30 AM - - - The Evolution of Catholic Investing
Rev. Séamus Finn, OMI, OIP Investment Trust
10:05 AM - - - Closing
Mike Ricci, CCF Director of Professional Outreach & Investments
PARKING
To enter the Anderson Parking Facility, located on the southwest corner of Cretin and Grand Avenues, you will need to swipe your credit card. You will receive a parking voucher once you arrive at the event and check in. When you exit with the provided voucher, your credit card will not be charged. The parking voucher is valid for the Anderson Parking Facility only.
GUEST REGISTRATION
Please note, to ensure a smooth experience for your guests, we need all of your guests' names and contact information at the time of registration. We use this information to create your guests' name badges, communicate parking information, send important event updates, and gather feedback. This is especially important in the case of dangerous winter weather conditions (see below). If you do not provide guest contact information, you will be responsible for passing on all event communications to your guests.
INCLEMENT WEATHER PLAN
In case of inclement weather, we will communicate with all attendees for whom we have email addresses regarding any event changes prior to 5:00 AM on the day of the event. We will also post an announcement on our website at the same time. If the weather seems threatening on the day of the event, please check your email or our website before you head out the door.