The Catalyst Conference is a 7-day program dedicated to re-igniting your dormant ambitions and awakening you to your glorious potential.
About this event
The Redeemed Christian Church of God (R.C.C.G), Trinity Tabernacle's program tagged "The Catalyst" is a 7-day word and prayer conference with one goal.
Awakening you to your Glorious Potential.
Growing up, we have all experienced obstacles and setbacks that might have shaken our faith - or made us give up on our goals, ambitions and aspirations. In addition to this, we have realised:
Many individuals look to men for help and once they don't have the help of men, they give up.
Some individuals don't know fully what God has made available through Christ
Others, though born again, simply don't know how to tap into the grace and power available through Christ.
Hosted by Pastor Yinka Oluwasanmi and featuring various anointed ministers of God such as:
as well as music ministers:
The Catalyst Conference is structured to introduce participants to concepts and principles that will equip them to be the best version of themselves. This program is designed to challenge all men and women, especially Christians to tap into the power of God in order to be all they can be.

Objectives of the program:
To equip the attendees with timeless principles for achieving success.
Learn from the life lessons and stories of guest speakers.
Challenge you to tap into the power of God, in order to become all that you can be.
To renew and re-energise the mind and spirits of attendees.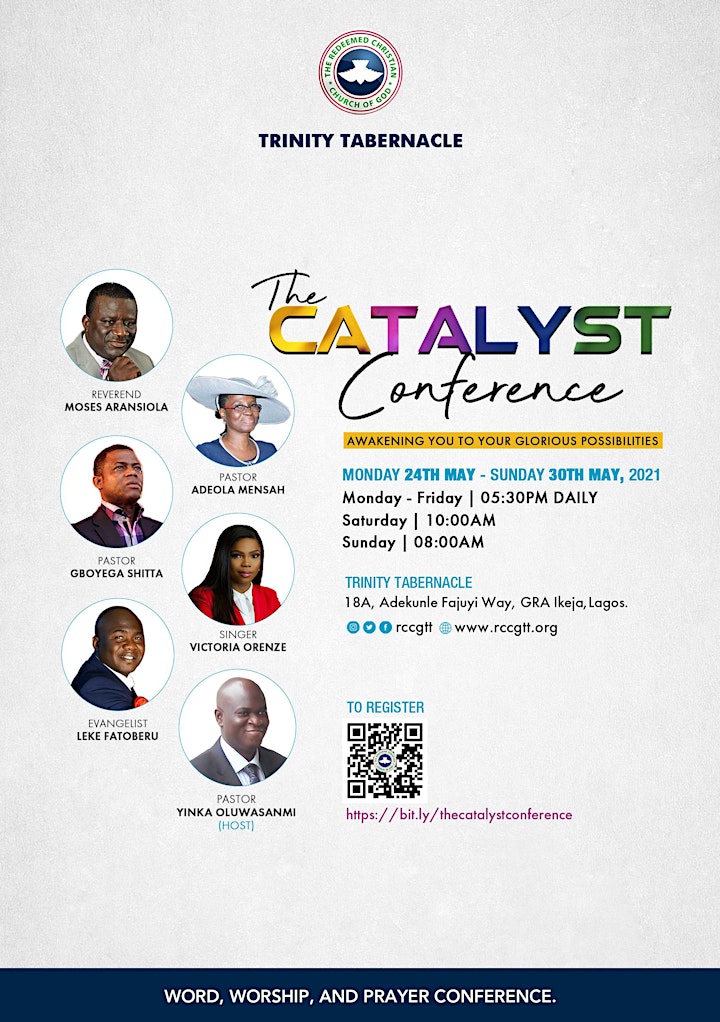 Program of Event:
Date: Monday 24th – Sunday 30th May 2021
Type: Virtual + Physical (R.C.C.G. Trinity Tabernacle, 18b Adekunle Fajuyi Way, Ikeja, Lagos, Nigeria)
Please try to register if you plan on attending in-person on a certain day. However, the conference will also be streamed virtually on the following channels: