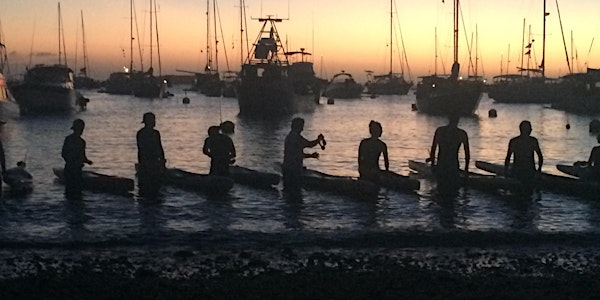 The Catalina Classic Paddleboard Race
The Catalina Classic is the oldest and most celebrated endurance paddleboard race in the world.
When and where
Location
Santa Catalina Island- Two Harbors Isthmus Cove Catalina Island, CA 90704
About this event
August 28, 2022 will mark the 45th Catalina Classic Paddleboard race. Established in 1955, the Catalina Classic is the oldest and most celebrated endurance prone paddleboard race in the world.
This historic 32-mile marathon, which starts at Catalina's Isthmus cove and ends at the Manhattan Beach Pier; attracts paddlers from all over the world and is known as the "Grand-Daddy of all paddleboard races."
This event is organized and conducted by the Catalina Classic Paddleboard Association, Inc., an all volunteer 501c4 non-profit organization. The Association promotes a tradition of prone paddling that honors the original paddleboard race from Catalina Island to the pier of Manhattan Beach, California. This is a race by paddlers for paddlers.
PRE-QUALIFIERS (Paddler's who finished the 2021 Classic within the cut-off time):
• Registration: May 15th – June 15th
OPEN-QUALIFIERS (Paddlers who did not qualify via 2021 Classic):
• Registration: June 20th – July 20th
• Completed registration and $30 non-refundable deposit must be received by midnight July 20th.
• To register Paddlers must identify their 2022 race results from no more than 3 races.
• Open entrants will receive confirmation within 10 days of the July 20th registration deadline. The balance of entry fee will be due upon notification.
Qualifying Races for OPEN ENTRANTS include, but are not limited to:
• The Loop. May 15th – Coronado Island - 11 mile course
• The South Bay Paddle. June 4th – Hermosa Beach - 15 mile course
• Duke's Race. June 25th – Honolulu, HI – 10 mile course
• Da Hui Paddle Race. July 4th – Waimea Bay, HI – 7.5 mile course
• The Waterman's. July 9th – Encinitas - 15 mile course
• Desatnik Around the Cape. July 17th - Cape May, NJ - 15 mile course
*Additional races (not identified above) may be included in a race resume on the Eventbrite registration form. Open-Qualifiers can submit up to 3 race results from 2022 paddleboard races for consideration. All 2022 results will be evaluated by the selection committee based upon course distance and race competition. International entries with limited access to qualifying races should email the directors in addition to completing the on-line entry.
The Race Directors will attempt to fill all 100 entries based upon pre-qualified applicants, open qualifiers, and committee selections of international entries.
ESCORT BOATS:
Please refer to Catalina Classic website re: minimum standards for Escort Boats. Escort boats are mandatory for all paddlers. Picking the right escort boat AND crew will greatly impact a Paddler's success. Start looking for a boat and crew now!
COVID:
Protocols specific to Covid safety measures will be implemented for this year's race in accordance with Los Angeles County health department's directives. We remain flexible and ask for your consideration , cooperation, and understanding as guidelines are mandated as a condition of our permit.
Visit CatalinaClassicpaddleboardrace.com website for Race Info , Qualifying requirements , Race Rules and additional race info: