About this event
The Heurich House Museum's historic Castle Garden is opening on Tuesday, June 30th, in a new, socially distant format. [The museum itself still remains closed for now.]
Visitors can walk-in and grab a garden "pod" to enjoy the summer weather, hang out with friends, or use our free WiFi to get some work done. The garden will be open every Tuesday through Thursday from 11am to 5pm. You can let us know you're coming by RSVPing here on Eventbrite or just walk-in and we'll help you find a "pod"!
WHAT IS A POD?
A pod is a specific area of mowed lawn in the garden designated for your group only - we have measured them out so they are at least 6 feet from other pods and the common walkway. Some pods contain shade and some are in full sun. Size varies, with some pods accommodating up to 4 visitors, while others are large enough for 6 (refer to pod map below).
KNOW BEFORE YOU GO:
- WE FOLLOW ALL RECOMMENDED HEALTH & SAFETY PROCEDURES (for example: all guests must wear masks when moving through our space). For a full list of all our rules, see the rules section below. Keep each other safe and read the rules before you arrive!
- THE GARDEN IS AN OUTDOOR PARK-LIKE SPACE. This means sun, bugs, and grass. Bring anything you feel you may need to be comfortable, such as bug spray, sunscreen, water, an umbrella, or a picnic blanket. Prepare as if you were going to any other park: we cannot control conditions like weather or bugs in your area. If you are unhappy with your space let us know, we will move you to a different pod if one is available.
- NO BATHROOMS ARE AVAILABLE AT THIS TIME. The indoor museum spaces are currently closed to the public.
- THERE IS NO FOOD OR BEVERAGE CURRENTLY AVAILABLE TO PURCHASE ON-SITE. You may bring in outside food and beverage, but you must clean up after yourself. (Food in, food out!)
- DON'T BE A JERK. Our staff are humans who deserve to be treated with respect. This is an uncertain time and they are kind enough to come into work so you can have a relaxing space to enjoy! Follow all our rules and be respectful to one another.
RULES:
1. Masks required in common areas; Masks optional within your "pod"
2. Only mingle with the group you arrived in
3. Stay 6 ft apart from others whenever possible
4. Avoid touching your face
5. If you are not feeling well, do not enter
ANY GUEST VIOLATING THESE RULES MAY BE REMOVED AND/OR BARRED FROM THE PROPERTY.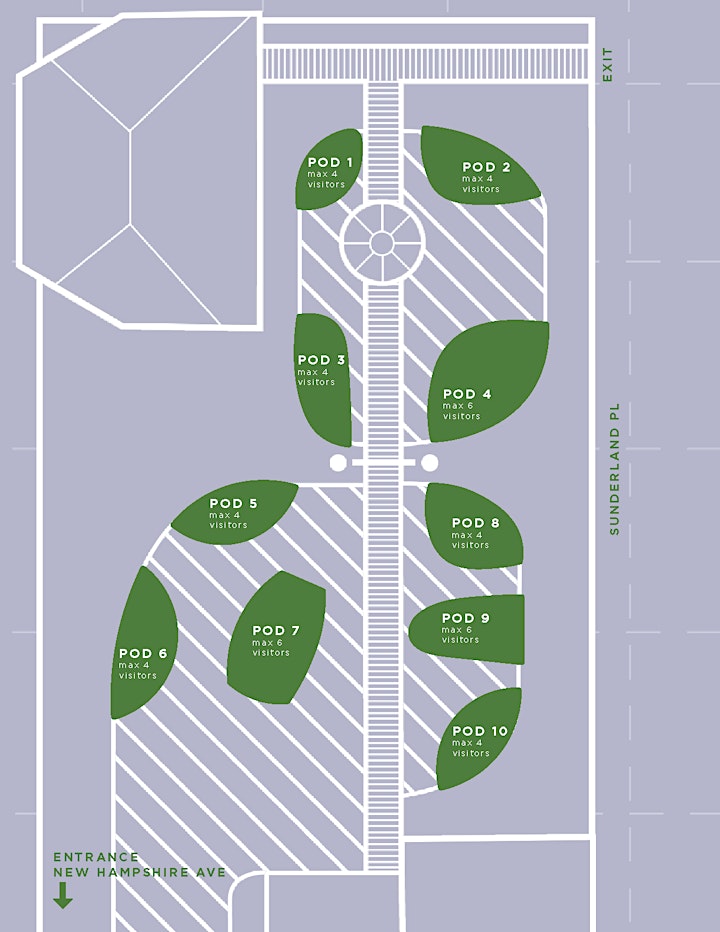 Organizer of The Castle Garden Is Back!
The Heurich House Museum preserves local Washington, DC history and educates the public through Christian Heurich's legacy and mansion. The mansion was built from 1892-4 by German immigrant, local brewer, and philanthropist Christian Heurich (1842-1945). Recognized as Washington, D.C.'s most successful brewer, he ran the Chr. Heurich Brewing Co. until his death at 102.  The mansion is notable for its technological innovations, original interiors, and rich archival collection of one of the most important local families.   
The museum, located at 1307 New Hampshire Avenue in Dupont Circle, is open for regular public events and public tours Thursday through Saturday at 11:30 a.m., 1:00 and 2:30 p.m. Private tours and event rentals are also available. For more information, visit heurichhouse.org or call 202-429-1894.