The Casey Powell World Lacrosse Foundation Legendary Heart Benefit
About this Event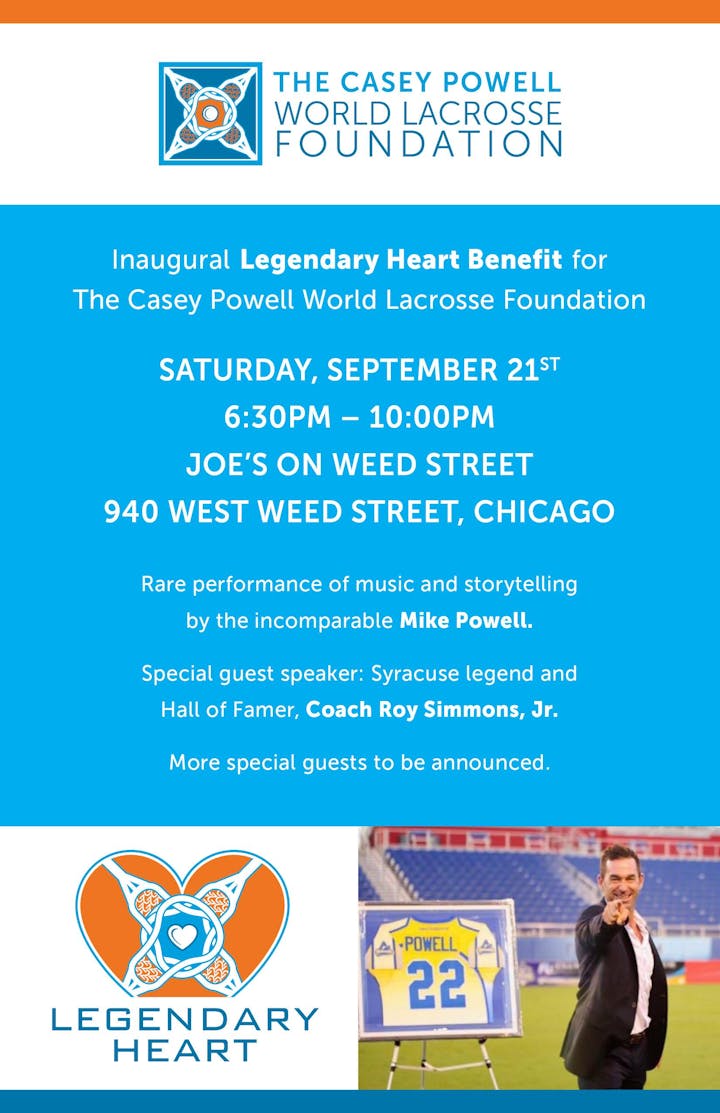 Join us on Saturday, September 21st, 2019 for an exclusive evening of dinner, music, storytelling and silent auctions featuring rare guest appearances by lacrosse legends Casey Powell, Mike Powell and Coach Roy Simmons, Jr.
CASEY POWELL was a four-time All-American, two-time National Player of the Year at Syracuse University and is a 2017 Hall of Fame inductee. For 15 seasons, Casey played professionally for many teams and is only one of two players ever to be named MVP in both Major League Lacrosse and the National Lacrosse League. He has been selected to play on four United States Men's National teams and was Captain of Team USA in 2006, 2011 and 2015. Casey is considered one of the greatest lacrosse players of all time.
MIKE POWELL was a four-time First-Team All-American at Syracuse University and is one of the most creative players to ever grace the game. He played on the United States team in the 2002 and 2006 World Lacrosse Championships where he was named to the All-World Team. Mike is now an accomplished singer/songwriter and visual artist who tours regularly performing solo shows and with his band The Black River.
COACH ROY SIMMONS, JR. played lacrosse at Syracuse University and coached the team for 27 years. During his tenure, he led the Syracuse Orange to seven National Championships and sixteen trips to the semi-finals and is widely regarded as the greatest lacrosse coach of all time. Coach Simmons developed 131 All-American lacrosse players with eleven Hall of Famers to-date. Coach Simmons won the F. Morris Touchstone Award for the coach of the year in NCAA men's lacrosse in 1980 and was inducted into the National Lacrosse Hall of Fame in 1991.
"The impact Roy Jr. had on student-athletes through the breadth of his intellect and how he educated his student-athletes in so many creative and impactful ways far transcends how many games and championships he won." John Wildhack, Athletic Director, Syracuse University.
THIS IS A ONCE-IN-A-LIFETIME OPPORTUNITY TO EXPERIENCE THE REUNION OF THESE THREE LACROSSE LEGENDS.
OTHER SPECIAL GUESTS INCLUDE HALL OF FAMERS COACH KEVIN CORRIGAN (ND) AND COACH KELLY AMONTE HILLER (NORTHWESTERN)
SILENT AUCTION ITEMS INCLUDE:
*One-of-a-kind, signed memorabilia from the Powell family's personal collection
*A signed work of art by Mike Powell
*A personal SPEED Lacrosse clinic run by Casey Powell for you and 9 of your friends
*A signed, one-of-a-kind sketch by Sue Powell, Casey and Mike's mom
*Dinner at Chicago Cut and exclusive Chicago Bulls tickets
*18-hole round of golf with Casey Powell at an exclusive, premiere Chicago area golf club
*Many more items to be announced.
RAFFLE TICKETS WILL BE SOLD AT THE EVENT FOR SPECIAL PRIZES.
CPWLF MERCHANDISE WILL BE SOLD AT THE EVENT.
VIP tickets are $222 and include a limited edition, custom-strung Powell Lacrosse stick signed by Casey Powell, Mike Powell AND Coach Simmons! Quantities are limited.
General admission tickets are $122.
All tickets include appetizers, a dinner buffet and 2 drink tickets. Additional beverages will be available for purchase at one of two full-service bars.
TICKETS ARE LIMITED! MUST BE 21 OR OVER TO ATTEND.