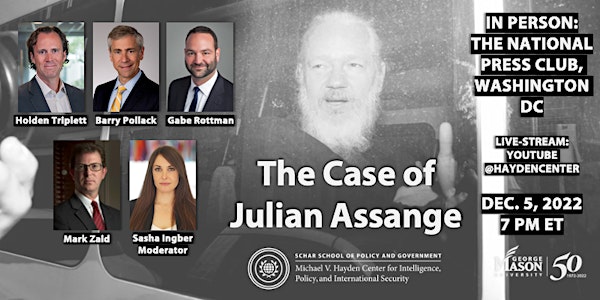 The Case of Julian Assange (Livestream Registration)
A panel discussion about the US indictment of Julian Assange and his impending extradition from the United Kingdom.
About this event
Registration is for the YOUTUBE LIVESTREAM ONLY. Registration for IN-PERSON ATTENDANCE at the National Press Club in Washington, DC. can be found at https://julianassange.eventbrite.com
Join the Michael V. Hayden Center for Intelligence, Policy, and International Security as we host a discussion about the case of Julian Assange, founder of Wikileaks. Our panel includes: Holden Triplett, a veteran of the Federal Bureau of Investigation and recent Director for Counterintelligence on the National Security Council; Barry Pollack, a renowned US criminal defense attorney representing Mr. Assange; Gabe Rottman, Director of the Technology and Press Freedom Project at the Reporters' Committee for Freedom of the Press; and Mark Zaid, a private US attorney specializing in national security law, freedom of speech constitutional claims, and governmental accountability.
Sasha Ingber, national security correspondent at Newsy, will moderate the conversation.
After many years ensconced at the Ecuadorian Embassy in London and later in British custody, engaged in a protracted legal and appeals process with UK governmental and judicial authorities, Julian Assange in coming weeks or months may find himself on an airplane headed to the United States to face charges he conspired to receive, obtained, and distributed national defense information, much of it classified, and conspired to commit computer intrusions. If convicted of these charges, Assange could find himself facing decades in US prison. His indictment also has raised questions about the Espionage Act of 1917, one of the laws under which he's being prosecuted, concerns about the case's potential impact on freedom of the press, and how technological changes impinge on both. We will look at all of this and more!
There will be time for audience questions. Please use the YouTube live chat box.
The Hayden Center is located at George Mason University's Schar School of Policy and Government in Arlington, VA. General Michael V. Hayden, our founder and former Director of both the Central Intelligence Agency and National Security Agency, has been a distinguished visiting professor at Schar School for 13 years.
Consider supporting the Hayden Center and Schar School with a donation. Please click here, identify your donation as a one-time, multi-payment, or recurring gift, specify an amount under "Other," and type "Hayden Center" in the comments box. Thank you.