Location
Dim Mak Studios
6356 Hollywood Blvd, 2nd Level
90028
Description
THIS EVENT IS NOW CLOSED BUT PLEASE COME THROUGH AS WE MAY BE ABLE TO SEAT YOU!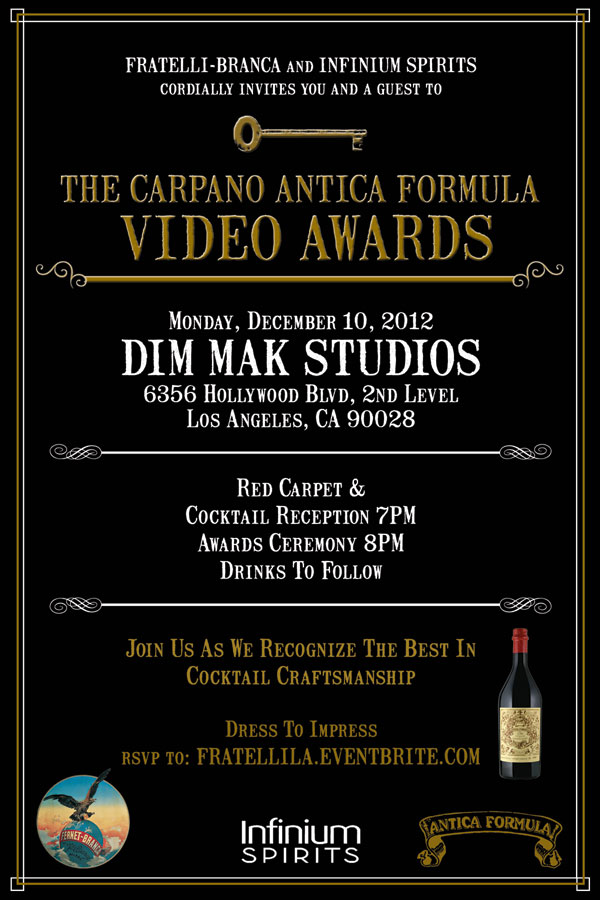 FRATELLI-BRANCA and INFINIUM SPIRITS ?cordially invites you and a guest to

THE CARPANO ANTICA FORMULA? VIDEO AWARDS

Monday, December 10, 2012
Dim Mak Studios
6356 Hollywood Blvd, 2nd Level
Los Angeles, CA 90028

Red Carpet & ?Cocktail Reception 7PM
Awards Ceremony 8PM
Drinks To Follow


Join Us As We Recognize The Best In
Cocktail Craftsmanship

Dress To Impress
rsvp to: fratelliLA.eventbrite.com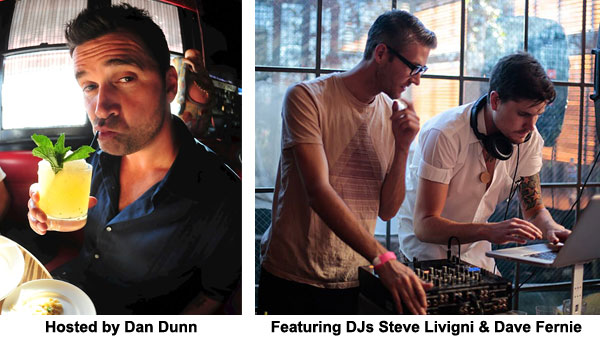 Dan Dunn - For years, Dan Dunn penned the enormously popular "Imbiber" column for Playboy, and has been described, quite aptly, as the country's preeminent "rockstar booze writer."
He hosts Dan Dunn's Happy Hour on SiriusXM, a weekly radio program dedicated
to the appreciation of adult beverages.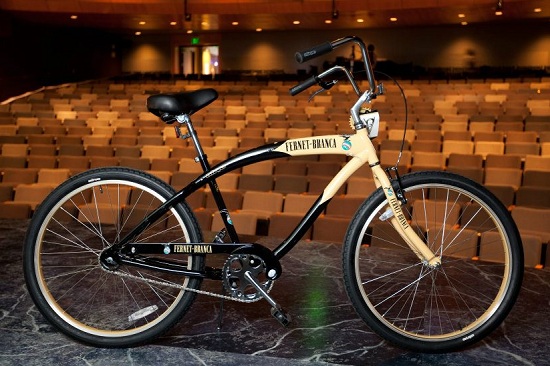 Grand Prize Winner will be awarded a Fernet-Branca bicycle!
Exclusive clothing and prizes for all winners.
VISIT FERNET BRANCA'S FACEBOOK PAGE TO UPLOAD YOUR VIDEO FOR CONSIDERATION IN ONE OR MORE OF THESE CATEGORIES

Best Use Of Carpano Antica in a Cocktail- Come Up With A Truly Unique Recipe
Best Pour - Show Us Your Best Form And Skill
Best Foreign Film - Feature An Italian Cocktail Or Theme From The Birthplace Of Fratelli-Branca...Italy!
Best Look - Who Cares About The Drink, How Well Can You Dress?
Best Use of Effects - Special, Sound or Visual, This Award Goes To The Best!
Il Meglio - Italian For "The Best"


Video submission not to exceed 3 minutes All video submissions MUST include ONE (1) brand ?from the Fratelli Branca portfolio

Cut-off For Entries Is December 3rd, 2012. Good Luck!