Description
The Capacitor is an immersive weekend for children 18 and under, sending them through the entrepreneurial gauntlet.
Brought to you by Alt Path and The Grove
Organizers: Aaron Yang & Justin Nygren
Prize: Prize package value of $1,000 AND the opportunity to present their business at Alt Path on April 29, 2017
$40 admission goes towards 6 meals and free parking for parents on Sunday March 26th for the pitch.
Day 1: Meet, Pitch & Team Up
6:30pm – Dinner. Time to mingle with other attendees.
7:30pm – Attendees will have a chance to pitch their business ideas
8:00pm – Business Model Canvas Workshop
8:30pm – Each of the judges will sponsor 1 idea and there will be a people's choice for the 6th and final team.
Day 2: Learn & Work
8:00am – Breakfast. Doors open to The Grove. Teams may come in at any time to use the space. Mentors will be working with each team, discussing how they will integrate the business canvass model into their startup.
12:00pm– Lunch.
12:30pm – Unreasonable Institute will teach attendees how to pitch their ideas
3:00pm – At some point during the afternoon, mentors will be chaperoning attendees to the west end to do customer validation.
Day 3: Present & Choose
8:00am – Breakfast.
12:00pm – Lunch.
1:00pm – Pitch time! Parents are encouraged to join us in celebrating the hard work these kids have done.
3:00pm – Awards and Closing Ceremony
5:00pm – Good afternoon, good evening, and good night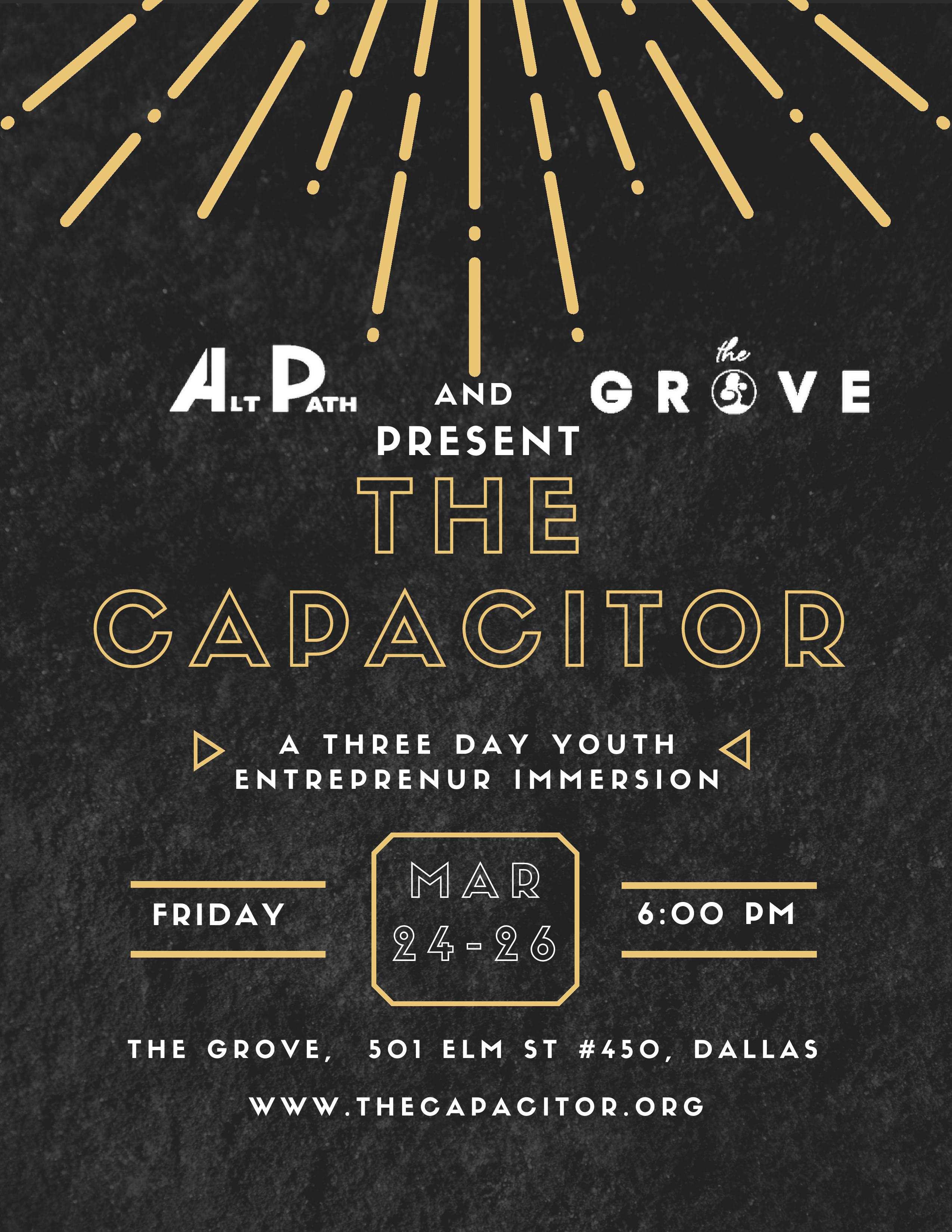 Feel free to contact us with any questions or concerns or reffer to our website at www.thecapacitor.org