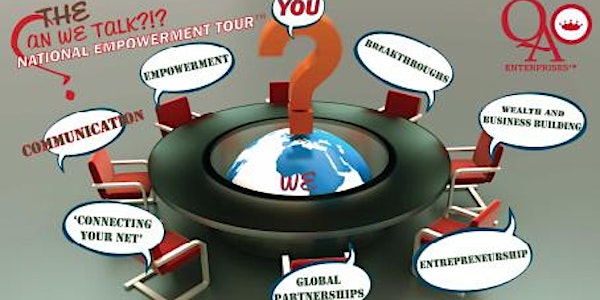 "The Can We Talk?!? National Empowerment Tour"-7th Anniversary-2015
When and where
Location
St. Sarkis Armenian Apostolic Church (CHURCH HALL) 7000 Park Road Charlotte, NC 28210
Description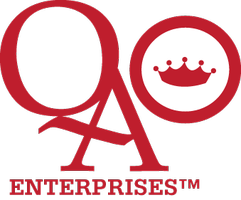 This Year, 2015, marks the 7TH Anniversary of "The Can We Talk?!? National Empowerment Tour?!? (TM)", whose purpose and mission, according to it's Founder, Abigail Moats, "The Communication Expert", Transformational Speaker, Author, Human Capital EmPowerer, is to: "Empower All Attendees and Participants with The Tools in the areas of effective Communication, Business, Health, Wellness to Navigate Life More Effectively, Creating Greater Success in Every Area Of Their Lives!"

The 2015 "Total WellNess Symposium" consists of Panelists who are Transformational Speakers, Authors, Top Medical Practitioners and Surgeons In The Areas Of: Internal Medicine, Obstetrics and Gynecology, Natropathy, Cosmetic Surgery, Excercise Physiology, Chiropractic Care; Grief and Emotional Wellness; Business Experts, who have created, scaled, operate and manage Multi-Million Dollar Businesses; Legal Experts in Corporate, Civil and Human Rights; Financial Advisors On Money Management and Planning; ALL, sharing their Wisdom, Knowledge and Expertise to All Attendees.
*SEE US LIVE On TV--"GOOD DAY CHARLOTTE", This Saturday, October 17th, 2015 at 7:30AM
* 2 For 1 Special Extended, Don't Miss Out, REGISTER w. A Friend, Colleague, Loved One-TODAY!!
*WITH ADULT REGISTRATION, BRING A TEEN-FREE! (1 Adult + 1 Teen=FREE Admission)-
(FOR TEEN'S AGES ; 12-19 Years Old -Must Show School I.D.)
GROUP REGISTRATION TICKET-'CREATE A GROUP Of FRIENDS, COLLEAGUES & SAVE!!!!
*If YOU Are Unable to Attend, Please, DONATE A TICKET TODAY!
Support The TOUR And SomeOne Else !
Donate Here: Http://TheCanWeTalkTour2015.eventbrite.com (Thank You:}!)
*NOVANT HEALTH-Will Conduct FREE BLOOD PRESSURE & DIABETES SCREENING & BODY MASS SCREENINGS

LIVE TEEN PERFORMANCES And CONNECTIONS!!!

Vendors-with 'Phenomenal Wares, Services and Offerings, bring 'extra Cash and Cards' for Shopping!
Special Gift Bags for ALL Attendees with Amazing Gifts Inside :} `!

This Year 2015's Theme is:
"Communicating To Total WellNess, Mind. Matters. And Money, To Manifest Your Vision!"

Benefiting the LUPUS FOUNDATION a Non-Profit 501 C3 that helps Diagnose, Treat, Supply Medicine and Familial and Medical Support for those Persons and Families directly impacted by this currently incurable Auto-Immune Disease!
*The Founder of "The C.W.T.?!? National Empowerment Tour", lost her Cousin to Lupus just a few years ago, She was just 40 Years of Age. We must work feverishly to bring Greater Awareness of these disease and Save Others' Lives and Find A Cure!!!

**FREE DIABETES, BLOOD PRESSURE And BODY MASS INDEX SCREENINGS BY NOVANT HEALTH-ONSITE!**
**SILENT AUCTION--100% Of PROCEEDS, WILL GO TO "THE LUPUS FOUNDATION", NC --
(Please Bring Extra Cash And Or 'Credit Cards' for The SILENT AUCTION--Thank YOU!

*REGISTER YOURSELF, YOUR TEEN and LOVED ONES--NOW, LAST DAY TO PURCHASE IS OCTOBER 15TH, NO TICKETS SOLD AT DOOR!!!
**Saturday, October 17th, 2015-Charlotte, NC
Full Day Of Empowerment-10AM-4PM **
(*Each Ticket Purchased Includes A Delicious Catered Gourmet Lunch)
Attire: Professional
SAINT SARKIS ARMENIAN APOSTOLIC CHURCH
7000 Park Road
Charlotte, NC 28210
SEE OUR WEBSITE HERE: www.TheCanWeTalkTour.com
REGISTER HERE NOW via This Link: http://TheCanWeTalkTour2015.eventbrite.com
Conducting Panel Discussions On The Following Topics:
*Achieving Better Physical and Mental Health Overall;
*Achieve "Total WellNess", Hormonal Balance, Overcome Depression, Physical and Sexual Health Challenges; Learn Greater Coping Skills for Grief and Loss;

"AGING With GRACE"-- Ways to prolong Dementia, Alzheimer's and Supportive Ways to Deal with Loved Ones with currently Incurable Diseases from Top MD's/Psychologists, Health and Nutritional Professionals and Excercise Physiologists.

*Alternative Medicine, Nutritional Regimen and Excercise Plans, Which are Best For Your Body?
*Cultivate Healthier Love and Familial Relationships for Emotional Wellness
* Live a More Harmonius and Balanced Life, Ridding Chaos and Clutter

*Financial WellNess From Top Financial Experts, Business Owners and Attorneys :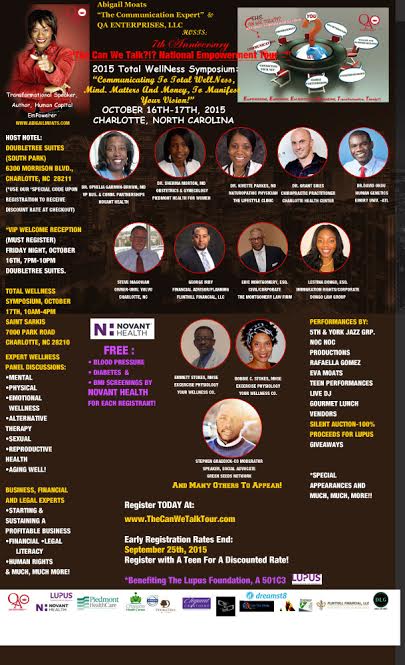 (More to be added )
Advising On The Following Topics:
*Bouncing Back From Bankruptcy and Credit Woes

*How To Gain Access To Capital for Your Business Vision and Dreams

*How to Mangage, Scale and Grow A Business From $0.00 to $0, 000,000.00 (Zero to Millions)!

*How to Excercise Your Rights as a Citizen and Remain Safe

*Vendor Hall' and Exhibition Exclusive Hour-(Display throughout Event)--
Limited Tables Remain, REGISTER HERE TODAY!
LIVE- DJ STACEY BLACKMAN
Line Dancing And Much, Much, More!

*LIVE-STREAMING-Registration Available Nationwide and Internationally
SEE OUR EXPERT PANELISTS AND ALL AT OUR WEBSITE: www.TheCanWeTalkTour.com

SEE OUR VIDEO HERE:
https://youtu.be/MIuXrOIwIeA
2015 "The Can We Talk?!?National EmPowerment Tour(TM)"'s Program-
OPENING OF SYMPOSIUM WEEKEND:
DISCOUNT HOST- 4-STAR HOTEL--DOUBLE TREE SUITES, BY HILTON
DOUBLE TREE SUITES by Hilton, 6300 MORRISION BLVD., (SOUTH PARK), Charlotte NC
Ask For: "The Can We Talk Tour?!? 2015-Discount Rate", Use The Link Below to take advantage of Our
'Especially Discounted Rate', Only $116.00 /+TaxesPer Night (Queen or King)
*Book YOUR OWN ROOM Here Using This Link Below:
http://doubletree.hilton.com/en/dt/groups/personalized/C/CLTDTDT-CWT-20151016/index.jhtml?WT.mc_id=POG

"2 Minutes Walking Distance to the Nationally Renown Upscale SOUTH PARK MALL" !
FRIDAY NIGHT-OCTOBER 16th, 2015- 7PM-10PM:-
DOUBLETREE SUITES, 6300 MORRISON BLVD., 28211 SOUTHPARK
**SEPARATE REGISTRATION Is Required Unless Purchasing 'All-In-One' Ticket **
"V.I.P./Private Reception w. Speakers and Attendees!"
Attire: Elegant/ 'After Five' Please.
*Includes Heavy Hors D'ouvres *Beverage Of Choice *Connecting Your Net/Connection Time*
*Phenomenal "LIVE" Entertainment
Dramatic Presentations
(Tickets Available for 1 Day or Both Days), REGISTER HERE:
thecanwetalktour.com/Registration.html
www.TheCanWeTalkTour.com
Learn More About The Founder Here: www.AbigailMoats.com
BUSINESSES: **IF YOUR BUSINESS WOULD LIKE TO BE A SPONSOR OR FEATURED OR CONTRIBUTE ITEMS TO OUR 'SILENT AUCTION FOR "THE LUPUS FOUNDATION" OR ADD ITEMS TO OUR "GIFT BAGS", PLEASE EMAIL US AT:
CanWeTalkTour@GMAIL.COM Subject Line: "SPONSOR GIFT BAG ITEMS"
*Please send email to: Canwetalktour@gmail.com Subject Line: "Departing Sunday, October 18th, 2015"