The BYT Bentzen Ball 2015 Comedy Festival: All-Access Lincoln Pass

Thursday, October 1, 2015 at 6:30 PM

-

Sunday, October 4, 2015 at 11:30 PM (EDT)
Event Details
All-Access passes are sold out!
Get your Dr. Katz tickets here: http://shrsl.com/?~9i3c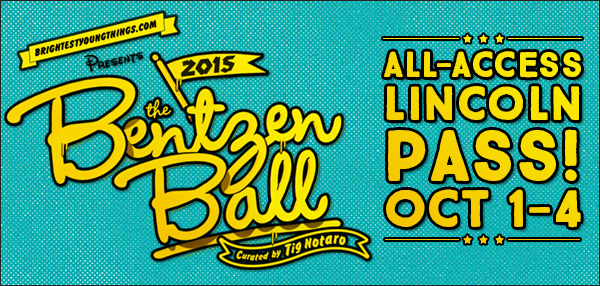 The Bentzen Ball is a comedy festival curated by Tig Notaro and produced by BYT. It takes place in Washington, DC from October 1st through 4th, 2015. There is at least one show each night taking place at the Lincoln Theatre. You can buy tickets to each show individually as they go on sale from the Lincoln Theatre web site.
OR
You can buy The Bentzen Ball 2015 All-Access Lincoln Pass right here, right now. This *very* limited quantity pass gives you guaranteed entry to all the Bentzen Ball Comedy Festival shows held at Lincoln Theater from October 1st through 4th for only 100 bucks and some change!
There will be at least one show per night. All shows are general admission seated. This page will be updated as shows are announced. Here's what we got so far:
Thursday, October 1st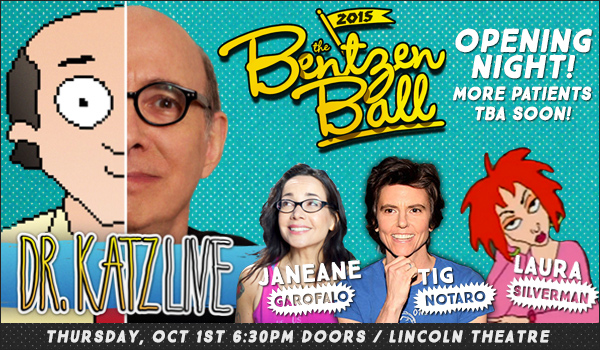 The Bentzen Ball Comedy Festival Presnts:
Dr. Katz Live!
10/1/2015 / 6:30pm Doors / 8:00pm Show
@ Lincoln Theatre
1215 U Street NW
$35 Tickets On Sale

Featuring:
Jonathan Katz (Dr. Katz)
Laura Silverman (Laura the receptionist)

On the couch:
Tig Notaro
Janeane Garafolo
& More TBA!
Friday, October 2nd
Show TBA!
Saturady, October 3rd
Show TBA!
Sunday, October 4th
Show TBA!
~~~
http://www.bentzenball.com
follow us on facebook / twitter
subscribe to DC Best Weekend Bets for updates
+ use #BentzenBall for all social media chatter
FAQ
1. So wait, what shows does the Lincoln pass get me into?
It get's you into all shows held at the Lincoln Theater from Oct 1st through 4th. There will be at least 1 show per night during that time.
2. Yeah, but what are the shows?
We don't know yet! We're still working on some of them. They will be good and in the same genre as previous years shows. The first night is confirmed, and it is Dr. Katz Live!
3. How much do I save?
Again, we can't say exactly how much yet, but no matter what you will definitely save money vs buying tickets to all the shows. The first show on Oct 1st is Dr. Katz Live! which is selling for $35 + a $4 order processing fee + an $8.50 service fee for a total of $47.50. So if you want to go to that show, you're almost half way there on breaking even. We expect the other shows to be in the price range of $20-$35 + fees each.
4. Are there any other benefits of the Lincoln Pass?
Possibly! We'll let you know!
5. Are there shows the Lincoln Pass won't get me into?
At this time, no. We may add a show at a different venue that the pass does not get you into. Or it might (see #4). The Lincoln shows will be the big main shows though, any other shows will be smaller niche shows.
6. Why would I buy something if I don't know exactly what I'm getting?
Cause you trust us? Or you trust Tig? Or you're rich and you just don't give a shit? But mainly because there are a very limited # of these passes available and we expect them to sell out.
7. Are the tickets trasnferrable? 
Nope - the name on the ticket has to match the name on your ID. You are allowed to buy multiple tickets under your name and bring a different date with you each night.
8. Anything else I should know?
All the shows will be all ages. The tickets are non-refundable. You will get one ticket which will be used each time you attend a show. You'll check in with a special BYT staff member at the front entrance. BYT manages all aspects of the Lincoln pass, not the Lincoln Theater, so if you have questions/problems/etc., ask us.
When & Where

Lincoln Theater
1215 U Street Northwest
Washington, DC 20009


Thursday, October 1, 2015 at 6:30 PM

-

Sunday, October 4, 2015 at 11:30 PM (EDT)
Add to my calendar
The BYT Bentzen Ball 2015 Comedy Festival: All-Access Lincoln Pass