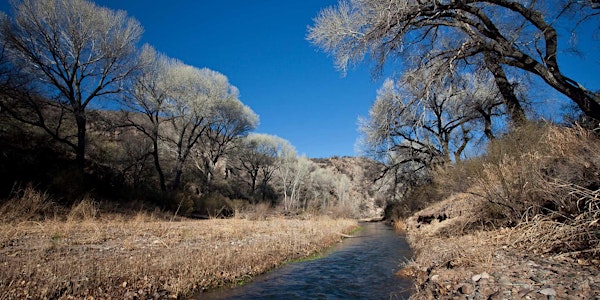 The Buzz LIVE: Bisbee Science Café - The Present & Future of the San Pedro River
When and where
Location
Bisbee Royale 94 Main Street Bisbee, AZ 85603
Description
Join Arizona Public Media and The Buzz at the Bisbee Royale for a special live show about the present and future of the San Pedro River, including discussion about conservation, science, water use and the area's native biodiversity. The Buzz host Christopher Conover will be joined by Holly Richter from The Nature Conservancy, Scott Feldhausen from the Bureau of Land Management, Sara Ransom from Cochise County, aquatic ecologist Michael Bogan, and Michael Gregory, community member and San Pedro advocate. After the discussion, the panel will welcome questions from the audience.
This event is hosted in partnership with the Bisbee Science Lab, UA South, and The Bisbee Royale/KBRP
Doors open at 5 p.m. Event begins at 5:30 p.m.
About the San Pedro River
The San Pedro River flows north from Mexico into southeastern Arizona, creating a rich and valuable riparian corridor to support many different animals, including migrating birds, jaguar, and ringtailed cat. The river, and its connected groundwater flows, also support the nearby city of Sierra Vista and other towns including Bisbee, Tombstone, Huachuca City, as well as Fort Huachuca. It's the last, large, free-flowing river in southern Arizona that has perennial flow, but as water demands increase and the climate becomes hotter and drier, the river is increasingly at risk of drying up.
To be added to a wait list for this event please call Arizona Public Media at (520) 621-5828.