Description
If a picture is worth a thousand words, how much is a video worth?
Connect and Share Ideas with Local Business Owners on How To Market and Grow Your Business with Powerful Video Marketing.
Did You Know?
• Including Video in an email leads to a whopping 200% increase in call-to-action
• Including Video on a landing page can increase conversion by 80%
• Mobile Video consumption increases 100% every year
• One minute of Video is equal to 1.8 million words according to Dr. James McQuivey, Forrester researcher
Our Main Topic
Actionable Tips to Achieve Video Marketing Success in 2017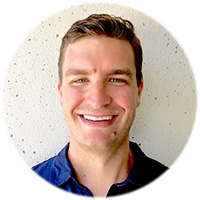 Our guest speaker: Grant Brown is the founder of GRB Digital Wave, a consulting company that enables brands to fully integrate digital into their business strategy. Grant co-founded Rant, Inc in 2010 before selling the company in 2016. While acting in several roles for Rant (co-CEO, Chief Revenue Officer and Chief Strategy Officer), he oversaw the growth of more than 10 successful websites, reaching over 40 million users a month. Combined, the Rant network totaled over 200 million video views per month and over $17 million in revenue per year. In 2015, Rant was named Inc 5000's #1 Fastest Growing Private Company in America in Media and Forbes #31 Most Promising Private Company in America.
The Power of Video Marketing
Learn how to promote your story, products and services with the best video marketing platforms for your business.

Are you using Professional Videos for marketing, prospecting and finding local customers online? How are Videos on Amazon, YouTube, Facebook, Instagram, Periscope, Vimeo, DailyMotion, SnapChat, Yelp and other platforms helping you grow your local brand, online presence and attract new customers? We will be discussing tips and ideas on how to promote and grow your business using Captivating Videos.
Successful business owners will be attending who are currently leveraging Engaging Videos effectively to entice and engage new customers. Learn from these owners on how you can leverage these video platforms to grow your business online!
Want to share your 30-second video? Email us a video link ahead of time.
Our Sub Topic
Get To Know oGoing
We will also share knowhow on various digital marketing platforms including oGoing.com local business network to promote your business, connect with prospective clients and boost your SEO.
Come prepared to network, share and learn (and have a good time)! Thank You ROC for your hospitality!
• 90% of users say that seeing a Video about a product is helpful in the decision process
• 75% of executives watch work-related Videos on business websites at least once a week
• More Video content is uploaded in 30 days than all three major U.S. T.V. networks combined have created in 30 years
Event Schedule

6 pm to 6:30 pm - Introductions and Networking
6:30 pm to 7:30 pm - The Roundtable
7:30 pm to 8:00 pm - Follow up and Networking
Thank You ROC for your hospitality!