The Business of WE (Women Entrepreneurs) Vision Board Workshop
Actions and Detail Panel
The Business of WE (Women Entrepreneurs) Vision Board Workshop
Sat, January 14, 2017, 10:00 AM – 5:00 PM EST
Description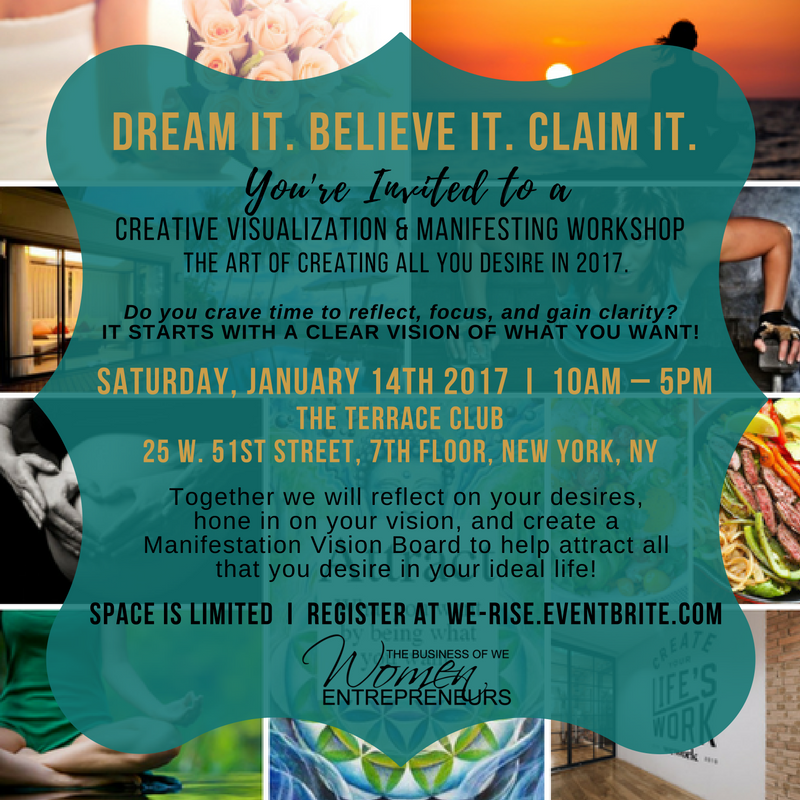 DREAM IT. BELIEVE IT. CLAIM IT.
Creative Visualization & Manifesting Workshop
The Art of Creating All You Desire in 2017


Saturday, January 14, 2017 | 10:00AM-5:00PM
25 W 51st Street, 7th Floor, NY, NY 10019
CRAFT A MANIFESTATION VISION BOARD FOR YOUR SUCCESS IN 2017 AND BEYOND WITH POWER, PURPOSE AND INTENTION.
Join us for the annual DREAM IT. BELIEVE IT. CLAIM IT. Creative Visualization and Manifesting Workshop on Saturday, January 14th 2017 from 10:00am – 5:00pm!
Do you crave time to reflect, focus, and gain clarity? Then grab your girlfriends and come join us for a fun filled day that combines creativity, your dreams, and your vision for the future all into one amazing experience!
Together we will reflect on your desires, hone in on your vision, and create a Manifestation Vision Board to help attract all that you desire in your ideal life. This powerful tool serves as your roadmap of the future – a tangible representation of where you are going in the New Year ahead. It represents your dreams, your goals, and your ideal life. A time to reflect on the past year and take a positive look ahead!
This event is dedicated to the celebration of women. One special day to encourage, uplift and support one another. We want to empower purpose-driven women like you to create your own story of wealth, well-being and abundance.
Give yourself the gift to manifest, mastermind and gain mastery on visualizing your future! We'll end our time together with a meditation, and you'll take home a swag bag and uniquely creative piece of artwork you can look at daily to help manifest your dreams.
DURING THIS TRANSFORMATIONAL EXPERIENCE, YOU WILL:
Explore what's possible for you by giving yourself permission to DREAM BIG
Visualize your ideal weight, love, home, career or business… your ideal life
Learn how to harness the power of the Law of Attraction for reaching your dreams
Create your powerful story through writing and journaling your desires
Awaken your impact by speaking your affirmations into the universe
Execute your plan and daily activities that support your goals for maximum results
Own your vision and mission with intention setting and go getting strategies
Manifest 2017 and make it the most successful year of your life to date!
Invest in yourself in this New Year and JOIN US Saturday, January 14th from 10am – 5pm, YOU DESERVE IT! The workshop will be held at the Terrace Club in midtown Manhattan - a stunning members' only VIP space directly across from Rockefeller Center and Radio City Music Hall.
Each lovely lady will enjoy lunch, laughter, guidance through the process, and all the materials she needs to create her very own Manifestation Vision Board.
Materials Provided:
Poster Board
Colorful Construction Paper, Post-It Notes & Index Cards
Push Pins, Double-Sided Tape & Scissors
A supply of beautiful and inspirational magazines
Suggested Materials to Bring:
At least one magazine of your own to use and share with your fellow #LadyBosses
Any personal printables you'd like to use including quotes, sayings and scripture
Grab your BFF and head to midtown for a fun filled day of empowerment you don't want to miss! LIMITED SPACE AVAILABLE SO GRAB YOUR TICKETS BEFORE IT'S TOO LATE. REGISTER TODAY!