The Business of WE (Women Entrepreneurs) Divine Feminine
The Business of WE (Women Entrepreneurs) Divine Feminine
About this event
The Power of the Divine Feminine in Business
7 Experts | 7 Minutes | 7 Intentions
A 2-Hour Expansion Creation and Energy Shifting Experience!
Join us in this high-level yet grounded conversation for busy businesswomen and entrepreneurs, to raise the level of collective consciousness as we lead in greatness and enhance more lives. Let's come together as the Divine Feminine Leaders that WE are! 
A POWERFUL OPPORTUNITY to raise our vibration, transform our businesses, reconnect with our creativity, and celebrate the Feminine aspect of ourselves. A sacred space for greater clarity, removing the ego, going deeper and connecting with the higher self -- DIVINE FEMININE!

"Awaken and Activate the Power of the Divine Feminine in Business!"
The missing piece to running a successful sustainable business is the ENERGY behind it! The Business of WE believes in the positive impact Women in Business and Entrepreneurs Have During This Time of Global and Evolutionary Changes. Let's STEP-UP and SHOW-UP With a Collaborative Spirit of Leadership!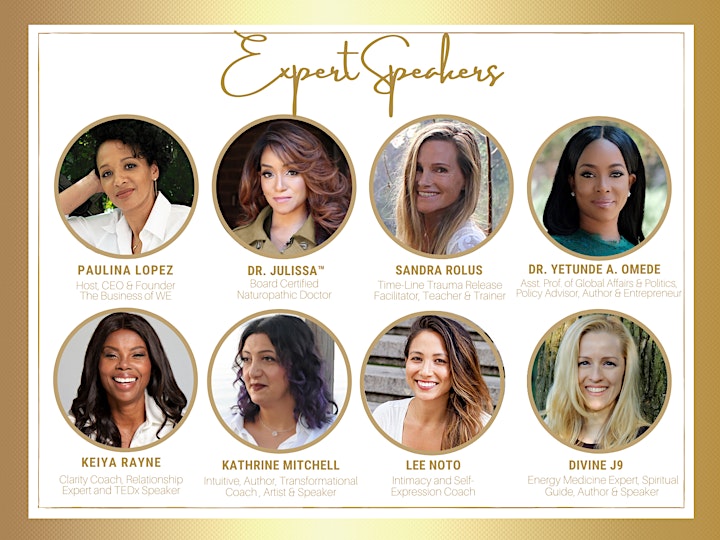 Join us in this Divine time and EXPERIENCE:
Implement inspired action and Divine intentions in your daily practices and life now
Embrace your vulnerability and lead with grace ease and flow for effortless success
Communicate your values, use your voice for strength yet with compassion and empathy
Understand the power of reciprocity - attracting, manifesting and receiving with faith and confidence
Recognize who are you being, how you're Showing up - Your Energy, Your Vibe
Create authentic connections starting with the relationship you have with Yourself
Express your Oneness, the truest version of yourself to connect to All (see yourself in everyone)
Women thrive in expansive intentions with the right support, love, and community!
Elevate Yourself and Your Business!  SECURE YOUR PARTICIPATION TODAY!! 
________________________________________________________________________________________________
MAXIMIZE YOUR TIME & INVESTMENT - ARRIVE EARLY!
(For integrity and capacity, please register before the virtual door closes 24 hours prior to the event)
WE LOOK FORWARD TO CONNECTING THEN! 
*Each Attendee Will Receive a Post-Event BONUS JOURNAL WORKBOOK to Implement Speaker's Topic Tips of Transformation, Expansion & Intentions!
Organizer of The Business of WE (Women Entrepreneurs) Divine Feminine
The Business of WE (Women Entrepreneurs) believes in the positive impact of women in business and their potential to change lives and become key drivers of economic growth in their communities. Committed to professional and personal growth, our mission is to help women unlock their full potential and advance in their pursuits by providing essential strategies, innovative resources, fostering collaborative connections, inspiration and empowerment.
We invite you to join a community of like-minded, passionate and supportive women with a MINDSET FOR SUCCESS!
Committed to elevating each other through education, inspiration and meaningful connections, WE Thrive is a vibrant community of like-minded, purposeful women entrepreneurs, professionals, small business owners, leaders, innovators, thinkers and doers on a mission to do what they love, relentlessly pursue their passions, and take their business to the next level. The best investment we can make is in our growth.  Together we create a positive and encouraging environment for women to grow, thrive and prosper in all areas of our lives.  
Be part of an intimate, sacred space where you can learn from industry experts, find inspiration and fresh ideas, celebrate your accomplishments, and network with other like-minded women entrepreneurs and small business owners who are READY AND COMMITTED TO UNLOCK their fullest potential!
A successful, thriving business requires you to continously be moving forward, setting goals, making plans, taking action, following through, experiencing results and MONETIZING! You MUST be on mission, day in and day out!  Consistency is key… Who else is supporting you in staying fired up, focused, driven and committed to be your ABSOLUTE BEST!?
JOIN US TODAY!
http://bizofwe.com/