THE BUSINESS OF WE 2021 SUMMIT
About this event

2021 BUSINESS SUMMIT
M A S T E R C L A S S    C O L L E C T I V E  
A Full-Day Actionable, Engaging and Immersive Experience!
…WE Invite You to the MUST ATTEND Business Event of the year!  Highlighting, elevating and celebrating minorty, diverse Entrepreneurs, Small Business Owners and Start-ups in the NYC area.
Get Ready to Activate Your Strategic Action Plan, FRIDAY OCTOBER 15th!
This full-day event (open to men and women) is jam-packed with inspiration, proven strategies, actionable steps, and the tips, resources and information for maximum business growth.
Get ready for DYNAMIC SPEAKING SESSIONS, LIVELY PANEL DISCUSSIONS and INTERACTIVE MASTERMIND CONVERSATIONS from the BEST AND BRIGHTEST minds in business today!  Stimulating new ways of thinking and provoking inspired action among our attendees, our participants understand what it takes for minority-owned businesses to break through the barriers of growth. 
You will receive concise content from our amazing line-up of speakers. Curated to address the issues most relevant to today's business minds. Our mission is to ensure that attendees leave with the tools, invaluable resources and a network of connections that will serve as catalysts for making them more effective as entrepreneurs, business owners and leaders.
Activate Your Strategic Action Plan, Expand Your Connections and Elevate Yourself and Your Business!  REGISTER TODAY!!

SUCCESS Happens by the DECISIONS You Make and the ACTIONS You Take!
The Business of WE believes in the positive impact Women in Business and Entrepreneurs Have During This Time of Global and Evolutionary Changes. Let's STEP-UP and SHOW-UP With a Collaborative Spirit of Leadership!
Join us for this POWERFUL EXPERIENCE and enjoy…
Practical Insights and Actionable Steps to Take Right Now, With Rapid Fire Speaker Sessions and Powerful Takeaways!
A Strategic Action Plan for Shortening Your Business Goal Setting and Planning Processes (due to rapidly changing times)
Informative, Educational, Engaging Conversations and Incredible Energy to Move you Forward with Inspired Action
An Opportunity to Connect and Mastermind with this Diverse Community of BusinessWomen and Entrepreneurs
A post-event BONUS CHECKLIST to Implement Speaker's Topic Tips of Proven Concepts and Growth Strategies
MAXIMIZE YOUR TIME & INVESTMENT - ARRIVE EARLY!
8:30am-9:00am - Registration Doors Open
9:00am-10:00am - Networking Breakfast & Exhibitor Floor
10:00am - 1:00pm - Morning Speaking Sessions & Panel Discussions
1:00pm - 2:00pm - Lunch & Mastermind Roundtable Discussions
2:00pm - 5:00pm - Afternoon Speaking Sessions & Panel Discussions
5:00pm - 6:00pm - Exhibitor Floor & Networking
6:00pm - 8:00pm - After-Party Mixer
(For integrity and capacity, please register before the virtual door closes 24 hours prior to the event)
NETWORKING AFTER-PARTY:  To close out Hispanic Heritage Month.  We will be celebrating from 6-8pm
SO ARE YOU READY TO ACTIVATE YOUR STRATEGIC ACTION PLAN?  GIVE YOURSELF PERMISSION TO BE THERE - MAKING OFFLINE CONNECTIONS, MAXIMIZING YOUR INTENTIONS AND ACCESSING INDUSTRY EXPERTS!
NOW is the time to INVEST IN YOU and the future of your business.  REGISTER TODAY!
*Each Attendee Will Receive a Post-Event BONUS CHECKLIST to Implement Speaker's Topic Tips of Proven Concepts and Growth Strategies.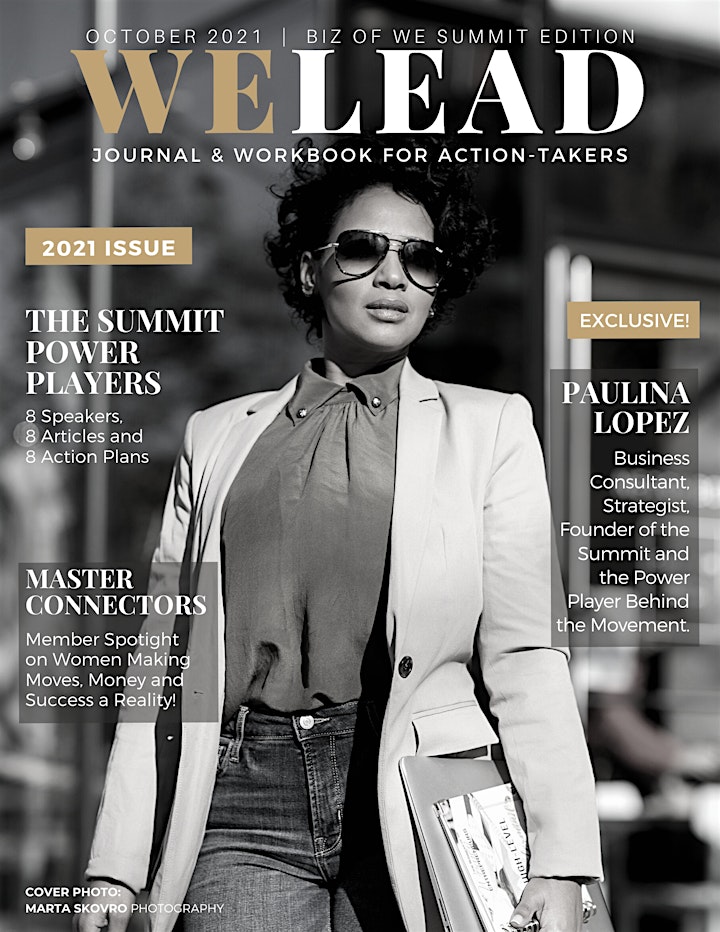 Organizer of The Business of WE (Women Entrepreneurs) 2021 Summit
The Business of WE (Women Entrepreneurs) believes in the positive impact of women in business and their potential to change lives and become key drivers of economic growth in their communities. Committed to professional and personal growth, our mission is to help women unlock their full potential and advance in their pursuits by providing essential strategies, innovative resources, fostering collaborative connections, inspiration and empowerment.
We invite you to join a community of like-minded, passionate and supportive women with a MINDSET FOR SUCCESS!
Committed to elevating each other through education, inspiration and meaningful connections, WE Thrive is a vibrant community of like-minded, purposeful women entrepreneurs, professionals, small business owners, leaders, innovators, thinkers and doers on a mission to do what they love, relentlessly pursue their passions, and take their business to the next level. The best investment we can make is in our growth.  Together we create a positive and encouraging environment for women to grow, thrive and prosper in all areas of our lives.  
Be part of an intimate, sacred space where you can learn from industry experts, find inspiration and fresh ideas, celebrate your accomplishments, and network with other like-minded women entrepreneurs and small business owners who are READY AND COMMITTED TO UNLOCK their fullest potential!
A successful, thriving business requires you to continously be moving forward, setting goals, making plans, taking action, following through, experiencing results and MONETIZING! You MUST be on mission, day in and day out!  Consistency is key… Who else is supporting you in staying fired up, focused, driven and committed to be your ABSOLUTE BEST!?
JOIN US TODAY!
http://bizofwe.com/