Description

…WE Invite You to the MUST ATTEND Business Event of the year! Highlighting, elevating and celebrating multi-cultural, diverse Entrepreneurs, Small Business Owners and Start-ups in the NYC area.

Get Ready to Activate Your Strategic Action Plan,

FRIDAY OCTOBER 4th!
This full-day event (open to men and women) is jam-packed with inspiration, proven strategies, actionable steps, and the tips, resources and information for maximum business growth.
Get ready for DYNAMIC SPEAKING SESSIONS, LIVELY PANEL DISCUSSIONS and INTERACTIVE MASTERMIND CONVERSATIONS from the BEST AND BRIGHTEST minds in business today! Stimulating new ways of thinking and provoking inspired action among our attendees, our participants understand what it takes for minority-owned businesses to break through the barriers of growth.
Join us for this POWERFUL EXPERIENCE and enjoy…
Line-up of 10+ POWERFUL SPEAKERS & PANELISTS

Interactive Mastermind Roundtable Discussions

Business-2-Business Exhibitors & Vendors

Opportunities for COLLABORATIVE CONNECTIONS

MOST IMPORTANTLY… a comfortable, collaborative place to connect and be heard; to share knowledge, to validate each other's challenges, to learn, grow and thrive!
MAXIMIZE YOUR TIME & INVESTMENT - ARRIVE EARLY!
8:30am-9:00am - Registration Doors Open
9:00am-10:00am - Networking Breakfast & Exhibitor Floor
10:00am - 1:00pm - Morning Speaking Sessions & Panel Discussions
1:00pm - 2:00pm - Lunch & Mastermind Roundtable Discussions
2:00pm - 5:00pm - Afternoon Speaking Sessions & Panel Discussions
5:00pm - 6:00pm - Exhibitor Floor & Networking
6:00pm - 8:00pm - After-Party Mixer
(For integrity and capacity, please register before the virtual door closes 24 hours prior to the event)
NETWORKING AFTER-PARTY: In honor of Hispanic Heritage Month. We will be celebrating from 6-8pm
SO ARE YOU READY TO ACTIVATE YOUR STRATEGIC ACTION PLAN? GIVE YOURSELF PERMISSION TO BE THERE - MAKING OFFLINE CONNECTIONS, MAXIMIZING YOUR INTENTIONS AND ACCESSING INDUSTRY EXPERTS!
NOW is the time to INVEST IN YOU and the future of your business. REGISTER TODAY!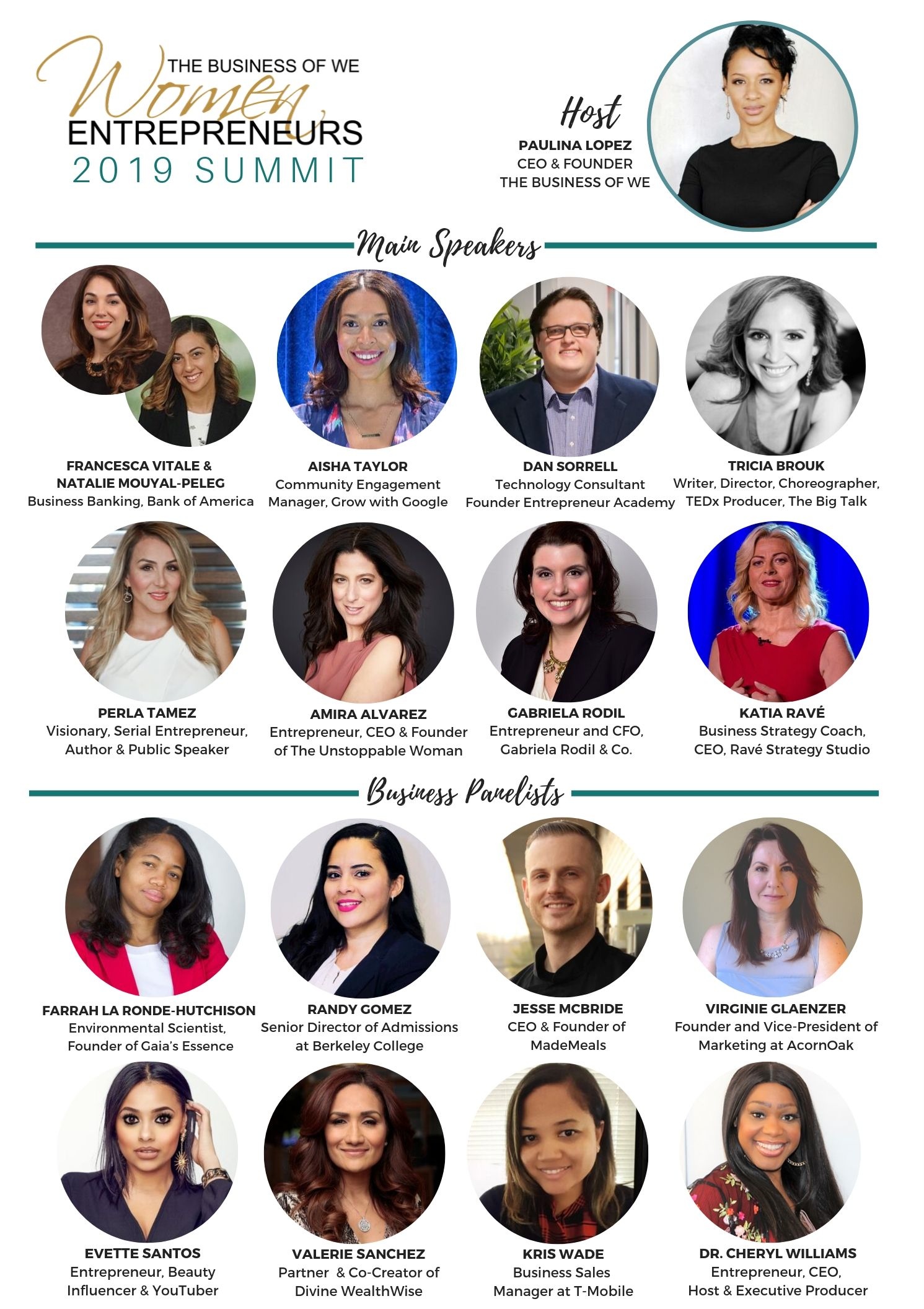 ---
THE EXPERIENCE
The Business of WE Summit is a transformational learning experience connecting, inspiring and activating multi-cultural and diverse women entrepreneurs, start-ups and small business owners around the power of strategic partnerships and collaborations, business development, outsourcing and wealth building.

Featuring renowned industry speakers, panel discussions, exhibitor floor, interactive mastermind roundtable discussions and maximum networking opportunities. Our mission is to ensure that attendees leave with tools, invaluable resources and collaborative connections that will serve as catalysts for making them more effective as entrepreneurs, business owners, and leaders.

WHY ATTEND
We bring the most diverse women's business community along with recognized speakers – women (and men), who are truly pioneering progress and who understand what it takes to break through the barriers to growth and recognize the issues most relevant to today's business minds.

Whether you are looking to develop yourself professionally, advance your career, expand the side-hustle, start and grow your business, and/or just learn from industry experts and network with your peers, the Summit is the place to be and will connect you with people who share your interests and truly get you!


WHO ATTENDS
Emerging or seasoned entrepreneurs and small business owners, career professionals, executives, leaders, innovators, thinkers, and doers attend who believe in investing in their personal and professional growth.

Women who seek access to industry experts and network with other bright minds. Passionate women who are looking to learn how to implement strategies, to leverage the tools, resources, and opportunities that will help them catapult their business to its greatest potential with intent and purpose.

WE HOPE TO SEE YOU THERE! SECURE YOUR SPOT TODAY!!
---