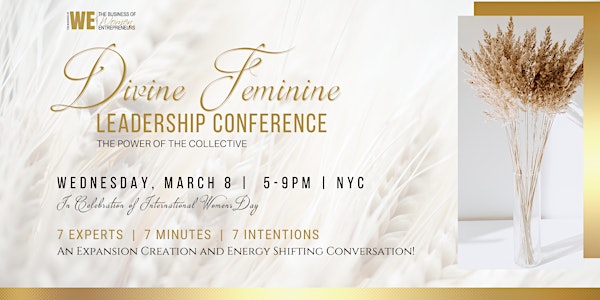 The Business of WE Divine Feminine Conference
The Business of WE (Women Entrepreneurs) Divine Feminine
Refund Policy
Contact the organizer to request a refund.
About this event
The Power of the Divine Feminine in Business
7 Experts | 7 Minutes | 7 Intentions
An Expansion Creation and Energy Shifting Conversation!
Join us in this high-level yet grounded conversation for busy businesswomen and entrepreneurs, to bring awareness to the level of collective consciousness as we lead in greatness and enhance more lives. Let's come together as the Divine Feminine Leaders that WE are! 
A POWERFUL OPPORTUNITY to raise our vibration, transform our businesses, reconnect with our creativity, and celebrate the Feminine aspect of ourselves. A sacred space for greater clarity, removing the ego, going deeper and connecting with the higher self -- DIVINE FEMININE!

"Awaken and Activate the Power of the Divine Feminine in Business!"
The missing piece to running a successful sustainable business is the ENERGY behind it! The Business of WE believes in the positive impact Women in Business and Entrepreneurs Have During This Time of Global and Evolutionary Changes. Let's STEP-UP and SHOW-UP With a Collaborative Spirit of Leadership!
Join us in this Divine time and EXPERIENCE:
Implement inspired action and intentions in your daily practices and life NOW
Embrace your uniqueness and lead with grace, ease and flow for effortless success
Communicate your values, use your voice for strength yet with compassion and empathy
Understand the power of reciprocity - attracting, manifesting and receiving with faith and confidence
Recognize who are you being, how you are showing up - your energy, your vibe
Create authentic connections starting with the relationship you have with yourself
Express your oneness - the truest version of yourself to connect to All (see yourself in everyone)
Women thrive in sacred spaces, with the right support, connection, and community!
Elevate Yourself and Your Business!  SECURE YOUR PARTICIPATION TODAY!! 
________________________________________________________________________________________________
MAXIMIZE YOUR TIME & INVESTMENT - ARRIVE EARLY!
5:00pm-6:00pm: Networking & Connecting Conversations
6:00pm-7:00pm: Divine Feminine Expert Speaker Sessions
7:00pm-8:00pm: Mastermind Conversations & Dinner
8:00pm-9:00pm: Conference Closing & Networking
(For integrity and capacity, please register 48 hours prior to the event)
WE LOOK FORWARD TO SETTING OUR INTENTIONS & CONNECTING WITH YOU THEN!