The Business of Meditation…How to put your money where your mind is!

Thursday, October 24, 2019 from 7:00 PM to 9:00 PM (EDT)
Event Details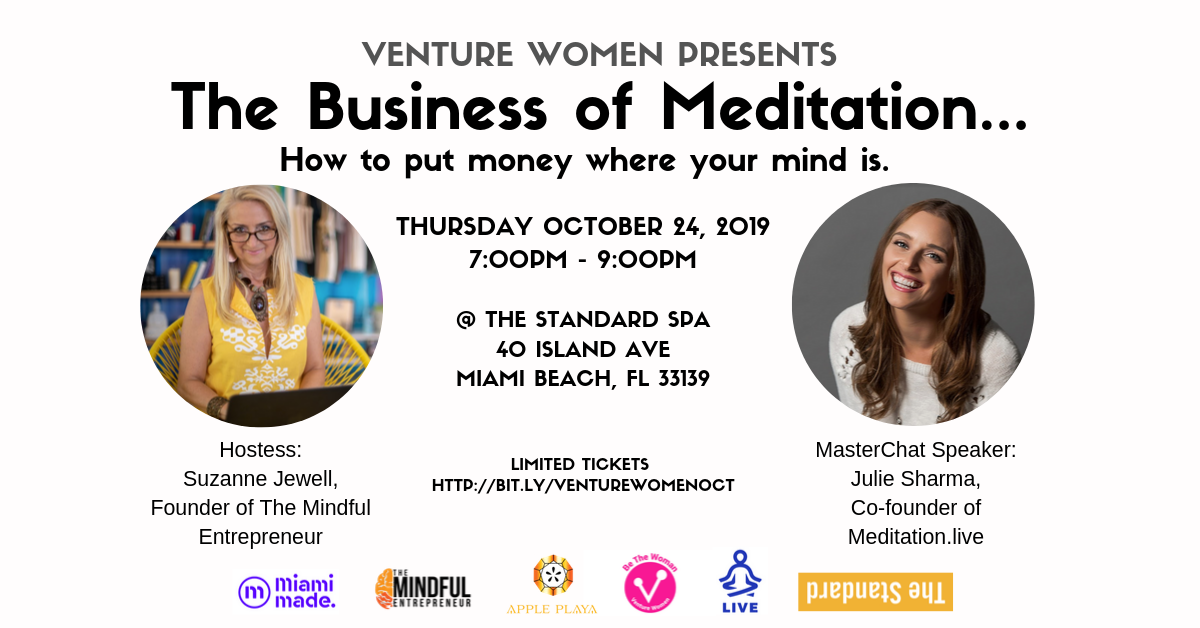 Hostess: Suzanne Jewell, Founder of The Mindful Entrepreneur
MasterChat Speaker: Julie Sharma, Co-founder of Meditation.live

What is VentureWomen?
We gather brave, bold, bright female founders and professionals to explore how to connect, collaborate and co-create consciously rather than blindly compete. We are building leadership skills in community so that we can "be the woman" we want to meet and see in the world. Like Ghandi, change begins with us and within us. Especially if, as the Dalai Lama says, "Western women will save the world". 

Suzanne Jewell leads VentureWomen as a wellness entrepreneur herself, whether its while hosting Mindful Mornings Miami or speaking and training throughout Miami about why mindfulness matters for the tumultuous journey of the brave entrepreneur. She traines in attention training, mindful focus and entrepreneurial mindset tactics to help create business leaders who bring both their head and their heart to the work they do. 

VentureWomenOCT invites Chief Evangelist and Co-founder Julie Sharma from Meditation.live. The hot new Miami-based meditation app that the Wall Street Journal said: 

"Its like Peloton meets Zoom meets guided meditation".

Julie & D Sharma are the co-founders of meditation.live, a wellness platform backed by some of the best investors in the world, having raised $2.5million in less than two years of operations. Some of those investors and entrepreneurs include Steve Murry of Revolution Growth and on the board of companies like Fitbit; Dennis Phelps of IVP and early investor in companies like Snapchat; Eric Yuan, founder and CEO of Zoom.us; Howard, founder and CEO of Yext.
Their mission is to inspire 5 billion people to find their true purpose through meditation and movement classes that help you go inward, ultimately finding true purpose for lasting happiness. Their unique platform allows anyone to ask questions to live teachers improving their daily meditation practice.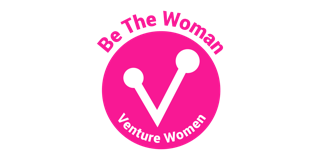 ---
Location: The Standard Spa, Miami Beach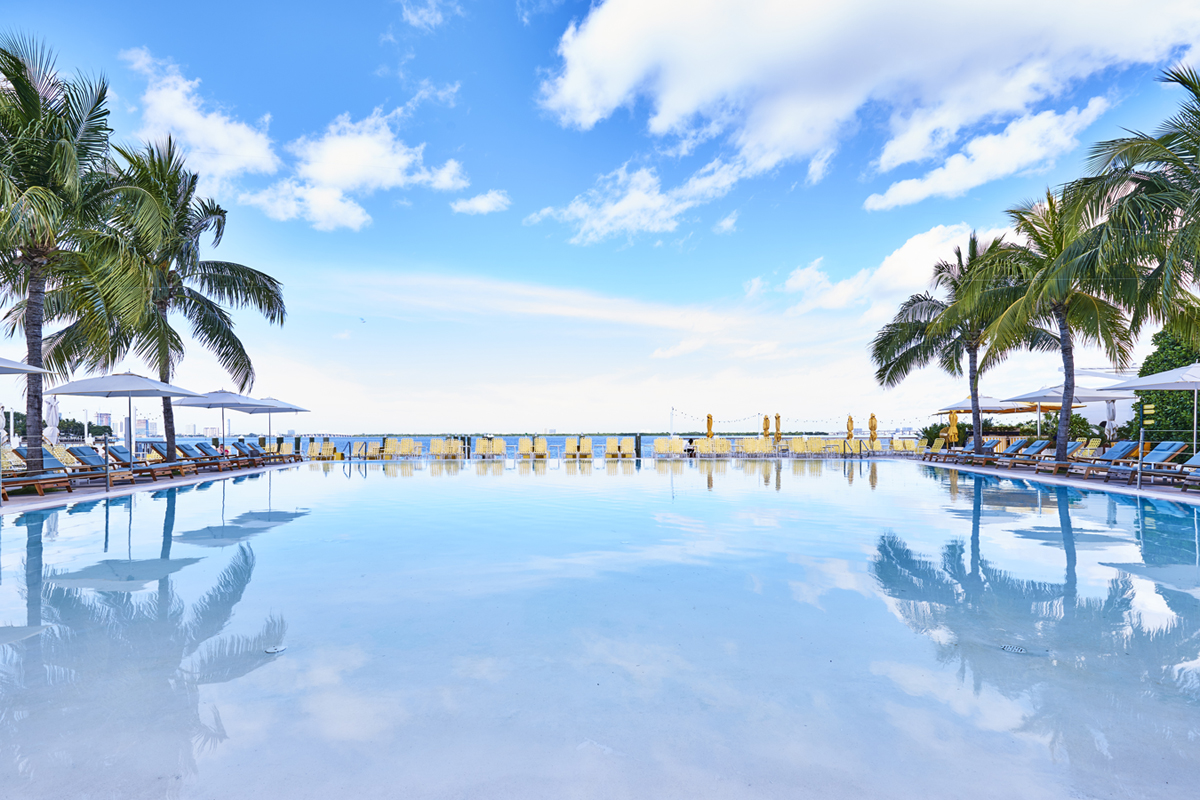 Join Us For a Cocktail in the Lido Bar!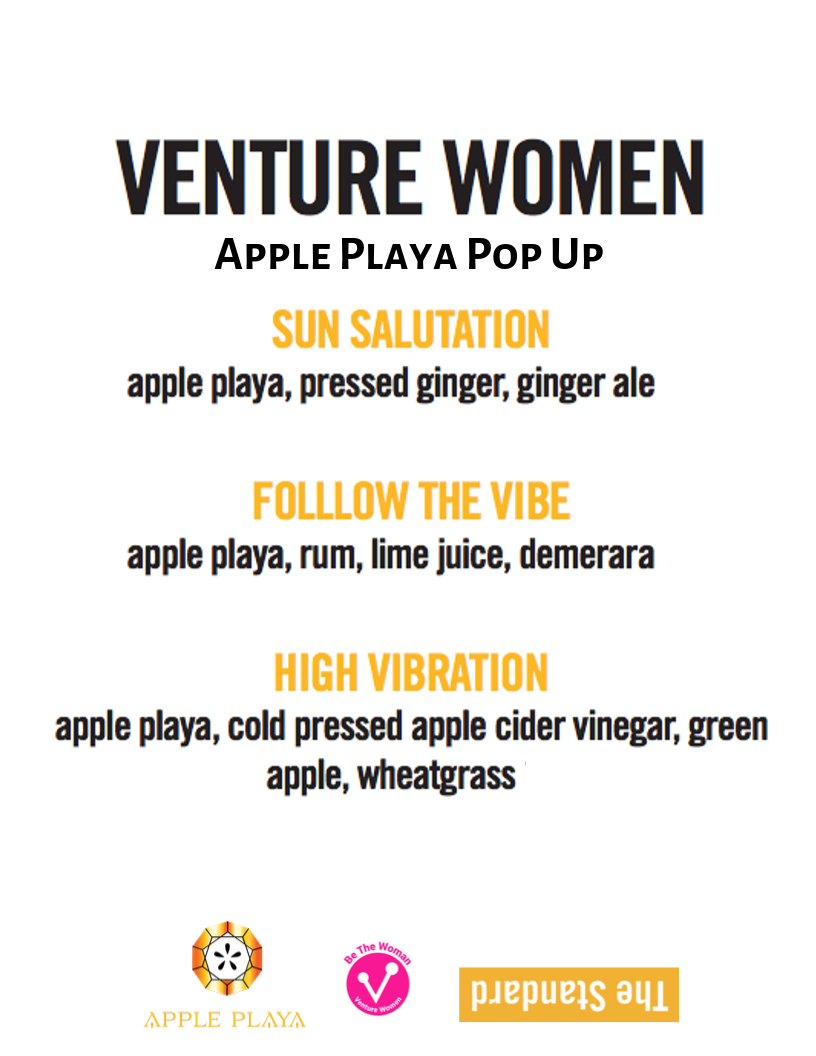 ---
FAQs
PARKING & TRANSPORTATION
$20 flatrate Valet
We recommend ride sharing and/or car service. 
Have questions about The Business of Meditation…How to put your money where your mind is!?
Contact Suzanne Jewell
Save This Event
When & Where

The Standard Spa
40 Island Ave
Miami Beach, FL 33139


Thursday, October 24, 2019 from 7:00 PM to 9:00 PM (EDT)
Add to my calendar
Organizer
Host of Mindful Mornings Miami, Miami's hottest new radio show with over 200,000+ monthly listeners on local JOLT radio that explores what it means to live, work, create and play in a mindful way. Guests include Deepak Chopra, Elizabeth Gilbert, presidential candidate Marianne Williamson, motivational speaker Les Brown, neuroscientists Dr. Amishi Jha and Dr. Wendy Suzuki, female Buddhist nun Lama Karma Chotso, meditation guru Sharon Salzberg, Zen Sensei Priest Tony Stultz, and including leaders from Mindful Kids Miami, Unity on the Bay, A Calmer Choice, conscious entrepreneurs like co-founder of Dr. Smood, Dr. Etti Orya, Dr. Will Cole, Sensie co-founder Mike Dannheim and more. 
Wellness Entrepreneur -- Start-up strategist & consultant on brand storytelling and brand storyselling, clients include the 1st World Happiness Summit, ShareNest (app), Game of Choice, not chance (India Bill & Melinda Gates Project), Unity of Hollywood Awareness into Action, SmartTecPort and more. 
Corporate Trainer, Speaker on mindfulness, attention training & resilience skills - events/podcasts on why mindfulness matters, how to be a mindful entrepreneur clients, speaking engagements, public meditations include the Miami International Book Fair for The Sacred Space, Miami Dade College's Foundation and Idea Center BizHack Academy, Pelican Harbor Seabird Station,  Women's Wireless Leadership Forum and more.
Event organizer/facilitator for a women's group called VentureWomen, focused on moving from the ego-based competitive model of business engagement to a more mindful connection built on connection, collaboration & co-creation helping women to "Be The Woman They Want To See & Meet In The World".
Have questions? Want to learn more or book Suzanne for your next corporate training, urban retreat or to MC a special event at www.suzannejewell.com or sj@suzannejewell.com.