The Business of Fashion Seminar Series Oct. 5 - 7, 2017 - (9 Expert Seminar...
Description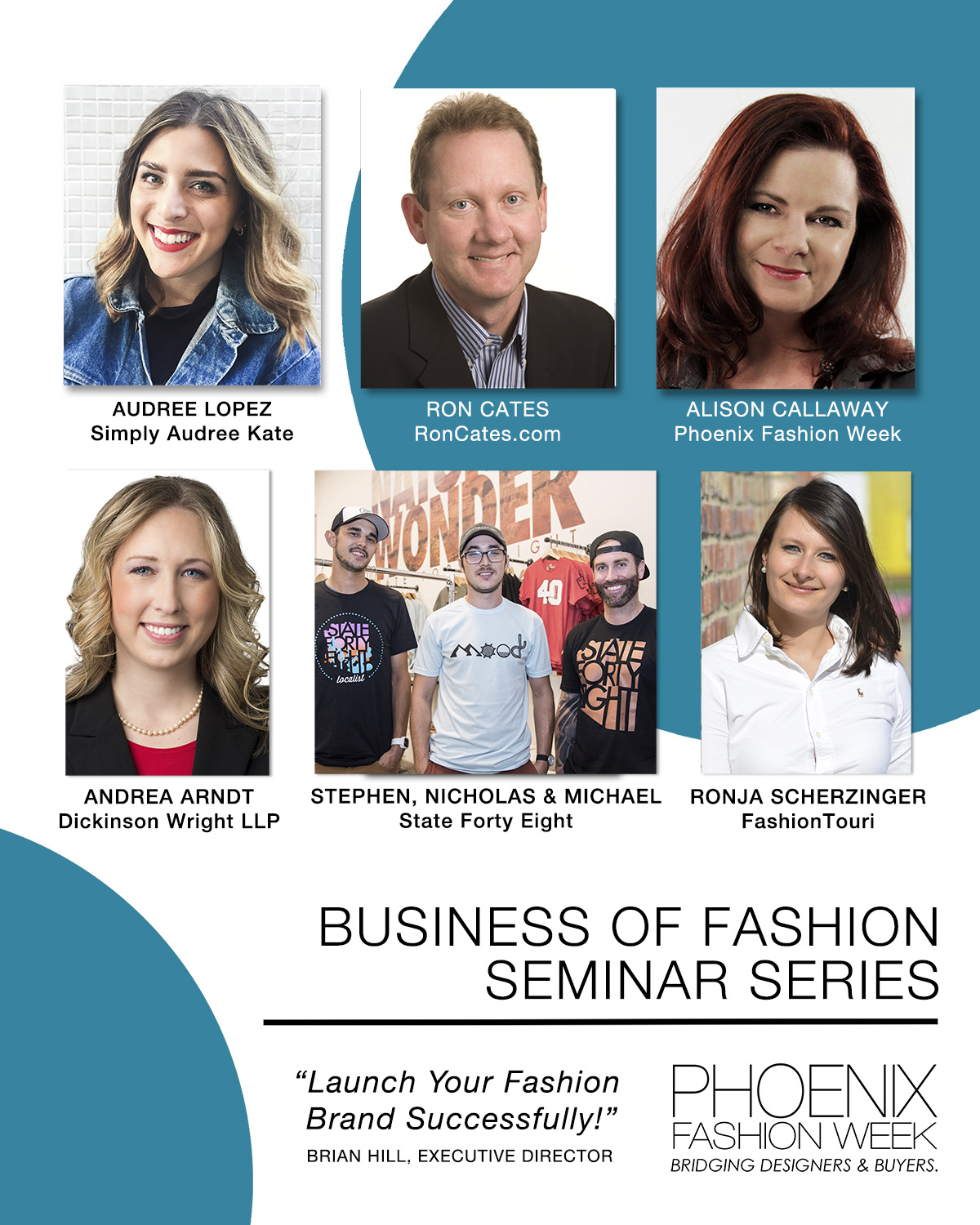 OUR BUSINESS OF FASHION SEMINAR LINE-UP
---------------------------------------
Thursday, October 5, 2017
---------------------------------------
9:00am "Launch Your Brand! 10 Steps to Turn a Fashion Idea into a Business Reality" -Alison Callaway, Phoenix Fashion Week
Learn the 10 simple steps for launching your fashion brand for long term success. Learn how to discover your brand strengths and use them to create a unique niche in the competitive marketplace.
Whether you are an entrepreneur, designer, stylist, blogger, small business owner or even a student…you are a "brand" and this seminar will help you LAUNCH successfully!
10:30am "Don't Be Legally Naked - Protect Your Designs" -Andrea Arndt, Attorney, Dickson Wright
Protect your brand image through the use of copyrights, trademarks, trade dress, licensing, non-disclosure agreements, patents, and domain names. This seminar offers a basic guide to the fashion design process and the law to protect your work. It covers the steps any creative designer should take in order to stop somebody else from stealing or otherwise using your work without your permission. It also provides guidance on minimizing your risk of getting sued for using someone else's work.
Bio: Attorney Andrea Arndt practices all aspects of intellectual property, including patent, trademark, trade secret, and copyright law. She also handles litigation, technology licensing, and transactional matters. Andrea has worked in the intellectual property field for over 12 years, representing a wide range of clients from start-ups to Fortune 500 companies.
12:00pm "Sell Your Designs: Insider Tips to Drive Fashionistas and Boutiques to BUY" -Alison Callaway, Phoenix Fashion Week
This seminar focuses on the 10 "MUST DO" STEPS you need to DO to get your CUSTOMERS to buy BIG! Learn insider tricks to get buyers to write orders and end users to pay full retail for your designs! Also learn the TOP 10 THINGS NOT TO DO. This hands-on seminar is perfect for apparel and accessory designers as well as any small business that is looking to sell products wholesale or retail.
Fashionistas $20 per seminar (book 2 seminars for the same day & 3rd seminar is (25% OFF)
Students $10 per seminar (book 2 seminars for the same day & 3rd seminar is (25% OFF) e-mail tricia@phoenixfashionweek.com for Student Discount Code (must show proof of current enrollment)
----------------------------------
Friday, October 6, 2017
----------------------------------
9:00am "Best Damn Digital Marketing Seminar Ever!" – Ron Cates, www.RonCates.com
Digital marketing icon Ron Cates has created this seminar exclusively for Phoenix Fashion Week. The seminar will cover the core elements of a successful marketing strategy, taking into consideration the budget and time constraints of running a fashion business. No cost and low cost on-line marketing tools that are simple and effective will be emphasized.
Advanced marketers will learn new tricks, but beginners will not be lost. Topics include: branding, website elements, email marketing, social media, maximizing review sites, and much more. This is an entertaining, yet educational can't miss seminar for your business!
Bio: Ron Cates- Widely viewed as one of the world's leading digital marketing experts. The press has called Ron a "digital marketing icon," the "grandfather of e-mail marketing" and a "social media pioneer." He is an award-winning business leader who has dedicated his career to helping small business owners to grow and strengthen their businesses.
10:30am "Apps Unleashed: Use Your Smartphone to Drive Your Fashion Business!" – Ron Cates, www.RonCates.com
With a smartphone or tablet, you have an incredibly powerful computer, communication device and on-line marketing tool in your pocket! There are hundreds of free (or very inexpensive) apps that can drive sales, improve communication with customers and market your business.
Join Ron Cates, digital marketing icon and renowned app expert, as he presents a seminar based on extensive testing and research on the must-have apps (including the newest and obscure gems you have never heard of before). How to use them for maximum impact and how to use them in conjunction with your other marketing efforts to magnify results. Note* - This seminar is for EVERYONE. "Beginners" will not be lost and "power users" will still learn something new.
12:00pm "MORE Than the #OOTD: The Business Behind Blogging" -Audree Lopez, Stylist & Blogger www.SimplyAudreeKate.com
Learn the stages of building a blog, from the business plan & foundation to the Who, Why, What, Where & How. Analyze the reality of starting a blog and why starting local is important. Growth & engagement (the bread & butter of growing a business). Recognize growing Pains (competition, hardships, finances, sponsorships). Maintain (consistency), retain (being unique & giving your readers a service), and grow (better sponsorships, more followers, more money, and more business opportunities)
Leave with Key Business Tips: Media kit, Social Media, Editorial Calendar, Rule book - compensation, type of brands, your reputation, budget/financial and your 5 Year Plan.
Bio: Audree López is a NYC-based fashion stylist, editor and industry consultant. She launched her career working in the fashion departments at Glamour, Redbook, Editorialist and O, The Oprah Magazine. Audree then went onto to work creative projects with Alice + Olivia, Marc Jacobs, J.Crew and Club Monaco.
Today, she styles for various brands, magazines, websites and personal clientele. She also manages a fashion, lifestyle and beauty blog, SimplyAudreeKate.com.
Through the blog, she has worked on global campaigns with Coach, Starbucks, Guess, Coca Cola and Dove. Audree was named one of Arizona's top stylists in 2015, and most recently, Alexa's 2017 Top 100 NYC Fashion Bloggers.
Fashionistas $20 per seminar (book 2 seminars for the same day & 3rd seminar is (25% OFF)
Students $10 per seminar (book 2 seminars for the same day & 3rd seminar is (25% OFF) e-mail tricia@phoenixfashionweek.com for Student Discount Code (must show proof of current enrollment)
--------------------------------------
Saturday, October 7, 2017
--------------------------------------
9:00am "Fashion Touri – Designers, meet your new target group and build up an international community on this new global fashion platform" -Ronja Scherzinger, www.FashionTouri.com
Join Vienna, Austria based and award-winning fashion entrepreneur Ronja Scherzinger in this interactive seminar based on exploring the culture of a country through fashion and design. Fashion Touri was built for both fashion designers and global tourists to connect in each city while getting inspired and collecting memories!
Learn how she took a unique fashion concept from idea all the way to a successful launch and how to apply these same steps in your fashion business. Learn how to create an international fanbase and which networks will help to gain global attention? Learn why a multichannel approach is effective and how to promote customer loyalty despite the distance.
10:30am "How Not to Be a Basic B: Create a UNIQUE Blog, Brand, or Business" -Audree Lopez, Stylist & Blogger www.SimplyAudreeKate
How do you create a Unique brand in the competitive fashion industry? This seminar is an 'Expert's Guide' to creating a Unique brand that is worth the follow. Learn the critical steps to creating a UNIQUE brand or blog or business
Find our who you are as a blogger / brand? Make the decision, is your personal brand going to be a part of your business or are they separate. Learn to identify your Unique niche? Learn how your customers/readers differentiate you and ultimately categorize you?
12:00pm "State Forty Eight- Your Community is Crucial for Success" Michael Spangenberg & Stephen Polando
Learn why community is the recipe behind the success of TOP LIFESTYLE brand, State Forty Eight and why this is crucial for YOUR brand to succeed. The owners will share their story and why they joined Phoenix Fashion Week. They will illustrate the challenges of growing a brand from nothing to something. Find out what community has done for their brand image and sales.
Attendees will find out what the future holds for this homegrown brand. Everyone will leave with the networking book "Don't Sleep on Planes" by Zachary Hall and an action plan for success.
Bio: Founded in 2013 by local entrepreneurs, Michael, Stephen and Nicholas, State Forty Eight was born out of a shared passion and appreciation for the great state of Arizona. More than just an apparel line, State Forty Eight represents a lifestyle, a sense of community and is an expression of pride. From sports fans and outdoor explorers to the more fashion-forward, the homegrown brand offers gear for all that's both stylish and comfortable. Above all else though, State Forty Eight is about redefining the status-quo and inspiring others to rise up and stand for something they believe in. So, wear it loud and wear it proud, and let the State Forty Eight logo serve as a reminder to proclaim your passions but never forget where you came from.
Fashionistas $20 per seminar (book 2 seminars for the same day & 3rd seminar is (25% OFF)
Students $10 per seminar (book 2 seminars for the same day & 3rd seminar is (25% OFF e-mail tricia@phoenixfashionweek.com for Student Discount Code (must show proof of current enrollment)