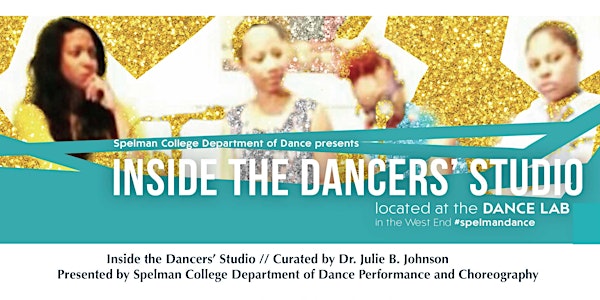 The Business of Dance: Building and Preserving Legacies
Location
The Dance Lab
1384 Ralph David Abernathy Blvd.
Atlanta, Georgia 30314
Description
The Business of Dance: Building and Preserving Legacies
An Inside the Dancer's Studio event presented by
The Spelman College Dept. of Dance Performance and Choreography
*Explore legal and entrepreneurial strategies to help your arts practice thrive.*
Wednesday, April 25 & Thursday, April 26
6:00 - 9:00pm
Free to the public!
SCHEDULE
----------------------------------------------------
WEDNESDAY, APRIL 25, 6:00-9:00pm
COMMUNITY DIALOGUE (open to all - no registration required)
Led by Atlanta-area artist entrepreneurs, featuring legal representatives focused on the creative industries and local arts service organizations. Come with your questions ready!!
Guest Speakers include:
Monique Barashango, ViZionsDance | John "Lockatron" Christian | Kid Dynamo | Audrey Gamez, C4 Atlanta
Matthew Goings, Georgia Lawyers for the Arts | Kendal Minter, Esq. | King Quic, TomaFit, Inc.
Patrice Perkins, Esq. and Art Steele, Esq., Creative Genius Law | Honey Rockwell, Rockwell Dance Academy
THURSDAY, APRIL 26, 6:00-9:00pm
FREE 90-MINUTE WORKSHOPS (registration required)
Our facilitators offer strategies and resources designed to help you build and sustain your artistic and cultural practice.
WORKSHOP A: 6:00-7:30pm
Georgia Lawyers for the Arts presents, "Legal Seminar for Dancers" with focus on copyright and choreography.
WORKSHOP B: 6:00-7:30pm
Effective marketing and social media strategies with C4 Atlanta.
WORKSHOP C: 7:30 - 9:00pm
Creative Genius Law presents, "Intellectual Property: A Vehicle for Preservation of Creative Works, Cultural and Artist Legacies"
About our workshop facilitators:
Patrice N. Perkins, Creative Genius Law

In 2010, Patrice founded Creative Genius Law®-- a business, new media and intellectual property law firm. CGL helps creative entrepreneurs and businesses protect their creative capital in order to expand their impact on communities and industries, preserve the legacy of their creations, and create generational wealth.
Her clients include television personalities, best-selling authors, entrepreneurs, creative agencies, and corporate organizations. After earning her Bachelor of Science in Business Economics at Florida A&M University, she went on to obtain a Juris Doctor at DePaul University. She has been a guest instructor at DePaul College of Law; conducted legal clinics; and presented at numerous seminars and panels under the auspices of organizations such as the Chicago Urban League, Social Media Week, American Bar Association "TechShow", School of the Art Institute, and Expo Chicago.
She writes extensively about legal issues on her Creative Genius Law blog and is often called upon for expert commentary by media outlets such as NBC-TV5, Fortune magazine, Bloomberg TV, and WBEZ radio. Patrice is a member of the American Bar Association, the Illinois State Bar Association, the Board of Directors for the Chicago Artists Coalition, as well as the Education Advisory Group.
Art Steele, Creative Genius Law
Art Steele is Of Counsel with Creative Genius Law and works with us on intellectual property, business transactions, and tax matters. With nearly 10 years of legal practice under her belt, Art began her career at Skadden, Arps in Washington, DC, as a transactional tax associate and later worked as Global Tax Counsel for Discovery Communications. After a life-altering encounter with (the) Oprah Winfrey, she had her very own "ah-ha moment". Over helping gazillion dollar companies rake in more coins, Art decided to use her tax and IP law training to provide affordable, high-quality legal services to entrepreneurs and creatives. Art is also dedicated to helping creatives legalize their business through the information she provides on her blog and the Legal-EASE for Entrepreneurs podcast – the only podcast dedicated to educating and empowering minority entrepreneurs to tackle the legal aspects of their business. In addition to providing legal counsel to small businesses, Art is passionate about helping minorities build wealth through estate planning. Art received her JD from American University Washington College of Law and received an LL.M. in Tax from Georgetown Law School. Art is an adjunct law professor at American University Washington College of Law in Washington, D.C. where she teaches Wills, Trusts and Estates.
Jessyca Holland, C4 Atlanta
Jessyca Holland, Executive Director of C4 Atlanta, has worked as an arts administrator for nearly thirteen years in Atlanta. Before joining the world of nonprofit arts administration, Jessyca was an independent actor performing in Greater Atlanta. Jessyca is the co-founder of C4 Atlanta (2010). Jessyca participated in the Bank of America Neighborhood Excellence Initiative 2007 Leadership Program, the 2011 Arts Leaders of Metro Atlanta, a 2011 Judith O'Conner Scholar, BoardSource, named Alumni of the Year by the University of West Georgia Theatre Company in 2013 and received an Achievement Award from her Alma mater, April 2014. Currently, Jessyca is a collaborator for a national initiative, Artists Thrive. She has been on arts panels for Georgia Forward, Gather Atlanta, and the Association of Performing Arts Service Organizations, and many more. Jessyca earned her B.A. in Theatre in 2000 from the University of West Georgia, and Masters of Library Media in 2009 from Georgia State University. Jessyca is the mother of two beautiful daughters and is married to the most amazing man in the world.
Matthew Goings, Georgia Lawyers for the Arts
Matthew Goings is GLA's Director of Operations, handling the technical aspects of GLA's operations, providing in-house legal services, and assisting the management of the legal externs. Matthew is also a solo practitioner in Intellectual Property and business law with his firm, Goings Legal. Matthew graduated from the University of Georgia for undergrad where he marched in the Redcoat Band and joined the music fraternity Phi Mu Alpha Sinfonia. He later graduated from Georgia State University College of Law where he focused his studies on Intellectual Property. Matthew's lifelong affinity and passion for music guided him to GLA and his love of emerging technology urged him to build his solo practice to assist entrepreneurs.