Description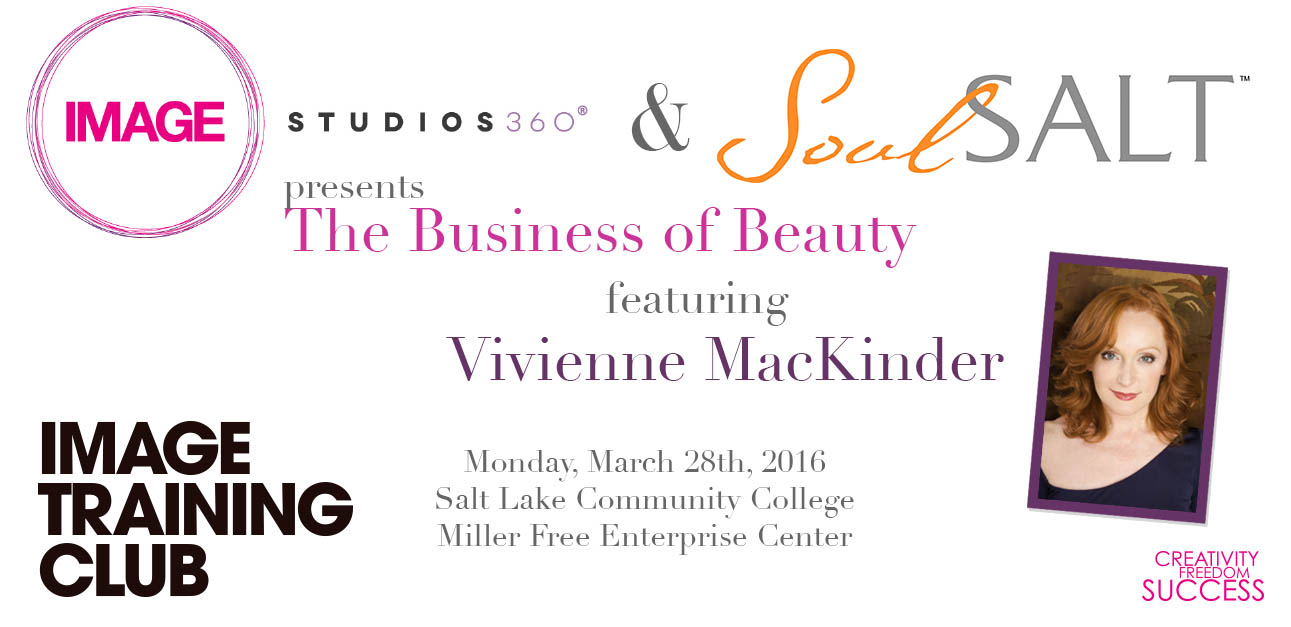 Image Studios 360 and Soul Salt are excited to invite you to our first Image Training Club Event of 2016, The Business of Beauty Conference, featuring Vivienne Mackinder.
Come hear from experts that will spark your CREATIVITY, unleash your desire for FREEDOM in the pursuit of entrepreneurship and support your SUCCESS as a professional in the beauty industry.

Tickets are available for:
the morning session only

the afternoon session only

all day (morning + afternoon sessions)
Agenda:
8:00 am – 5:30 pm Full Day - The Business of Beauty, Soul Salt & Vivienne Mackinder
8:00 am - 8:30 am Check-in, Networking

8:30 am – 8:50 am Welcome – with Jason Olsen and Lyn Christian

9:00 a.m. - 9:35 Break out session # 1
UR Photos Suck - How to maximize videos and pictures on Social Media – April Benincosa & April Ethington
Time Management - Kamilla Kragius
The Economics of Color - Matthew Landis
9:45 a.m. - 10:20 a.m. Break out session # 2
Panel on Trends in Lashes, Brows, Skin Care Ingredients & Micro-needling - Hosted by Natalie Parkin
Managing the Mind of the Entrepreneur - Lyn Christian
Longevity in Your Career - Susan McLaughlin
10:30 a.m. - 11:15 a.m. Break out session # 3
How to Partner w/Wedding Professionals & Bloggers - Muyly Miller
The Audacity to Reject Mediocrity – Jason Olsen
Retail Education - Missed Opportunities to Increase Revenue – Steven Petersen
12:00 p.m. Lunch hosted by Hairstory w/Key Note Speaker - Lyn Christian - The Power of Focus
The afternoon session hosted by Hair Story will feature a Look and Learn by Vivienne Mackinder - 2015 NAHA Hairstylist of the Year winner. Don't miss this once in a lifetime opportunity to learn from one of the best professionals in the industry!
12:45 pm – 5:30 pm Afternoon Session Featuring Vivienne Mackinder
1:15 – Afternoon Welcome by Steven Petersen w/Hairstory

1:30 – 4:30– Vivienne Mackinder Look & Learn

4:30 – 5:30 – Mix and Mingle with Vivienne, Soul Salt, Jason Olsen, Image Studios 360 Staff, Sponsors and Vendors.
Thank you to our sponsors for making this event possible!
IMAGE STUDIOS 360 SOUL SALT HAIRSTORY
PENMAN PRINTING & DESIGN SOLUTIONS AFFINAGE SALON PROFESSIONAL
Date and Time
Location
Salt Lake Community College Miller Campus
9750 South 300 West
Miller Free Enterprise Center (MFEC)
Sandy, UT 84070