The Business Boutique Membership Program

Wednesday, March 13, 2019 at 10:00 PM

-

Tuesday, December 31, 2019 at 11:30 PM (EDT)
Event Details
CELEBRATING YOUR WIN-WIN OPPORTUNITIES!
IMAGINE YOUR PROJECTS AND WORK GETTING DONE WITHOUT THE STRUGGLE
The Business Boutique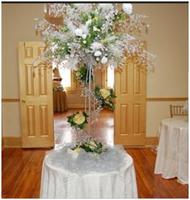 The Logistics Liaison 
'We Work Behind the Scenes to Move Your Vision Forward'
Choose Standard or VIP Membership Level that works best for you as
Business 
Vendor
Corporation
Non Profit
Direct Sales Representative
Membership Levels & Packages
  Overworked, Overwhelmed & Over Ready to Feel as if YOU Have Your Own In-House Marketing Team? Then Look Below to See All the Member Services & Benefits You Have Access to...and book your FREE Consultation for Clarity on which Membership Level Benefits you most.
Member's Only Business Development, Networking, Training, Collaboration Program
Classes. Collaboration. Connections.
Standard Membership
Includes: online access to QUARTERLY newsletters, Where YOU will be FEATURED:
Biz e-Bulletin (entrepreneurs), Vendors Vine (vendors) AND The Royal Pages (planner, travel, beauty, fashion) 
includes: e-blasts/email preparation, featured in business blog, exclusive invites to specialty events, 3 coaching calls, entrepreneurship & business trainings, feature spotlights in newsletters, graphic design services, business launching services, business plan outline,1 free vendor space per year, discount membership card
IDEAL FOR NEW ENTREPRENEURS | RECEIVE 3 TO 5 SERVICES PER MONTH | BOOK YOUR FREE CONSULT at https://www.daronda.com
VIP Membership
Includes: all the above and online access to QUARTERLY newsletters: Biz e-Bulletin (entrepreneurs), Vendors Vine (vendors), The Royal Pages (planner, travel, beauty, fashion) 
 link on website, speaker opportunities, be featured in blog, newsletters and magazine, advertising space in newsletters and magazine, local to international and industry specific media lists, media training for radio and tv, media opportunities, media services, media kit, access to our Vendor / Resources database, vendor liaison/management for Signature Events, sponsorship, speakers bureau, event tickets, exclusive networking, 5 coaching calls, wholesale products, group travel discounts, your own business newsletter design and or distribution, VIP Activities, social media management and marketing, writing, proofreading and editing services, discounts on event space and digital, broadcast & print media buys

IDEAL FOR BUSY ENTREPRENEURS WHO WANT TO FOCUS ON BUILDING YOUR BUSINESS WHILE WE CREATE & PROMOTE YOUR STELLAR MARKETING MATERIALS  & PROVIDE MUCH NEEDED BUSINESS SERVICES BEHIND-THE-SCENES | RECEIVE 5 TO 8 SERVICES PER MONTH | BOOK YOUR FREE CONSULT TODAY at https://www.daronda.com
 *For select Specialty Events
Annual Membership for Vendor $75 / Business $99 to Have Access to Resources, database, business tools and products.
'The Business Cafe' of Options for Your Business Bests'
 VISIT WWW.DARONDA.COM TO SCHEDULE YOUR FREE CONSULTATION & DOWNLOAD OUR FREE BUSINESS RELATED GIFT, RECEIVE OUR 'BIZ e-BULLETIN' BUSINESS NEWSLETTER AND MORE!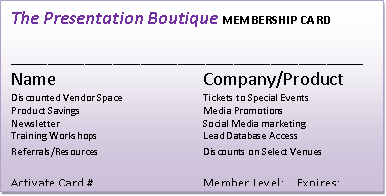 NEW BIZ BOUTIQUE PRODUCT
'PLAN IT PLANET' DIRECTORY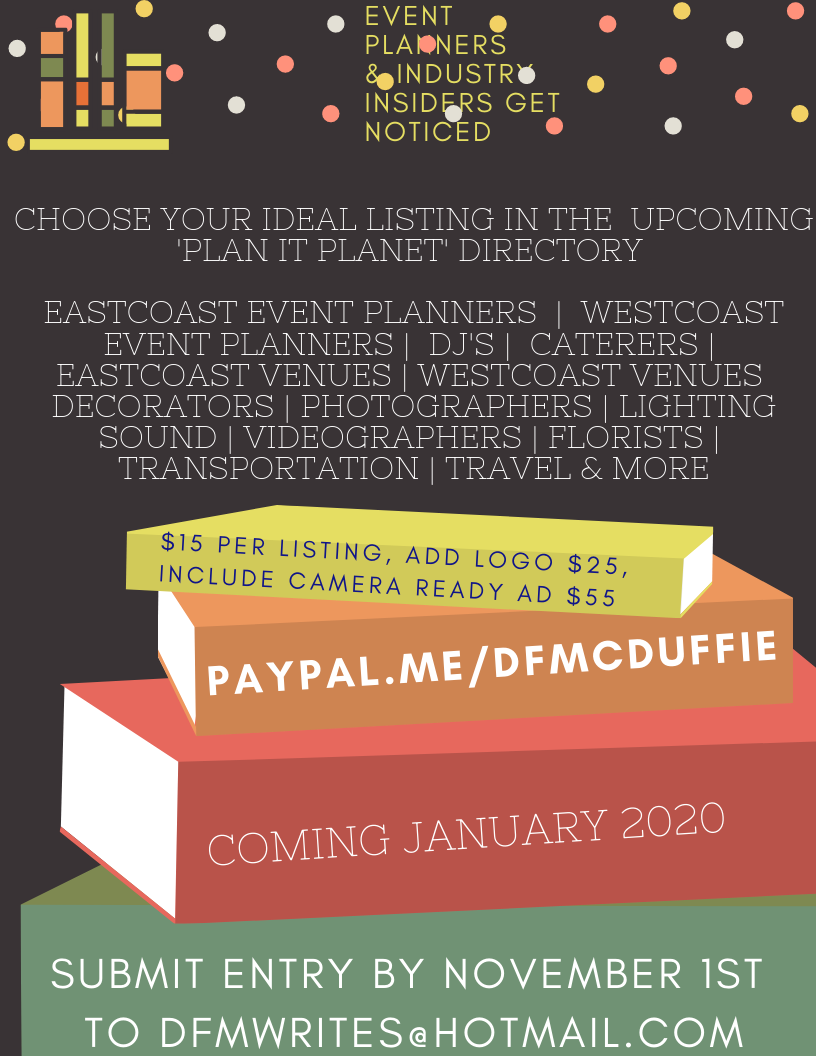 OUR VISIONARY VENDOR, ENTREPRENEUR & BUSINESS NETWORKING PARTY was THURSDAY, AUGUST 15TH 6:30-9:30PM
 (see photos online) IRON ROOSTER RESTAURANT, HUNT VALLEY, MD!
coming 2020
'Tech Suite Tuesdays'
in-person and virtual hands-on technology support to move your business to the next levels
REGISTER BY SENDING YOUR NAME & CONTACT TO QUADCREATIONS@GMAIL.COM / TO STAY IN THE LOOP AND RECEIVE UPDATES
Bring your laptop and technology related projects you need support with (websites, social media set up, digital projects, templates, etc.) and we'll get to work on the behind-the-scenes logistics to support your event planning business needs ---- 2 hour, bi-weekly sessions, Tuesday's 6pm to 8pm, starting January 8 
Got a great product or service? Join the
Bizness Boutique  for Vendors & Event Planning Businesses
Business/Vendors Network
We Feature & Connect
all types of Vendors with Awesome Business Events
become a Member Today
•
Connect with event planners
•
Get marketing materials designed to promote your product /service
•
enjoy
member discounts
on vendor
spaces & *1 free space per year
•
Be featured in "Vendors Vine" newsletter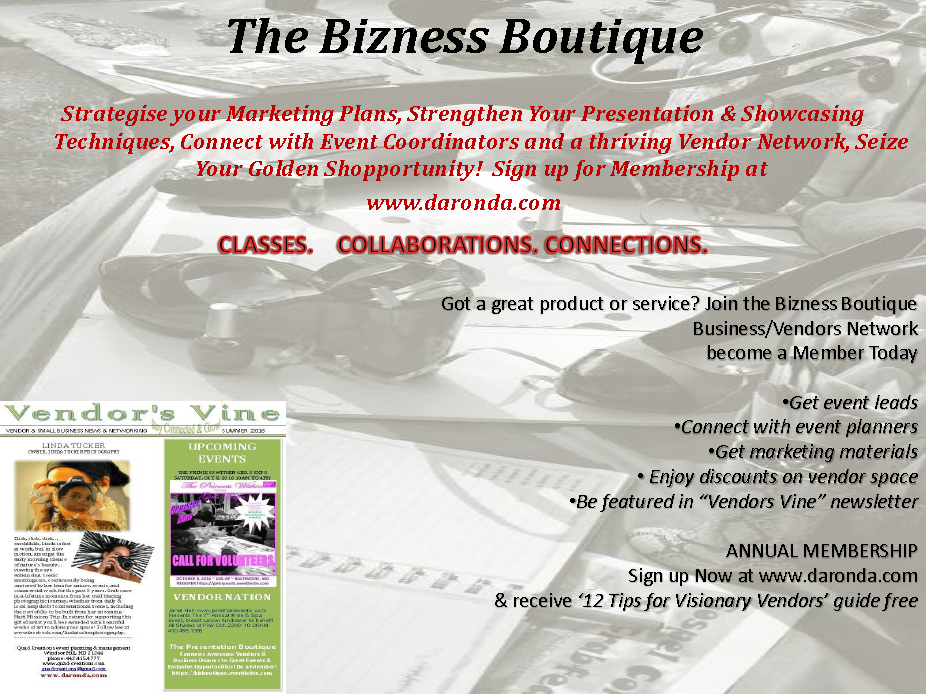 Sign up here or for the '12 Tips for Visionary Vendors' booklet  and several products we've created to help with business growth and development on https://payhip.com/DFMSpeaks
Save This Event
When & Where

NRoyalFashion

MD 21207


Wednesday, March 13, 2019 at 10:00 PM

-

Tuesday, December 31, 2019 at 11:30 PM (EDT)
Add to my calendar
Organizer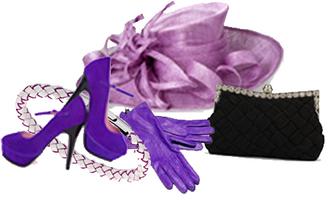 Creating specialty events for your personal or business special occasion or fundraising needs.
Founder of 'Chic Boutique' the indoor shopping affair and 'Golden Shopportunity' promoting small business, community, & economic growth and development. Sign up for one of our business building workshops today!