Description
Fashion Group International® of Greater Washington, DC, Inc presents
The Business Behind The Blog
Join FGIDC and top bloggers from our region, as we discuss the fundamental business skills needed to create a successful and engaging blog. The topics we discuss will incude:
- Branding
- Content Strategy
- Marketing Partnerships
- The Future of Blogging
Moderator:
Heather Menis @FifthandMainPR
Panelist:
Barnette Holston @DCFashionFool
Lola Phaefler @OhLolaBlog
Keke Olisemeka @StyleYourSelfie
Julien Garman @JulienGarman
7:00 pm – 8:30 om
Canvas Co/Work
1203 19th Street NW
Washington DC 20036
FGIDC Members – $15
Non-Members – $25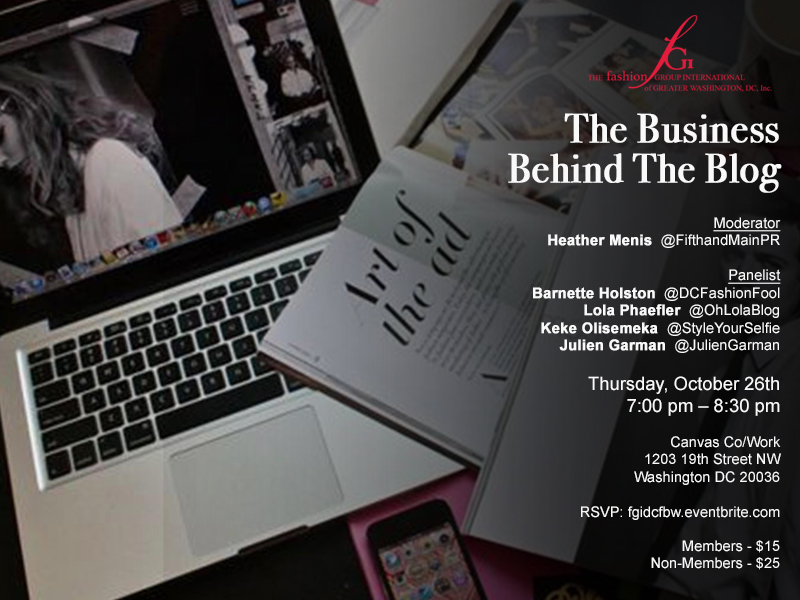 Organizer of The Business Behind The Blog
Fashion Group International DC 
The Fashion Group International is a global, non-profit professional organization with 6000 members and 35 chapters around the world in the fashion industry including apparel, accessories, beauty and home.
The FGI mission is to be the pre-eminent authority on the business of fashion and design and to help its members become more effective in their careers. To do this, FGI provides insights on major trends in person, online and in print: access to business professionals and a gateway to the influence fashion plays in the marketplace.
The FGI DC provides a high-profile forum to promote the fashion and beauty industry by hosting events that provide networking opportunities, educate and inform our members and facilitate the exchange of ideas and common resources within the industry.
The Washington, DC Chapter is one of the oldest and most active in the country. Founded nearly 73 years ago, the DC chapter continues to be a gem in the FGI portfolio.