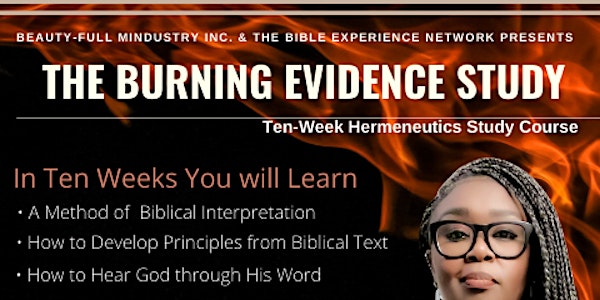 The Burning Evidence Study Course -Fire Fridays August through October
The Burning Evidence Study is a unique ten-week Hermeneutics Course designed to experience the Fires of God in the Bible.
About this event
In ten-weeks you will learn how to interpret Scripture using basic hermeneutics, develop principles from Biblical text and how to hear God through His Word.
This exclusive study course is facilitated by "The Burning Evidence" author herself, Acquanetta. You will be the first study group to receive a signed copy of the book that launches in July 2022. This study course also includes "The Burning Evidence" Journal, Weekly Fire Focused Music, over 20 hours of Extra insights & personal teachings facilitated by the author, Acquanetta and more.
*Note* This Study Course will begin Friday August 12th.