'The Building of the Brooklyn Bridge: The Challenges, The Triumph' Webinar
Sales Have Ended
Registrations are closed
Looking to register for the replay? Visit AdventureClub.com > Virtual Events > Active Replays to browse our active replays, which expire one week after the program's original air date.
Sales Have Ended
Registrations are closed
Looking to register for the replay? Visit AdventureClub.com > Virtual Events > Active Replays to browse our active replays, which expire one week after the program's original air date.
Can't make it live? Register and get access to the full replay for one week! New York Adventure Club | www.AdventureClub.com
About this event
Over the course of 14 long years during the 19th century, New York's Brooklyn Bridge went from a moonshot idea on paper to, once completed, one of the most groundbreaking infrastructure projects the world had ever seen. But how was such a gargantuan project accomplished when no bridge of that scale had ever been attempted before? Through a rare cache of historic photos, it's time to explore each phase of this awe-inspiring structure's construction, and the human drama and determination that unfolded along the way.
Join New York Adventure Club as we uncover the dramatic story surrounding the building of the Brooklyn Bridge (1869-1883), and how extraordinary human imagination, skill, and fortitude helped complete the longest suspension bridge in the world at the time.
Led by Jeff Richman — collector, historian, and author of Building the Brooklyn Bridge, 1869–1883 — our virtual experience around this one-of-a-kind landmark will include:
An overview of why a bridge was needed across the East River between the America's two largest cities, New York and Brooklyn
A deep dive into the construction phases of the bridges, and how techniques ranged from the most primitive — like a huge wooden box for the foundations of the towers — to the most cutting-edge — like steel, galvanized wire, and electric lighting
The story of John and Washington Roebling, the father and son who were chosen as the project's chief engineers, and the key role played by Emily Roebling, Washington's wife
A look at the Brooklyn Bridge as an international icon, and how it's been commemorated in unique ways ever since it was completed in 1883
Many rare and never-before-seen photos of the bridge's construction, sourced from private collections and public archives from around the country
Afterward, we'll have a Q&A with Jeff — any and all questions about the Brooklyn Bridge are welcomed and encouraged!
Can't make it live? Don't worry, you'll have access to the full replay for one week!
See you there, virtually!
*Immediately upon registering, you will receive a separate, automated email containing the link to join this webinar
**For the best possible viewing experience, please ensure you're using the latest version of your internet browser — Google Chrome is the most compatible. Exact technical requirements and a webinar user guide will be shared in the automated confirmation email upon registration.
***A full replay of the experience will be available to all registered guests for up to a week
About Jeff
Jeffrey I. Richman has been fascinated by New York City's history for as long as he can remember. In 2007, after thirty-three years practicing law, representing indigent criminal defendants, he became the full-time historian at Brooklyn's Green-Wood Cemetery. Since then, he has led Green-Wood's Civil War, World War I, and World War II projects which, with the help of hundreds of volunteers, have identified, written, and posted online biographies for thousands of veterans interred there. He blogs about Green-Wood and his latest discoveries and is the author of three books, including Brooklyn's Green-Wood Cemetery: New York's Buried Treasure (1998).
He has also co-designed two Green-Wood maps and curated several gallery exhibitions, including three on the Civil War and one on Coney Island. Driven by his passion for history and a long-standing fascination with nineteenth-century New York, Richman is an avid collector who has amassed a notable collection of stereoview and lantern slide photographs of New York City, including many of the Brooklyn Bridge under construction which he has donated to The Green-Wood Historic Fund. One of his fondest memories is of attending the one-hundredth anniversary of the bridge's opening in 1983—just one milestone in his love affair with the Brooklyn Bridge.
Disclaimer
By attending a New York Adventure Club experience, you accept our terms of service.
Categories: Virtual, Landmarks
Organizer of 'The Building of the Brooklyn Bridge: The Challenges, The Triumph' Webinar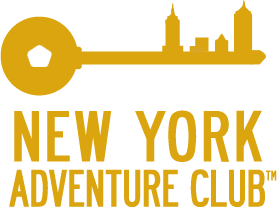 NEW YORK ADVENTURE CLUB
Unlock Your City
We give you insider access to the city's best-kept secrets. But we're so much more than a tour company.
WHO WE ARE

We are a community-driven club that curates the most unique experiences in town, with a focus on history and storytelling. We show you a city you never knew existed, and offer a community you can't live without.
You won't find our special-access tours and exclusive events anywhere else. Think after-hours tours of New York City's most celebrated spaces, themed parties in unexpected locations, and weekend excursions to incredible destinations. All of our events end with social hangouts so you can meet people who love exploring as much as you do.
THE 'CLUB' IN NEW YORK ADVENTURE CLUB

Our current community is more than 23,000 members strong and includes everyone from recent NYC transplants to lifelong residents. Whatever borough you're from (or city or country, for that matter), we'll make it easy for you to take full advantage of the unique places and great people this city has to offer.  
WHERE WE GO
To ensure a one-of-a-kind experience each and every time, we handpick events and outings specifically for the New York Adventure Club community. Recent events include:
* An after-hours tour of New York City Hall
* Special access into some of New York's most coveted private social clubs, including the Explorers Club and National Arts Club
* Petting baby kangaroos, holding sloths, and feeding leopards at Staten Island Zoo

* An NYPD Precinct tour, including a meet-and-greet with detectives and Emergency Service Unit crew members
* A tour of the Polish Consulate led by the Consul General and Vice Consul General of Poland

* A special-access tour of Brookhaven National Laboratory and its Relativistic Heavy Ion Collider (RHIC)
* A Halloween party in a historic gothic crypt, complete with a five-piece brass band
Subscribe with our newsletter to get the inside scoop on the city's most interesting events: http://eepurl.com/1cnVH
Unlock Your City with New York Adventure Club