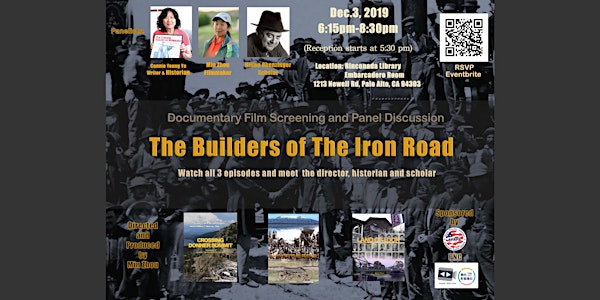 "The Builders of the Iron Road" Trilogy Free Screening and Panel Discussions
When and where
Location
The Embarcadero Room (in Rinconada Library) 1213 Newell Road Palo Alto, CA 94303
Description
The Builders of the Iron Road
A Trilogy by the documentary film maker Min Zhou, the Builders of the Iron Road features the stories of the Chinese workers all the way from building the west portion of the first Transcontinental Railroad to surviving through the historical Driven Out period and their contributions to this country in WWII and up to now.


Time:
12/3/19 Tuesday
5:30pm-6:15pm Reception (light food, first come first serve)
6:15pm-6:30pm Introduction
6:30pm-7:50pm Screening All 3 Episodes
7:50pm-8:30pm Panel Discussions (including Q&A with Director)

Address:
1213 Newell Road
Palo Alto, California 94303
Parking:

Ground parking


Trailer: https://vimeo.com/ondemand/thebuildersoftheironroad

RSVP: https://trilogy-bir.eventbrite.com
Please register on-line that helps us prepare food and chairs in advance. You will also receive email reminders and be included to our mail list to receive future event notice from Two-Way Theater. If you choose not to disclose your e-mail address, please enter "a@b.com" so we know you are coming and save the number of seat(s) you request.

In English, English subtitles when applicable, Panel discussions and Q&A in English.
Director Bio:

Min Zhou
An award-winning journalist and filmmaker based in the San Francisco Bay Area, Min has been focused on researching Chinese American immigrant history and working on multiple documentaries projects from the Chinese railroad workers in 19th century to the Chinese veterans in WWII. She has been invited to museums, colleges and non—profit organizations in US to screen her films about the Chinese railroad workers. Among the awards she has won are the Gold Award for Arts and Cultural documentary film from 50th Houston International Film Festival in 2017,21th Excellent News Reporting from Northern California Chinese Media Association in 2018 and Storyteller's Award for bringing the Chinese pioneers' stories to life through short documentary film in 2019. She was invited to 150th Golden Spike Conference in Utah. Min finished producing A Trilogy: The Builders of the Iron Road in May 2019. She also directed and produced The Black Spikes, a short documentary film sponsored by U Channel TV that reflects Chinese American's 150 years of journey in US. Min was selected a visiting scholar at UC Berkeley Graduate School of Journalism in 2011. She has been a contributing writer for top news magazines in China. Her most influential feature stories include Justice Came in 125 Years and A memoir of Chinese Workers on Central Pacific Railroad. Min is working in Silicon Valley as a journalist and filmmaker with U Channel TV, the largest non-profit Chinese community TV station in North America.
Panelists Bio's:

Connie Young Yu
Connie Young Yu is an independent historian who has written extensively for exhibits, documentary films and anthologies. She is the author of Chinatown, San Jose, U.S.A. A fourth generation Chinese in America, she is a descendant of a worker on the Central Pacific Railroad.
She conducted oral history interviews of descendants of Chinese railroad workers for the Stanford Chinese Railroad Workers in North America Project. She is co-editor with Sue Lee of Voices from the Railroad, a collection of articles by railroad worker descendants, published by the Chinese Historical Society of America.
On May 10th in Promontory, Utah Connie delivered the commencement speech at the 150th anniversary celebration of the completion of the Transcontinental Railroad.
Hilton Obenzinger
Hilton Obenzinger, PhD, has been a lecturer at Stanford University in American Studies and English and Associate Director for Honors and Advanced Writing. He is currently Associate Director of Stanford's Chinese Railroad Worker's Project. A critic, poet, novelist and historian, Hilton Obenzinger is the recipient of the American Book Award, and is the author of American Palestine: Melville, Twain, and the Holy Land Mania, Cannibal Eliot and the Lost Histories of San Francisco, New York on Fire, a recent autobiographical novel Busy Dying, and other books, as well as chapters in scholarly journals and books on the history of California, Mark Twain, Herman Melville, cultural pluralism, and American cultural interactions with the Middle East. He is associate editor of The Chinese and the Iron Road, and has assisted in the development of the Project's web site content and digital visualizations, along with related articles about the Chinese railroad workers.
Moderator Bio:
Eric Yo-Ping Lai
Eric is a journalist and writer who has written widely about Asia and Asian American issues. He was co-editor of The New Face of Asian Pacific America, a 300-page scholarly textbook co-published by UCLA's Asian American Studies Center and AsianWeek newspaper, and a producer on KQED's Pacific Time radio program. He is currently working on a modern retelling of the Chinese literary classic, The Three Kingdoms.

Co-organizers:

APAPA PNC
Asian Pacific Islander American Public Affairs Association (APAPA) San Francisco Peninsula (PNC) Chapter
Asian Pacific Islander American Public Affairs Association (APAPA) San Francisco Peninsula (PNC) Chapter serves as a platform for the Millennial generation to become leaders in their respected fields through voter registration, leadership development, and furthering their political awareness.
https://www.apapa.org/
TWT
Two-Way Theater
As a not-for-profit organization, Two-Way Theater promotes quality films through a series of public screenings and discussions in the Bay Area to a broader audience. The platform bridges technology and arts, and hope to break other intangible boundaries among cultures with more effective communications.
https://www.facebook.com/TWTheatre/
------
The Builders of the Iron Road(A Trilogy)

周敏導演《築路者》三部曲

In English, no subtitles, Q&A in English
導演會親自到會場,會同兩位嘉賓進行座談,並回答問題(本場以英語主導)。

預告片:https://vimeo.com/ondemand/thebuildersoftheironroad

報名:https://trilogy-bir.eventbrite.com
請在上列Eventbrite報名以便收到E-mail提醒,並幫助我們估備座位, thanks!

歡迎加入雙向影藝會社fb群組,關心最新好片放映行動!https://www.facebook.com/groups/TWtheater/
導演及製片:
please check above English info, thanks.