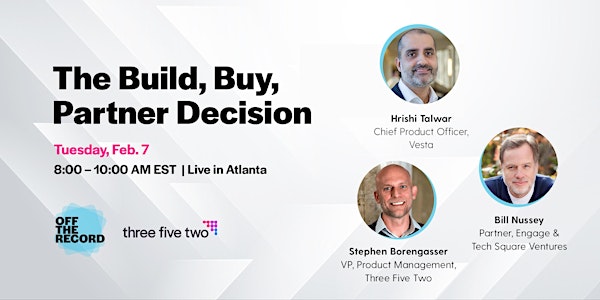 The Build, Buy, Partner Decision
Join an in-depth discussion with leaders from Atlanta's product and innovation community.
When and where
Location
Coda 756 West Peachtree Street Northwest Atlanta, GA 30308
About this event
The Build, Buy, Partner Decision
Join Atlanta's Product & Innovation Community on Feb. 7th for another live Off The Record event!
How should you approach gaining the technology and capabilities needed to reach your growth goals? Companies are faced with three options- build, buy, or partner.
At this Off The Record event, we'll discuss the key advantages and challenges to finding growth and gaining capabilities through each path. A panel of senior product and innovation leaders will share insights and perspectives on the topic.
We welcome special guests Hrishi Talwar, chief product officer at Vesta, Bill Nussey, partner at Engage and Tech Square Venture firms, and Stephen Borengasser, SVP of practitioner enablement and VP of product management at Three Five Two. Robert Berris, Three Five Two's EVP and managing director, will facilitate.
You will also have the opportunity to participate in small breakout groups to explore the topic further and learn from your peers' experiences at different companies and backgrounds. The event will be followed by networking.
We welcome guest speakers:
Bill Nussey is a partner at Engage and Tech Square Venture firms. He has spent most of his career as a tech CEO, helping lead several startups to successful exits, including a multi-billion-dollar IPO. In between startups, he spent several years as a venture capitalist with Greylock. In 2014, he sold his marketing tech company Silverpop to IBM for $300 million. As the VP of Corporate Strategy at IBM, he helped lead global strategy for their CEO and SVPs. In this role, one of Bill's ongoing priorities was to help IBM improve its ability to innovate, both by unleashing internal competencies as well as working with startups.
Hrishi Talwar is the chief product officer at Vesta and brings 20+ years of product management and technology expertise in the financial services, payments, and mobility space across various organizations. Most recently, Hrishi was responsible for the Identity, Fraud & Compliance business at Equifax. He led the overall product strategy which included the execution of innovative solutions and platforms leveraging the extensive Equifax and partner data ecosystems.
Stephen Borengasser leads the product management practice at Three Five Two, an innovation and growth firm supporting companies to fuel revenue and accelerate sustainable, scalable growth. Stephen brings over 20 years of product, strategy, and innovation experience building, launching, and growing businesses across all stages of development in Asia-Pacific and North American markets.
Watch a recording of our last event.
Join a community of over 600 product & innovation leaders from some of Atlanta's biggest brands.